Good things come to those who wait, apologies for the interruption in our regular stream of updates they shall now resume at a regular pace. We've been working on quite a few big updates that are getting there final polish and I simply cant wait for them to clear quality assurance to show you!, Today's update will be demonstrating something from both GDI and Nod ;). We've been taking your feedback very seriously and we've been making some tweak's to Nod's appearance you will notice. There will be further improvements made to Nod's overall look this is just the beginning but please let me know what you think so far.
Battlefield Analysis----------
Mobile Artillery
The Nod Mobile Artillery has been part of the Brotherhood's arsenal since the First Tiberium War, it has undergone various improvements since. This variant used in Nod's current deployment must deploy before it can fire a barrage but has a fairly long range and is more accurate & precise then GDI's Juggernaut Artillery.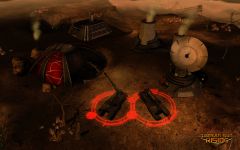 GDI Carry-All
The GDI Carry-All can carry a wide assortment of the GDI's Vehicles, from vehicles as small as GDI's Wolverine all the way to the GDI Juggernaut. The CarryAll is unable to lift the Mammoth Mk2 due to its intense weight & size. The Carry-All is a quick way to transport GDI forces across the battlefield but be warned it is quite susceptible to Anti-Air fire and has only light to medium armour.
We will be working our way up to some of our bigger update's we've been promising in future week's, we wanted to ensure there at there absolute best so please be patient, we are still here working hard to bring the ultimate Tiberian Sun experiance to you! Please provide any all feedback this is made by C&C fans for C&C fans so we take your feedback very seriously that gets posted here.