---
Developer diary from BobaFett (snipplet):
And some of you who weren't merely drooling over those pics, might've
noticed some new stuff in there. And thats what i'll be elaborating on
in this dev diary
In this diary i'll be telling you about 4 new things:
New weapons
Weapon reloading
Damage/healing indicators
Shield damage reduction
So, lets begin:
New Weapons
Considering we're making an LMO RPG game on an FPS engine, its kinda obvious combat
will play a major role in it (why make it on an FPS engine otherwise?
).
As such the weapons are gettin a makeover, and their properties have been tweaked. So far most of the weapons already have new models and effects, though some are still undergoing some adjustments, so i can't show all of em just yet.
As far as properties go, lets just say that weapons are now truly dangerous. Unlike the 'toy' weapons in basejka, the weapons in JKG *will* get you killed if you're not careful.
In virtually all weapons, the projectile speeds have been significantly increased, damage of explosive weapons has been drastically elevated and on weapons like the repeater and the e-11, the firing rate has been upped as well.
Weapon Reloading
JKA Galaxies now features weapon reloading. Unlike base where you get a certain max ammo, JKG ses clips. The ammount of ammo in a clip depends on the weapon in question, and its usually a reasonable amount. Each weapon also has its own reload time, so bigger weapons, like the rocket
launcher, take more time to reload than the e-11. Not every 'weapon' uses clips, explosives (thermal detonators, detonation packs and trip mines) don't use clips, but you can only carry a certain amount with you at any time.
Reloading happens by just pressing the reload key (which you'll have to assign first
) and if your gun runs out, you can either have it autoreload, or stay empty until you reload it yourself (this is controlled using a cvar called jkg_autoreload).
This is added to add a new tactical element to combat, since you can't just stack up on ammo and spray rounds like mad, because if you do so you'll end up with an empty clip quite fast, leaving you unable to fire until you reload your gun.
Damage/healing indicators
Most (MMO) RPGs have ways of displaying the effects of your attacks, either by means of a health bar, or by showing the damage you caused. I wanted something like that in JKG as well, but since betraying someone's health didn't seem like a good idea, i went for strictly using damage
indicators.
Simply put, if you hit someone, and do damage, a number will appear, in red, showing how much damage you did. Damage to shields however, will not be displayed.
This way you can see how much damage you did, but at the same time you dont how how much is remaining
And of course, the opposite version of these: healing indicators. If someone heals, either by using healing items (medpack's 'n stuff) or by using force health, a green indicator will show up showing you healed up.
Shield damage reduction
As a little bonus for shields, they will not only protect you from damage, but they can also be upgraded to reduce the sustained damage. This will make it possible to drastically raise your chances of survival in a battle by upgrading your shields so they have a lot of charge, and a lot of damage reduction. Do mind that these wont come cheap and that default shields will not feature any reduction by default.
---
Next, we have some new animations brought to you by none other then Hirman
Force Deadly Sight
FORCE LEVITATE/TELEKINESIS
And finally for a special treat, some models for you from Huntver *Gasp*
Pod Racer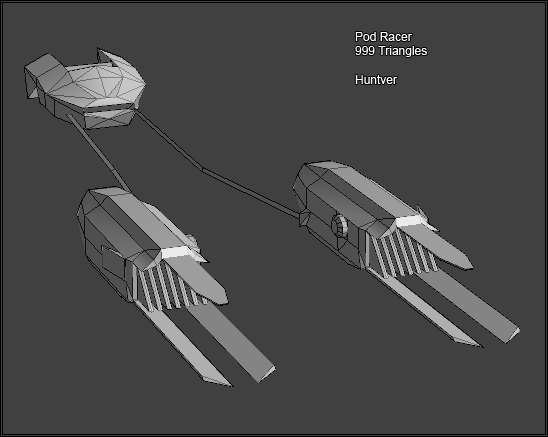 Dewback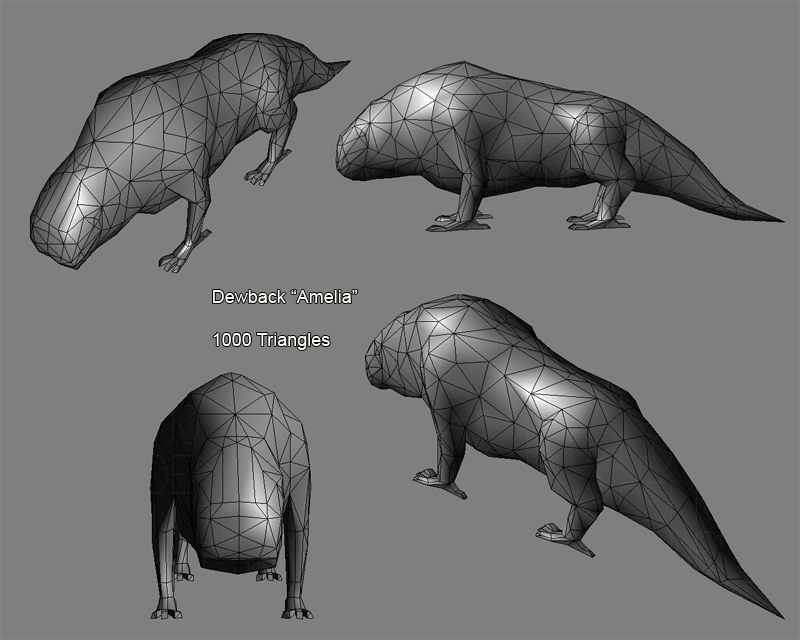 Enjoy, be ready for some more soon!