Hi all!
That's right Wicopp (author of the legendary WCP mod) is back! He offered his help to the Back2Fronts mod. We helped each other in past so it was a pleasure to join our efforts and continue.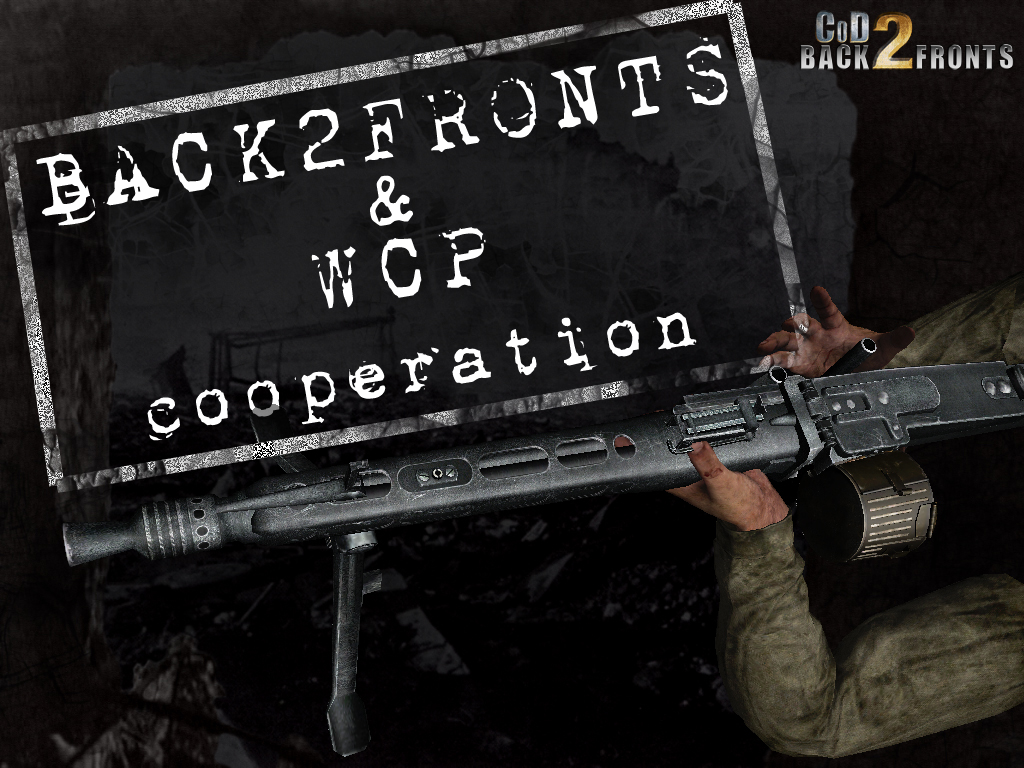 The cooperation started circa a month ago. We both share very similar attitude in modding so the work goes smoothly forward. Since Wicopp is much better scripter than me he took this role and works on many improvements.
Back2Fronts will contain 8 custom SP maps:
leonspmap, Russian campaign (by Leon Brinkmann)
stalingrad, Russian campaign (by Babycop)
leningrad, Russian campaign (by Babycop)
eastyorks2, British campaign (by Yorkshire Rifles)
angoville, American campaign (by Soulwax)
lamaire, American campaign (by Ryan Krysiak a.k.a. Ace008)
radiobase, American campaign (by Estonian)
redsquare, German campaign (by Taintxs)
All these maps will be present in the mission select menus for easy accsess and built into the default CoD2 campaign gameplay flow. All maps are moddified, sometimes to add detail or change something, sometimes because of historical accuracy and also sometimes to correct known bugs and enable B2F compatibility.
Wicopp works also on other script related things but I won't reveal them for you now because it's supposed to be a surprise. But I can say that some of them were in his WCP2.91 and some of them are new. You will be informed after the works on these are completed.
A good news for you guys that the potential full release is closing in. Here is the list of top things that has to be finished in order to release the first full version of the mod:
finish WCP-Back2Fronts cooperation
finish bayonets/knifes
finish all remaining portable and turret machine guns (DP-28, 30cal)
finish handheld antitank weapons (PTRS-41, Bazooka M9 and M1)
Slightly off-topic info - I have to submit my Master's Degree Thesis in a 3weeks period. So in the incoming 3 weeks I won't have much time for modding.
Custom stuff info:
I probably didn't say that in any of my previous news posts so I am gonna make it clear now. There are 2 types of models in Back2Fronts from development point of view:
REMODELS - these are remakes of some original CoD2 weapons/vehicles/etc. All these remakes must stick with the DEFAULT CoD2 TEXTURES. These TEXTURES are of course RESKINNED for nicer detail but their LAYOUT is SAME.
NEW MODELS - these are new models, so all the weapons/vehicles/etc. that were not in original CoD2. All new models can use CUSTOM TEXTURES with CUSTOM LAYOUT.
That had to be done because of compatibility and performance reasons. CoD2 engine has a certain limit for number of custom models, textures and materials. I decided to stick with the default layouts as much as possible to save the space for totally new custom things that were not in original CoD2. I hope you guys understand that.
Now some info of already completed work:
Portable MG42
The whole MG42 model was totally overhauled. The most detailed model version has 5864 polygons (compare with 1297 polygons of the original CoD2 MG42). The model was created using advantage of my older MG42 models and references from MOHAA, CoDWaW, CoD1 and unused CoD2 MG42 models for 1st person. I naturally made LODs to save memory.
Anims were created from my MG34 anims. MG42 can't use the same anims because it has slightly different shape and topology compared to the MG34 (especially the sights, barrel and bolt handle). Reload empty and partial reload both included like on the MG34.
MG42 is lighter and faster than MG34, it also has incredible firepower (1200RPM). Although the recoil is big you don't have to aim much thanks to the incredible rate of fire. The only disadvantage with this gun is that it doesn't have semi auto mode, accuracy is worse than on MG34 and it eats ammo very quickly.
CoD2 BF MG42 animation preview
Video preview of the first MG42 ingame test.
Bayonet anim for M1 Garand
Since each bayoneted weapon must have its own bayonet anim I created one for M1 Garand based on the anim from CoDWaW. The new anim is shorter set for CoD2 melee standard and less camera shaking.
M2 Carbine
Along with the M1 Carbine remodel the M2 was made as well. The paratrooper M1A1 might be created as well in future.
Thermite grenade
Thermite grenade is encountered only in some scripted moments so I decided to change that and make a regular pickable grenade from it. Only American troops are equipped with these.
New models for scopeless springfield and K98k
K98k and Springfield got new iron sights and more detailed ammo clips.
_________________________________
That's all for now fokes! Stay tuned!
Martin a.k.a. MCh2207Cz