Happy New Year to you all!
This post we hope will be an exciting one - we've been working on Age of Bronze's campaign mode for a little while, mostly what you might consider a pre-production or planning phase whilst the majority of our content work went into polishing up custom battle.
After our last update we began to shift the workload towards getting actual hard campaign content in, and working towards getting a playable campaign. There is a huge amount that needs to be done here - campaign factions need to be conceptualised, tech and building trees drafted and reviewed, meshes and textures created for campaign buildings, and on top of all that a huge amount of database work needs to be done to actually give us functionality (made trickier by the fact that most of how to get things working has to be figured out by trial-and-error).
Releasing a campaign will take some time, but in that time we want to keep you all in the loop as to how we are progressing, and give some tasty insight into both the design and technical challenges we face. With that in mind, we are proud to present the first of our campaign development diaries!
This first installment will talk a bit about the map - and to go with it we have our mod-ready image of the actual map (courtesy of team member DontFearMe22).
---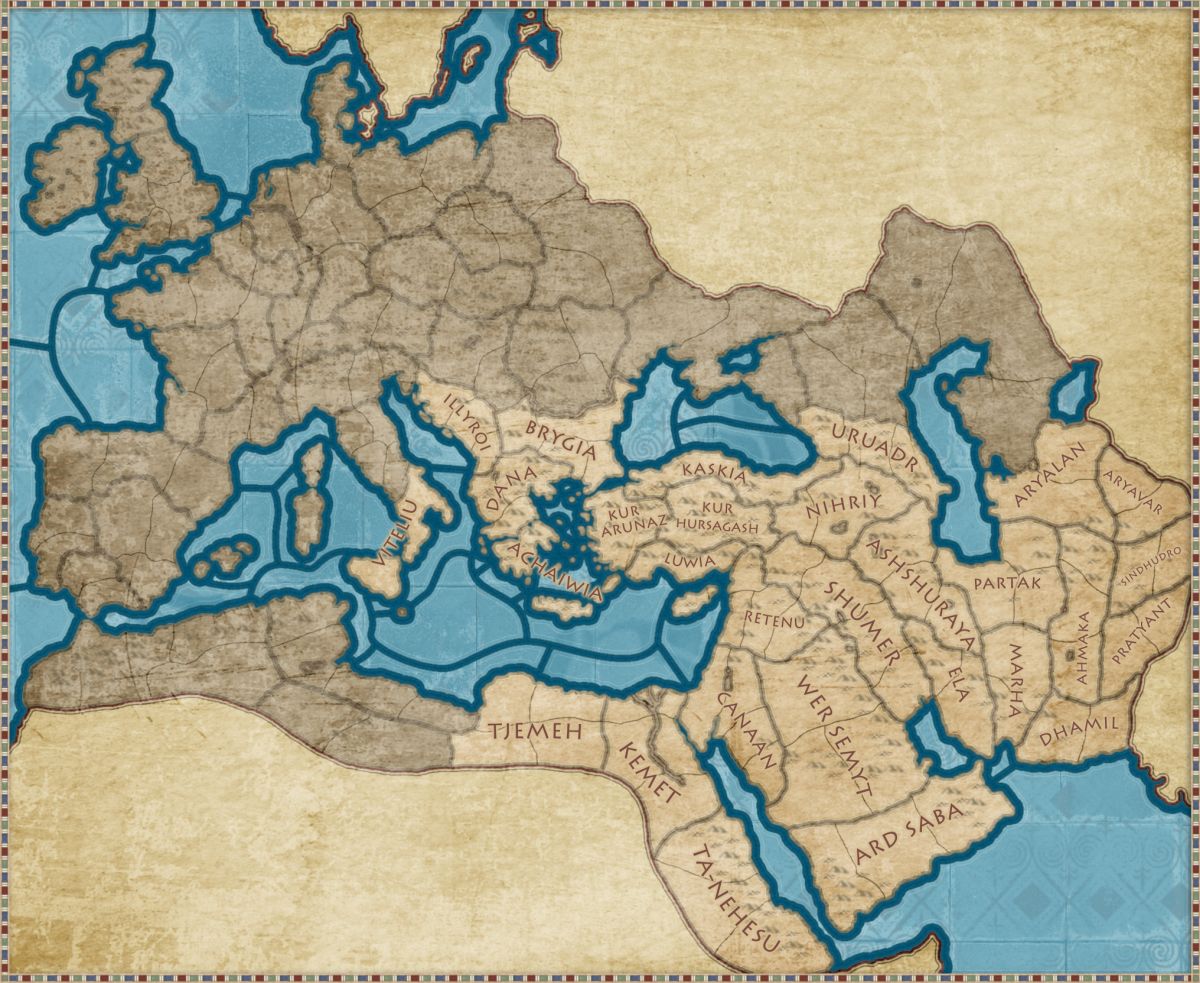 ---
---
One of the biggest challenges we've had with Age of Bronze both in and outside of map work is the western part of Europe - the vast majority of written sources about the Late Bronze Age come from Greece, Egypt, and anything eastward. This has left us with a very thin knowledge of western European bronze age society and culture, and as such the decision was made to not include any factions in this area of the world in our campaign.
Ideally we would simply be able to 'slice off' this part of the world and have a map focused on the eastern Mediterranean and Middle-East, however without map editing tools we are stuck with using one of the existing campaign maps in Rome II. This would be either one of the 'grand campaign' maps we see in the base campaign, Imperator Augustus, and Empire Divided, or one of the campaign pack DLCs.
As no campaign exists that covers our ideal region already, we opted to use the map of the vanilla grand campaign, with one caveat - see those darkened areas on the map image? That's all off-limits, except not quite - we can't (nor would we want to) introduce invisible walls onto the map, and whilst we do plan to have barebones western European factions inhabiting these areas (as they already exist in custom battle), these regions will be home to huge debuffs - if you march an army into any of these areas expect crippling attrition, terrible public order in any captured settlements, as well as each and every faction you encounter being hostile and unable to be negotiated with. This is the wilderness, and you probably should focus your attentions elsewhere.
---
So there you have a bit of insight into just one of the many questions we've had to ask whilst planning our campaign mode, we hope it was an interesting read and we look forward to talking more about the campaign soon. If you have any questions about this particular development diary then please leave a comment!
Stay tuned!
- The Age of Bronze Team