Continuing the units overview for BrewLAN 0.5, now replaced with the 0.5.1 hotfix, which has an almost identical features list but fixes several language and compatibility bugs. Today we have the Seraphim.

Seraphim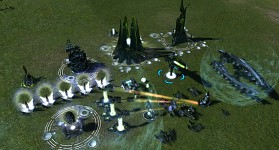 Seraphim gain the most units from BrewLAN at 28 units total. 6 at tech 1, 7 at tech 2, and 15 at tech 3. They used to get an experimental, but it got removed for being overpowered, reinstated after a massive nerf, then removed again for still being overpowered. I am of course talking about the experimental engineer. I have plans for the third coming, and for their future experimentals. But they are yet to come. They also get the fewest number of non-iterative unit models at 2, and those are the tech 1 and 2 mines. Their tech 1 air staging beacon is close to being non-iterative, but it uses the head off the tech 2.

Tech 1

Iyaz: Tech 1 Field Engineer
The Seraphim field engineers have a unique feature over all the other engineers; except for commander units, they are the only engineering units that sit on the seabed when they go into water. They also come with sonar stealth, which sounds weird until you consider that the regular Seraphim engineers hover and so also don't show up on sonar.

Vulesel: Tech 1 GunshipFairly standard affair; its a small gunship. It does what you would expect from a tech 1 gunship.

Thaam-atha: Tech 1 Light Artillery Installation
Small, medium-ish range artillery.

Othe: Tech 1 Pressure Mine
As with the other tech 1 mines its small, cheap, damaging, buildable only by the field engineers, and sits on the seabed if its in the water. Its only visible to omni, and won't fall for counter-intelligence tricks.

Atha-isle: Tech 1 Light Shield Generator
The Seraphim tech 1 shield, as with all the Seraphim shields, is the biggest and most expensive of its ilk. It almost competes with the Aeon tech 2 shield for size. But Aeon shields are tiny. It can upgrade into the tech 2 shield,

Iatha-uhthe: Tech 1 Light Air Staging Beacon
The Seraphim tech 1 air staging is unique in that it is called a beacon as opposed to a facility. It can refuel any aircraft that the tech 2 can, but only one at a time, and it repairs bigger things slow.

Tech 2

Iyazyn: Tech 2 Field Engineer
As you would expect, the tech 2 field engineer is like the tech 1, but bigger. Since the Seraphim don't have a tech 2 wall yet, its only unique units to build are the two tech levels of mine it has access to.



Iya: Tech 2 Engineering Station
The Seraphim engineering stations added by BrewLAN are basically the same as the Cybran engineering stations, with one exception: The final upgrade of the station has the ability to build another at the first level. They can self propagate. It sounds more powerful than it is; I only allowed it in the beginning because of an issue I had with getting the top level upgrade to aim because for some reason a unit without build options, but with engineering capability wont aim its fabricator without some serious faff that I didn't know how to do at the time. It stuck around because in the end its more micromanagement than its worth to get good use out of it, so for the fringe cases where its actually better, it can be better.


Tech 2 Energy Storage & Tech 2 Mass Storage
There isn't much that can be said for these two that hasn't been said for the Cybran equivalents. All the economy buildings are basically re-skins of each other. Except for the BrewLAN tech 3 upgrades, which I will mention in their own sections.

Zhanasee: Tech 2 Proximity Mine
The most interesting thing about the Seraphim tech 2 mine is that it has one of their few custom models. Other than that, its invisible and it explodes.

Tech 3

Iyazyne: Tech 3 Field Engineer
The Seraphim tech 3 field engineer, as you might expect, is their largest field engineer. This wasn't always the case, but i have come to the opinion that experimental engineers can't be balanced.

Ilshatha: Tech 3 Heavy Assault Bot
Compared to the tech 2 assault bot, it has less health, but deals more damage, moves faster, and has a shield. It probably has some other edges, but I'm doing all this from memory, and I haven't touched the unit in a while.

Ythhu: Tech 3 Mobile Strategic Missile Defense
The main difference between the Seraphim mobile nuke defense, is that it telegraphs when it has a missile ready; you can actually see it if its ready to fire. So you can't bluff with the Ythhu. If they can get a good look at it, they will know if your army is protected.

Vulthuum: Tech 3 Heavy Gunship
The Vulthuum has some scary powerful AA, although it is very short range, so it best used to obliterate enemy gunships.

Vishuum: Tech 3 Heavy Air Transport
Vishuum can carry 7 tech 3 units with space for a tech 2 units, 15 tech 2 with space for 2 tech 1 units, or 32 tech 1 units. It comes with a shield, some token gun, and costs the same as the Continental. It was one of the first tech 3 units I did, so it doesn't really push the boat out much, not like the more recent Solaris, which we will get on to on the Aeon section.

Souioz: Tech 3 Heavy Torpedo Bomber
Large torpedo bomber.



Tech 3 Armored Power Generator, Mass Extractor, & Mass Fabricator
The tech 3 armored resource buildings for the Seraphim cost 50% more than their regular resource buildings, produce 25% less in the case of the generator and fabricator, have an additional 150% health. They are the only cycle of advanced resource buildings that has an 'ability' that can't be turned off.

Inaino: Tech 3 Nuclear Mine
The Seraphim Nuclear Mine deals slightly less damage in the very center than the other Nuke mines due to it being the only one that actually disables its death weapon when it fires. But its very pretty. Its the only one that I consider finished.

Othuushala: Tech 3 Heavy Point Defense
The Seraphim tech 3 heavy point defense is basically the weapons torn off the left arm of a Ythotha.

Sinn Unthe: Tech 3 Anti-Armor Point Defense
Conversely, their anti-armor point defense is torn right off the Ythotha's right arm. It is not a good day to be a Ythotha, unless you have an amputation fetish. Compared to the other anti-armor point defenses, it has the highest rate of fire, but lowest damage and splash radius.

Athahaas: Tech 3 Shield Wall Section
The Seraphim tech 3 wall, rather than being a massive bulky thing that can have turrets, is has a tiny shield bubble. Offers surprisingly good protection from things like Bricks.

Aezhou: Tech 3 Sonar Platform
This sonar has an interesting twist; it comes equipped with a personal teleporter, so it can do all the shenanigans with being places it shouldn't

Aezselen: Tech 3 Optics Tracking Facility
This one is like the quantum optics facility, but it can only target units. The vision then follows that unit around for as long as it exists, and disappears when the unit dies.