Merry Christmas everyone and welcome to this festive blog! We've been busy once again so we hope you enjoy!

---
Harkonnen Infantry
For about a year now we have only had Atriedes and Ordos with infantry, but now we finally have the Harkonnen Infantry model done! Kiory from the Renegade X 40k team has kindly modelled this guy up for us so a major thanks goes out to him for his major help towards to the mod!
Here he is!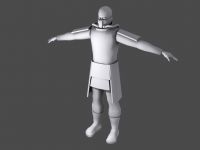 Now all we need to do is texture and rig this guy!

---
Binocular Scopes
gtp0rong has finished editing and fixing up the other two House's scopes. Now the Harkonnen and Ordos have their own specialy themed binocular scopes!
Check them out!
---
Harkonnen Refinery
LR01 has been very busy working on the Harkonnen refinery's interior and I think he has done an amazing job on it, all that needs doing now is animating it and texturing!
Recruitment
Battle for Dune is looking for Texture Artists, Infantry Modellers and Unwrappers! So if you like what you see and want to help out, then please pm me here on Moddb or come to our forums at www.battlefordune.co.uk, register and show us some of your resent work, or PM me here.
---
IGOTY 2009

Thanks to everyone who has voted so far, please keep on voting to show your support!

---
Check out the blog on our forums
here.