Hey sorry for this being so late, I had minor surgery on my left wrist so I was pretty much out of things for abit.. But all is well now so here is the blog!

---
Jackhammer Shotgun
Fz007 has finished the first person model of the Harkonnen Engineer's primary weapon and it looks awesome.
Now off to Eeevil for texturing!
---
Harkonnen Infantry
Seeing as we have been using the Renegade Nod soldier as a placeholder for the Harkonnen infantry, LR01 rigged up the model we have and put it ingame. Looks better than a renegade nod soldier there in my opinion!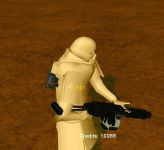 ---
Minotauraus Animation
Due to LR01 remaking the Atreides Mino, he has recently also remade the walking animation for it as well. With a combo of how it walked in the E:BFD cut scenes and how it would fit ingame, here is the fuinshed result!
---
Map Blocker Replacements
Map blockers are something we've been thinking about a lot at BFD and we have come up with a new of doing them. Instead of having the old invisible walls for map boarders we now have signs telling you where the map boarder is, then two damage zones.
The first damage zone is a weak one for more of a warning then the second is a much stronger one that will kill you very quickly, here is a video showing how it works.
---
Recruitment
Battle for Dune is looking for Texture Artists, Infantry Modellers and Unwrappers! So if you like what you see and want to help out, then please pm me here on Moddb or come to our forums at www.battlefordune.eu , register and show us some of your resent work, or PM me here.

---
For the full version of this log click
here
, for the main forums and SCUD Storm click
here
.