Beautiful Doom 6.2.0 is finally out! It's been a few months since the last update (6.1.4.1). It went through a few internal updates before I decided I gathered enough new features and improvements for a full new release. So let's take a quick look on what I was working on.
Blood
Blood code and animations has always been a key component of the mod, and almost every update brought some improvements to this aspect. 6.2.0 brings the biggest update for a while, although it's mainly not thanks to me but thanks to a new feature now supported by GZDoom: flat sprites. This allows to easily create images on floors and ceilings without ugly and expensive workaround like flat 3D models.
As a result, blood pools are now actual pools. In addition to that, after some brain-racking and asking around I was able to implement a code that makes these pools always be placed on the floor. Have you ever noticed in other mods how pools sometimes hang partly in the air when they fall next to a ledge, like on a stairway? Well, it doesn't happen in Beautiful Doom.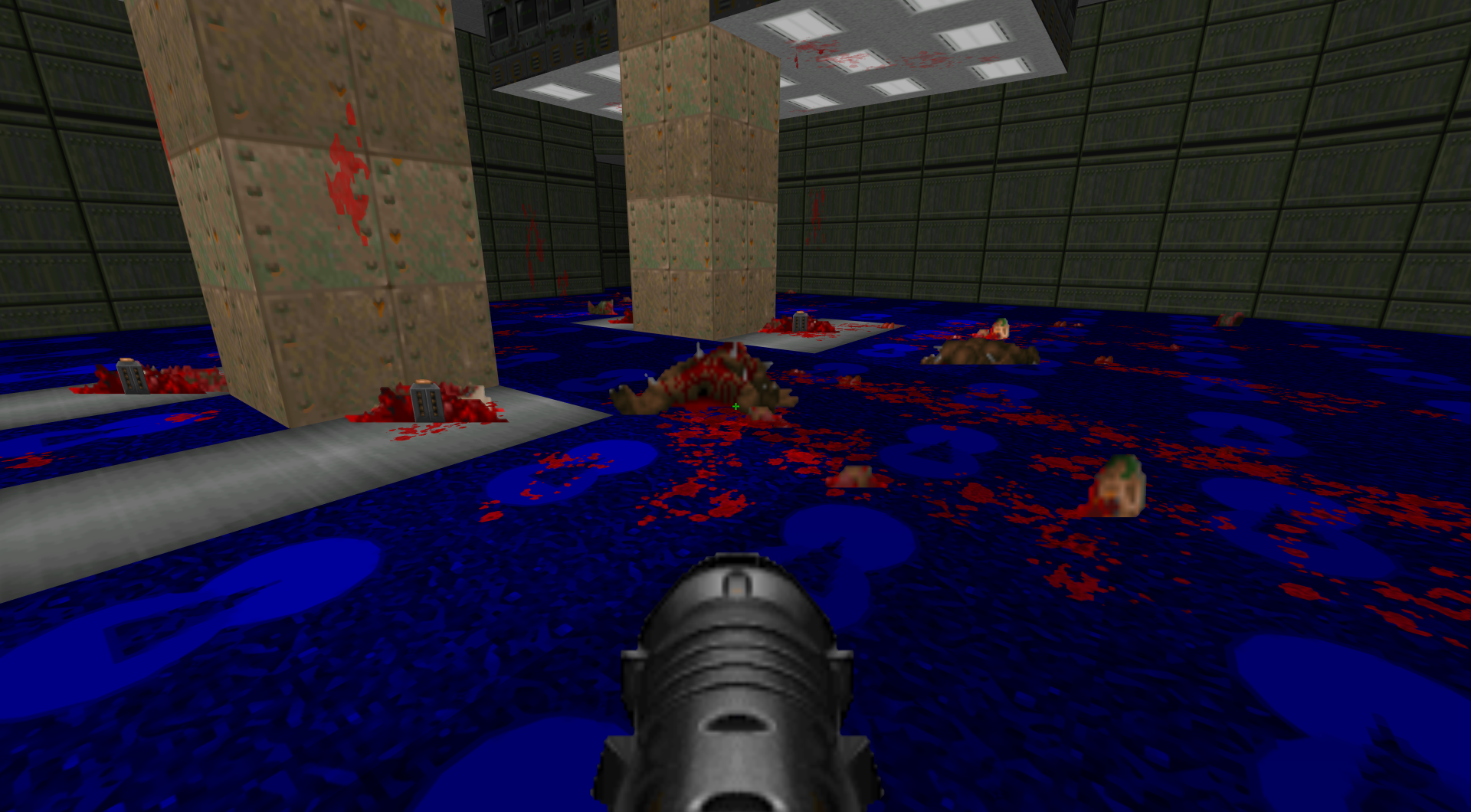 There are a few other additions. Blood can now spray on the ceiling and slowly drip down in nicely-animated blood drops.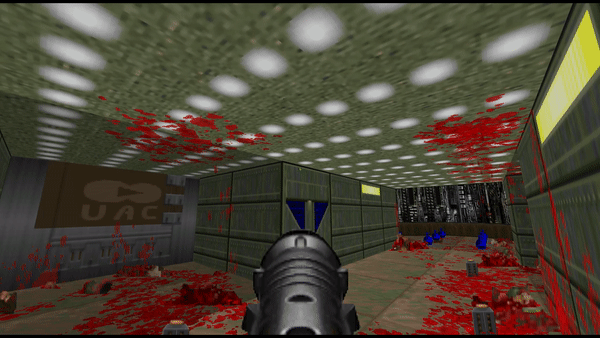 That's not all aboud blood. The code and behavior of blood has generally been improved and made more consistent; decorative blood looks much better; but you'll see that in the game.
And a feature we've all loved since Duke Nukem 3D: bloody footprints! Cross a large enough puddle of blood and you'll be leaving bloody footprints behind you for a while. They fade away eventually. They can also be of 3 different colors depending on the blood of your enemies (red, blue and green).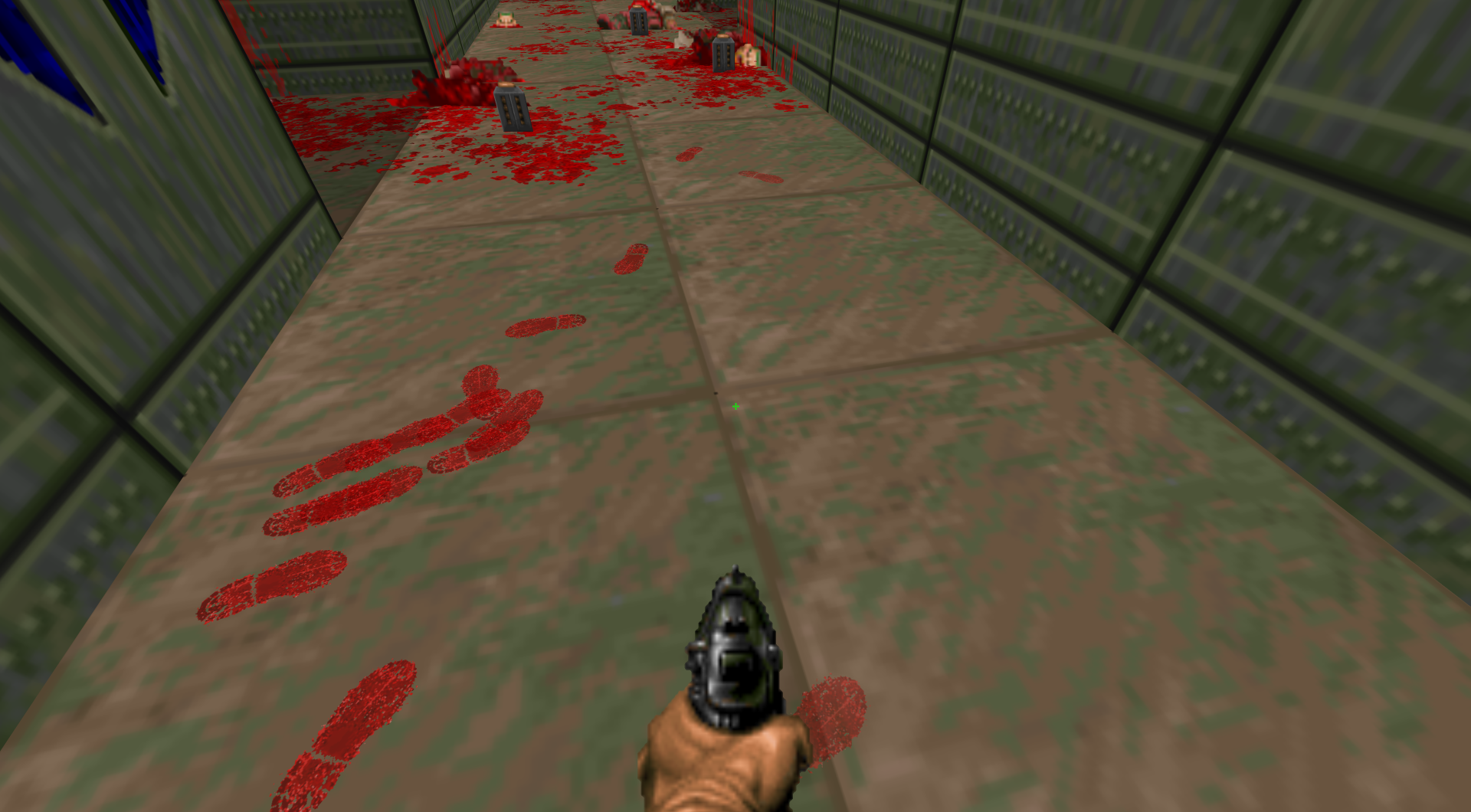 Resurrection
Among other noticeable visual updates, Arch-Vile's resurrection now looks much cooler on gibbed monsters because gibs don't just disappear but move towards the place of ressurrection, as if trying to stitch the torn monster back together.
Better-looking BFG9000 attacks and new alternative attack
BFG9000 got a visual update: its main attack is now prettier, with more consistent lighting and green sparks. BFG bplasma also doesn't obscure view so much anymore and is closer to its vanilla size.
If you like using Enhanced Weapons, you know most of them have alternative attacks. Until this version BFG9000 used the attack styled after the BFG attack from press-release beta version of Doom: 40 bouncing plasma balls. That was definitely boring. So instead I created the Heavy Laser.
This short-range ray pierces all targets dealing equal damage and can also be channeled for about 5 seconds (100 cells) until it automatically starts cooling off (notice that the cooldown period is shorter if you let go of the fire button yourself than if you wain until it starts automatically).
In terms of raw damage I could say it's more or less equal to BFG's primary fire, but it's hard to compare them. It may be more effective in some situations (like cleaining a hallway of multiple closely positioned monsters), while completely ineffective in others (like clearing big areas). Nevertheless, it's always fun!
Other stuff
There are plenty of other minor improvements and bug fixes that you can read about on Beautiful Doom 6.2.0 download page. Most importantly, it'll work properly with GZDoom 3.1.0. Unfortunately ZDoom is no longer supported because of the number of features that are unsupported or glitchy with it. Well, it's sad to see ZDoom go, but considering it has been officially discontinued by the developers, it's not a surprise. Zandronum isn't supported either, at least for now. There are plenty of things that can't be done even in its development versions, and for now I'm not sure if it's worth trying to cut out stuff or find workarounds to make the mod work with it. Ultimately you can always go with an earlier version.
That's it for Beautiful Doom 6.2.0. Now go and rip and tear, until it's done!