HλZARD TEAM
Ok so a lot of things have happened after 6 months of no news. It gets a little worrisome of people thinking something is dead. We assure you we are not dead, rather the opposite we never have stopped working. We have been talking about what to change and what to keep as close to the original as possible? What should the player have more control over and what to let the game decide? So let's get on with the update.
Overview
So we have gotten a name change to Hazard Team, when you think about it, it's much better. Half Life: Decay was originally going to be called Hazard Team but they later changed it to better fit with the other games. So we decided to use Hazard Team as a sort of nod to Gearbox.
So without an update for six months lead to a misunderstanding if we were dead or not, causing another mod to pop up also working on a Half Life: Decay mod. After talk, we joined forces to create a fun experience for the play.
Models
The models have been reworked to better fit the source engine and old media has been taken down. The Glock has been completely remade in its new sleeker look.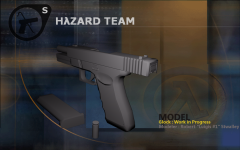 Maps
Here are some shots of one of our levels. Our mappers have been hard at work to supply a fun experience for the players when they play Hazard Team. We have decided to give the player more freedom in some parts of the game.



Positions


There are openings in the spots of:
· Modeler
· Texture Artists
· Concept Artists
· Mappers
· Coders
Send in some samples of your work and contact information to Hazardteammod@yahoo.com