I am very happy to introduce you to the NCF Utility!

With current release it is now possible to setup the NCF addon for Heroes of Might and Magic V with just a few easy clicks. Select the monsters you want to add to the game and hop right into the action.
---
Installation instructions
Head to the download section and grab NCF Utility installer.
Install it in the Heroes V game directory. It will deploy a desktop icon called "NCF Utility".
Launch the application and you will see the main window.


Click on a proper NCF core to install it ("Tribes of the East" or Might & Magic: Heroes 5.5 RC9b release)
Select a package mark "All creatures" (or some) and select "Deploy". Thats it!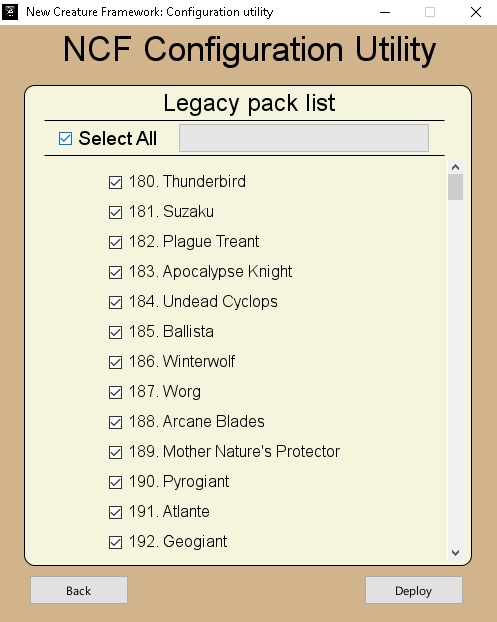 Note: Have in mind that different packs will not be compatible and each time new NCF creatures are deployed the utility will purge any currently existing NCF creatures.


As this is an Alpha release all required functionality is available but can be subjected to change in the upcoming releases. The aim of the project is to provide the user with friendly and easy to use interface (probably not the most beautiful one though...). For anyone interested the project is open source and can be found here on gitub.
---
Adding NCF creatures

To fill maps with new creatures go to /bin directory and find the editor.exe that has NCF in the name. Open it and add NCF creatures on the map manually.
If you are playing the Might & Magic: Heroes 5.5 mod you can use the mapmixer utility to auto-generate NCF creatures on already existing maps.
---
Creature packs - expectations vs reality


As this is the first ever release in more than 5 years changes are kept to minimum. Currently only "Legacy pack" is available, which is what most people refer to as "NCF MegaPack bundle". The pack is meant for history purposes, there will be no follow up updates for it so no new creatures are added to the pack (or removed) but there are a couple of fixes that were done including:
Changed: Mana value of some creatures because they could not use their spells
Fixed: Icons of numerous creatures were not visualized properly in-game.
Removed: Vanilla creatures from the pack. Now you can use the pack on top of standard game balancing mods.
In the near future you can expect 2 new packs:
Official pack - this will include all NCF creatures across the realm. This is NCF Megapack + anything that is available and still not inside (which is quite a lot as we have found). This package will contain all those creatures unfiltered and unedited.
MMH55 pack - this package will include quality NCF creatures which stats and abilities will be altered to fit MMH55 balance.
The new "NCF pack" system allows anyone who wants to make new creatures to create his own pack or add them to already existing ones. There will be an article about this in the near future.