Note: All rights to media used belong to their respective creators
Tier 0
Temple of Rage:
- Serves as Headquarters of the Angry Marines.
- Produces Angry Techmarines, Angry Gangs and Angry Serfs.
- Produces Angry Commissars, Crotch-Knockers, Angry Apothecaries and Angry Bards as leader units.
- Allows player choice of one out of 4 unique angry traits, each having their own special perks, benefits, extra units and abilities.
Angry Traits are:
- YOU TAKE THOSE FRAKKERS, WE TAKE THESE FRAKKERS!!!
- FRAKKING SNEAKY BACKSTABBING CRAPHEADS!!!
- FRAK YOUR PSYCHIC CRAP!!!
- COVER THEM!!!

(Try and guess what each of these provide... or better yet play and find out!)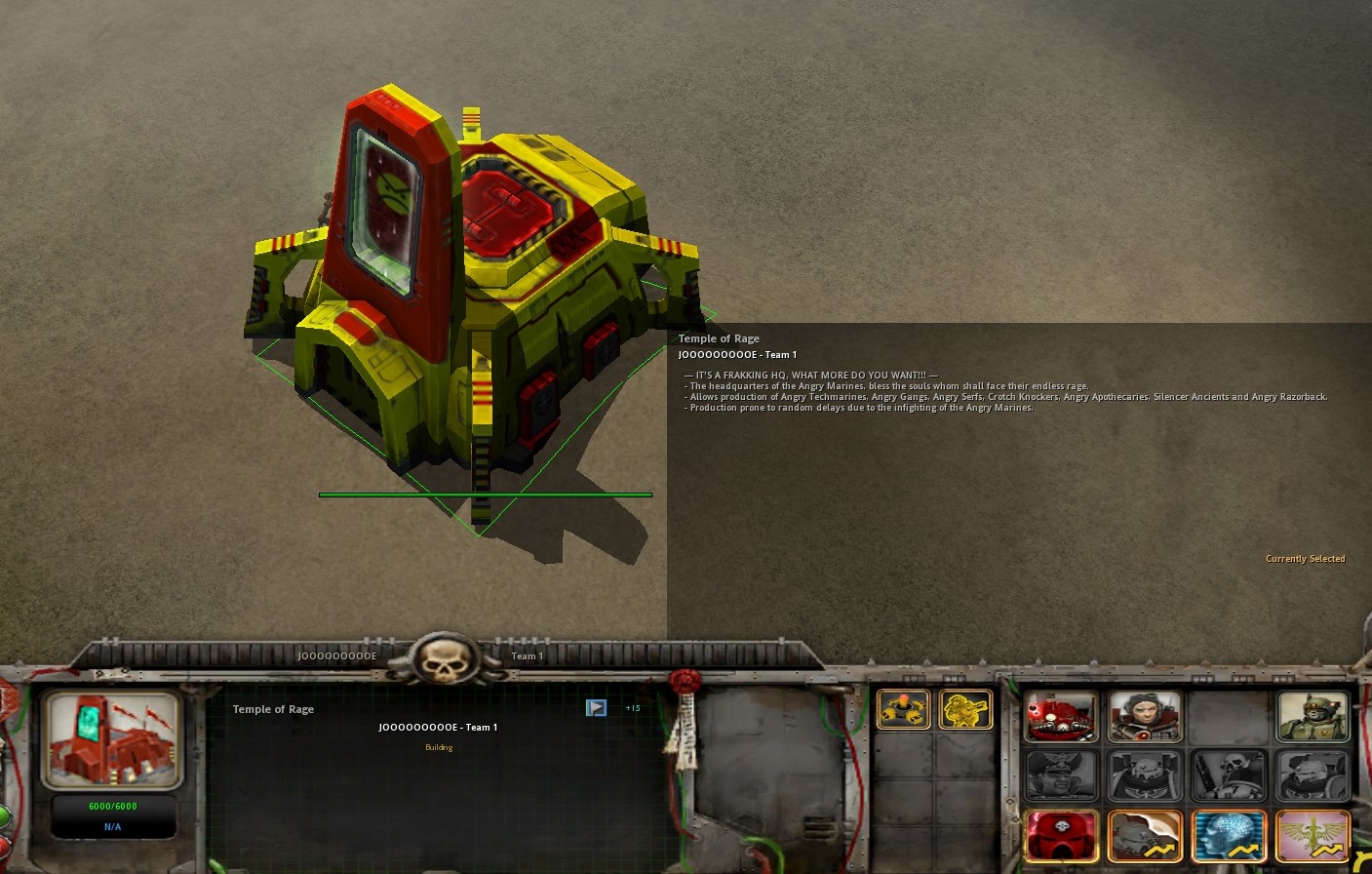 Tier 1
Angry Teleportarium
- The Barracks of the Angry Marines.
- Produces Angry Marines, Angry Assault Marines, Angry Bikers, Angry Devastators as basic troops.
- Produces Angry Captain, Master of Mindfrakkery(Librarian equivalent) and Angry Chaplain as heroes.
- Most units can be deepstriked directly from orbit in a... well, not a drop pod but an angry equivalent.
- Allows player choice of one out of 4 unique detachments, each allowing their own array of special infantry units for the player to make use of.
- IMPORTANT as they increase both SQUAD CAP and SUPPORT CAP.
Detachments are:
- MELEE ONLY MOB
- BURNERS OF THE CODEX
- FUCKINGHAM'S FANCLUB
- THE SILENT ONES

(Primarisly the same as the last description above... Oops! Did I hint a secret?)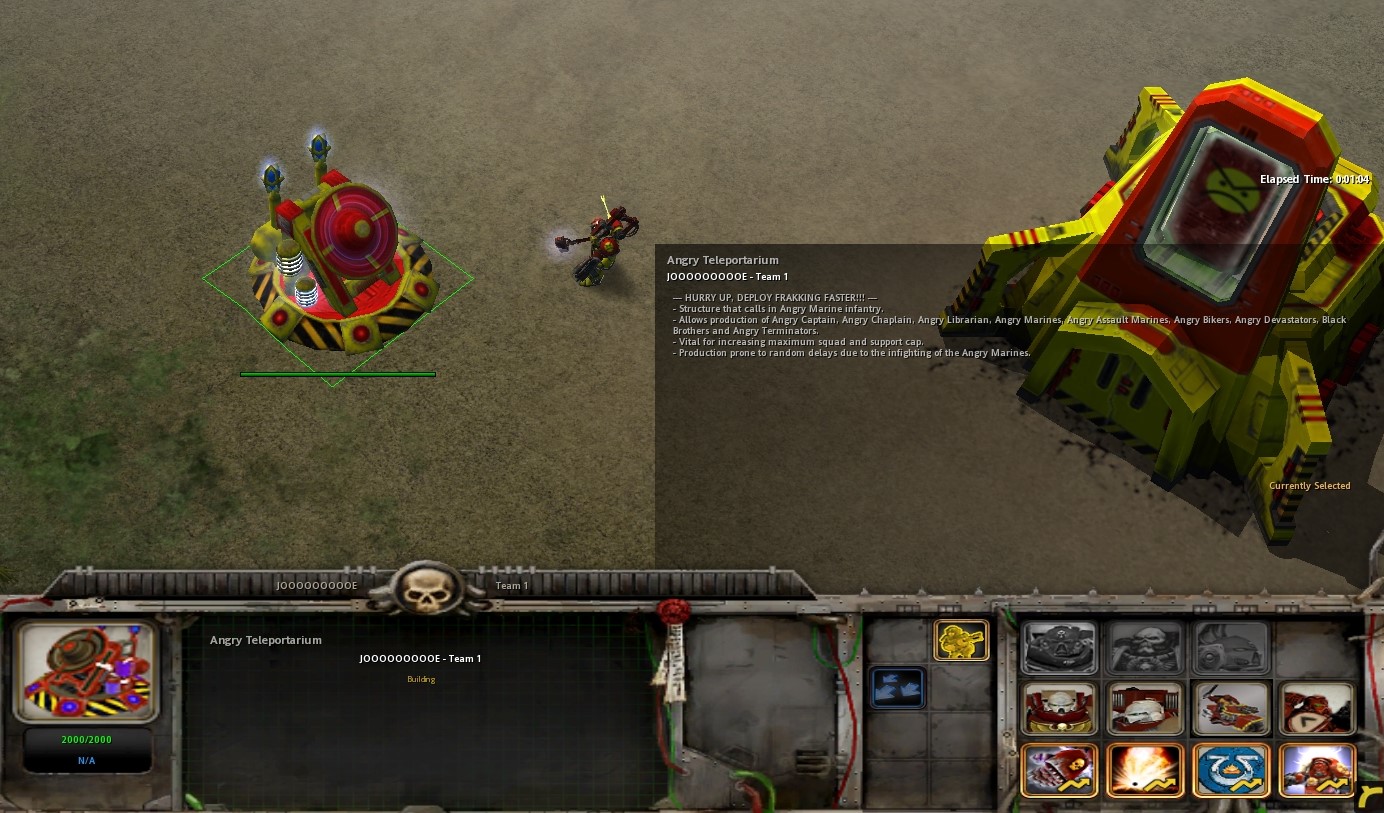 Rage Post
- Listening Post of the Angry Marines.
- Not upgradable as the Angry Marines hold very little value in defense.
- Can disrupt enemies through the over-amplified speaker systems.
- Can be used to call for orbital strikes when a specific research is completed.

(This and the lack of standard plasma generators give the Angry Marines a slightly different resource production system)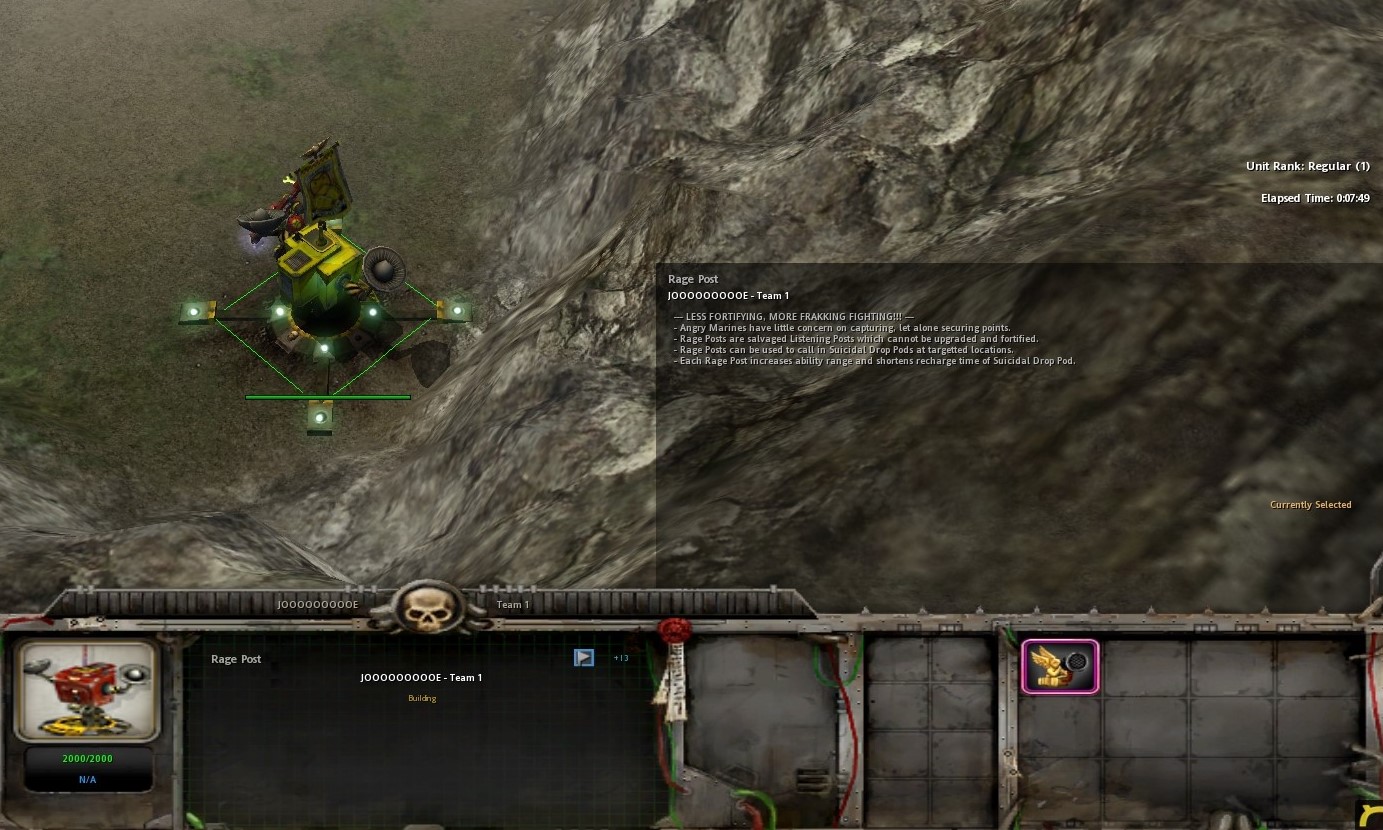 Angry Loot Center
- The resource building of the Angry Marines.
- Produces both requisition and power at a very low rate due to lazy workers.
- Has abilities to "motivate" the workers for temporarily increased efficiency. Be careful though, they may not always listen.
- There is always the option to take from others too.
Abilities are:
- MORE REQUISITION, YA LAZY FRAKS!
- MORE POWER, YA LAZY FRAKS!
- MORE PRODUCTION, YA LAZY FRAKS!
- MORE CONSTRUCTION, YA LAZY FRAKS!
- GIMME YOUR LUNCH MONEY!!!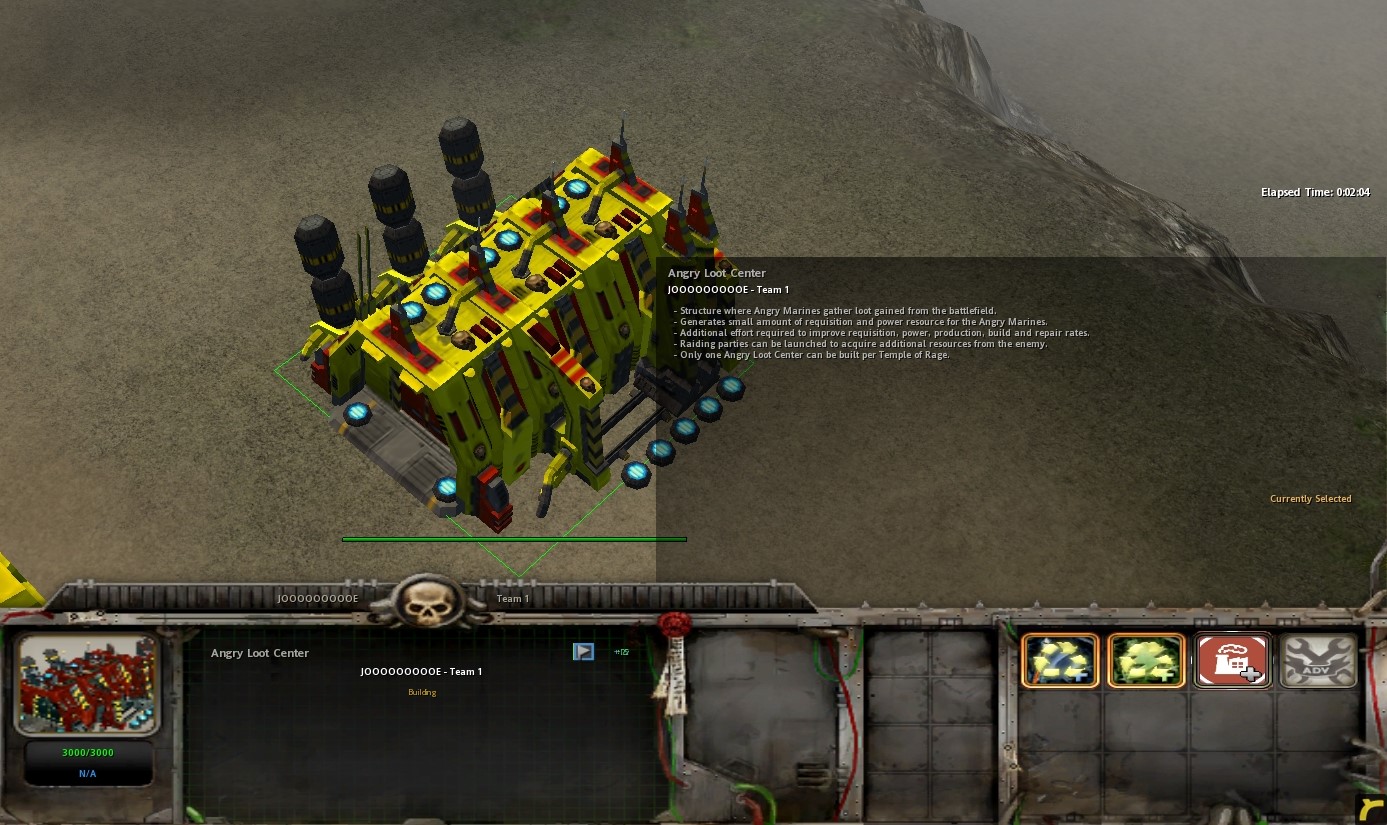 Tier 2
Angry Reliquary
- Research building of the Angry Marines.
- Has upgrades which improve many units and allow abilities once researched.
- Can research one out of four unique relics of the Angry Marines.
Relics are:
- The Codex Angry Marines
- Roll of Emergency Purity Seals
- The Head of Ward
- The Looted, Looted, Looted Pretty Marines "WAARGH MOTHERFRAKKER!!!" Banner
(Obviously being unique relics, they have a certain requirement before being researched)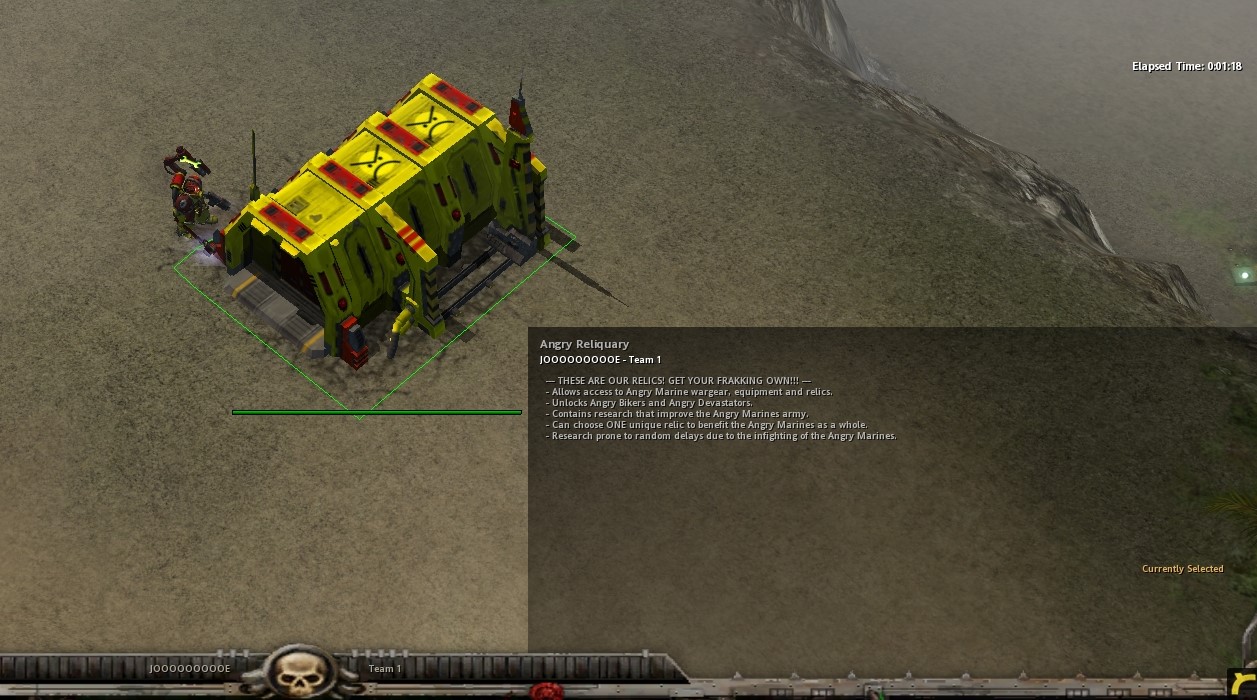 Tier 3
Angry Vehicle Station
- Vehicle production building of the Angry Marines.
- Produces Angry Marine variants of standard Space Marine vehicles.
- However, Angry Marine vehicles are more limited due to them seeing tanks as generally less angry.
- More powerful vehicles are limited as they are uniquely custom to the Angry Marines.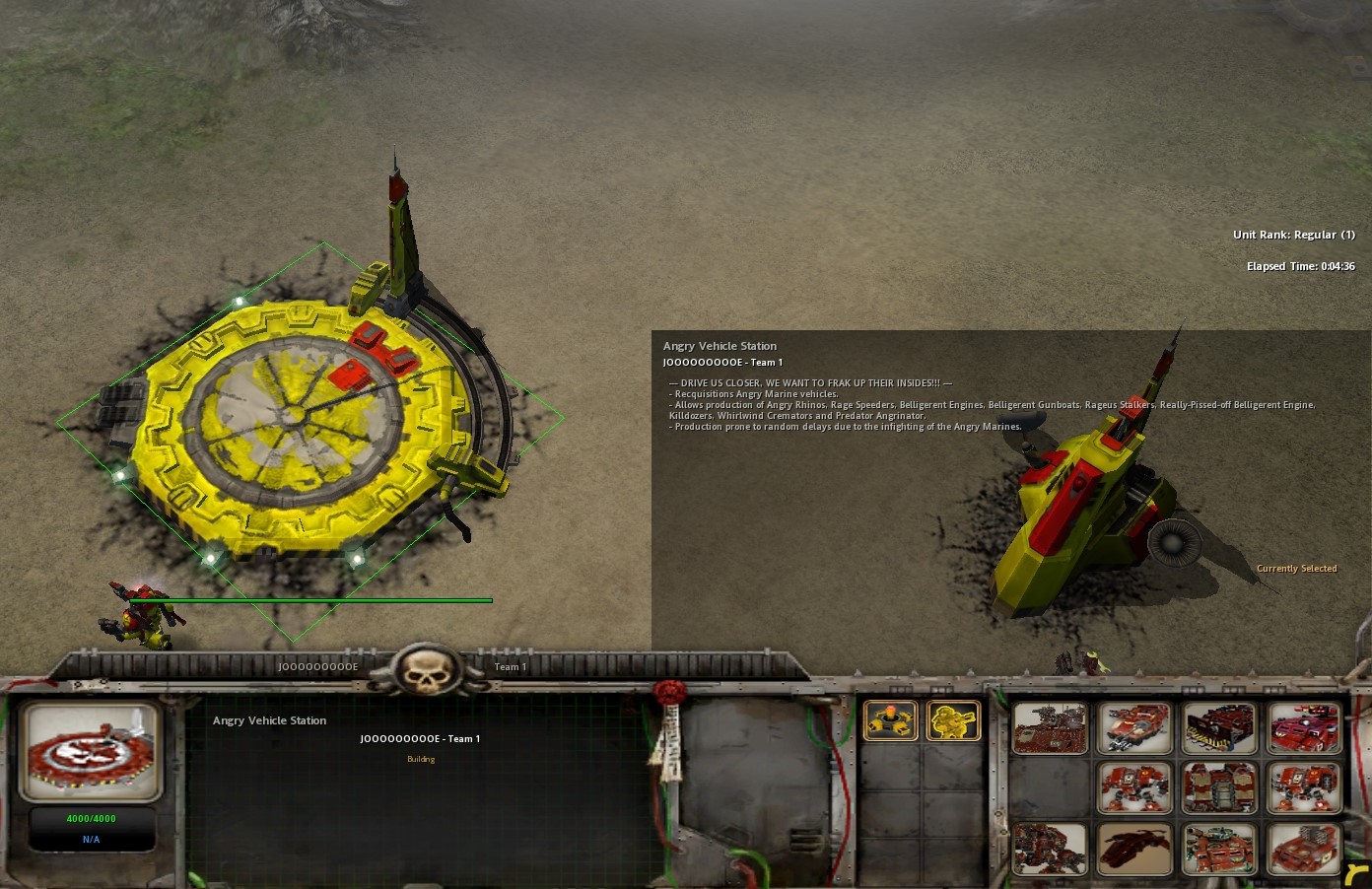 Furious Relay
- Unique Hero building.
- Allows the production of one unique Hero at a time from a wide variety of choices from TWO branches.
Branches are:
- Angriest of Angry Marines
- Most Honourary of Angry Bois

(Both provide an array of 8 choices which the player can have one of one branch at any time. Which means a total of 16 unique heroes!)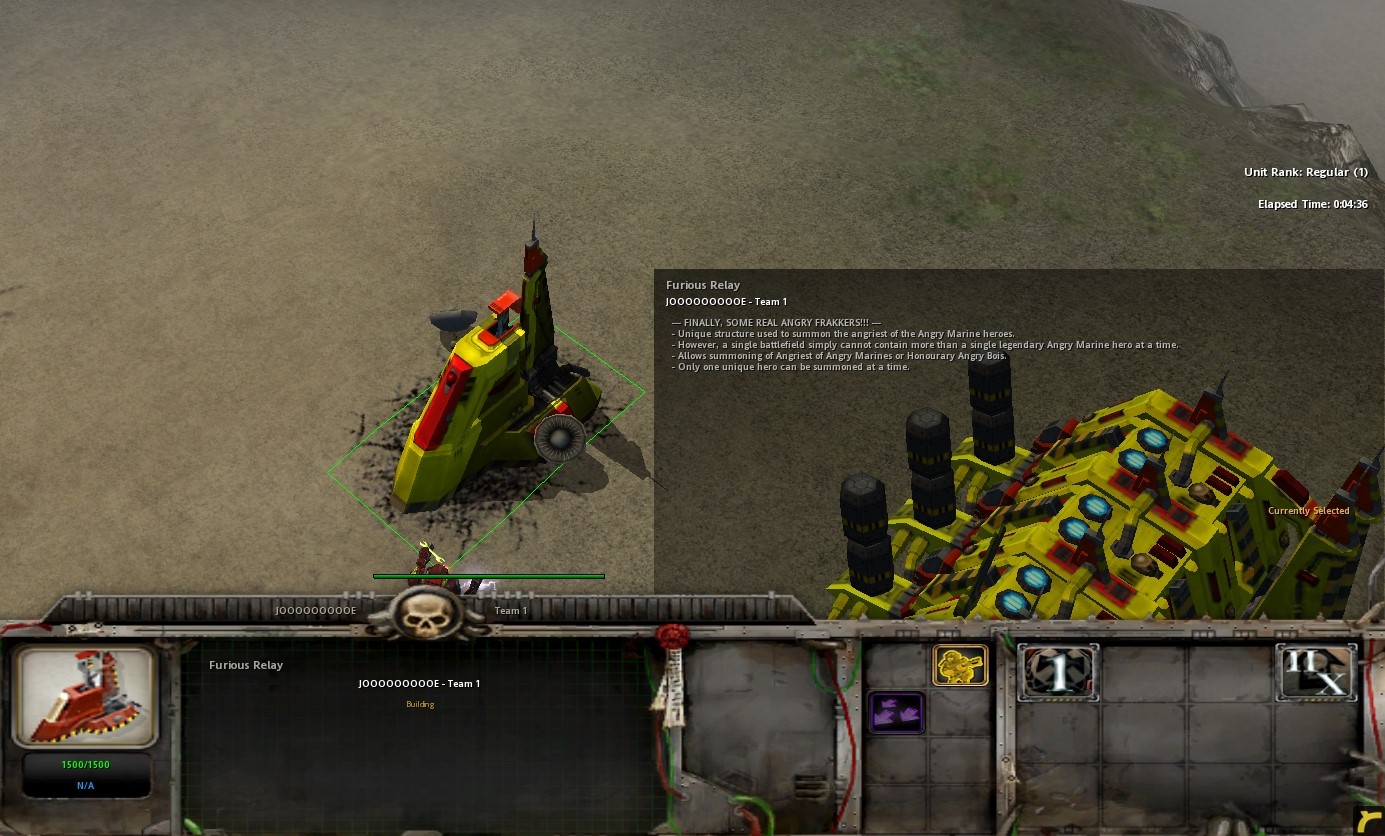 Tier 4
W.O.M.F Center
- Stands for Weapons of Mass Frakkery.
- Produces the most destructive superweapons of the Angry Marines.
- Player may choose one out of 8 superweapons, each requiring a relic point to be used.

Superweapons are:
- FLIP THEM THE BIRD!!!
- Litany of Profanity
- ROCK AND FRAKKING ROLL, MOTHERFRAKKERS!!!
- FIRE!... FRAKKING!... EVERYTHING!!!
- The Angry Marine Bomb
- RAGE-Nator Cannon
- Livid Saint
- The Doom Marine

(Interesting choices... aren't they? Huehuehuehuehue)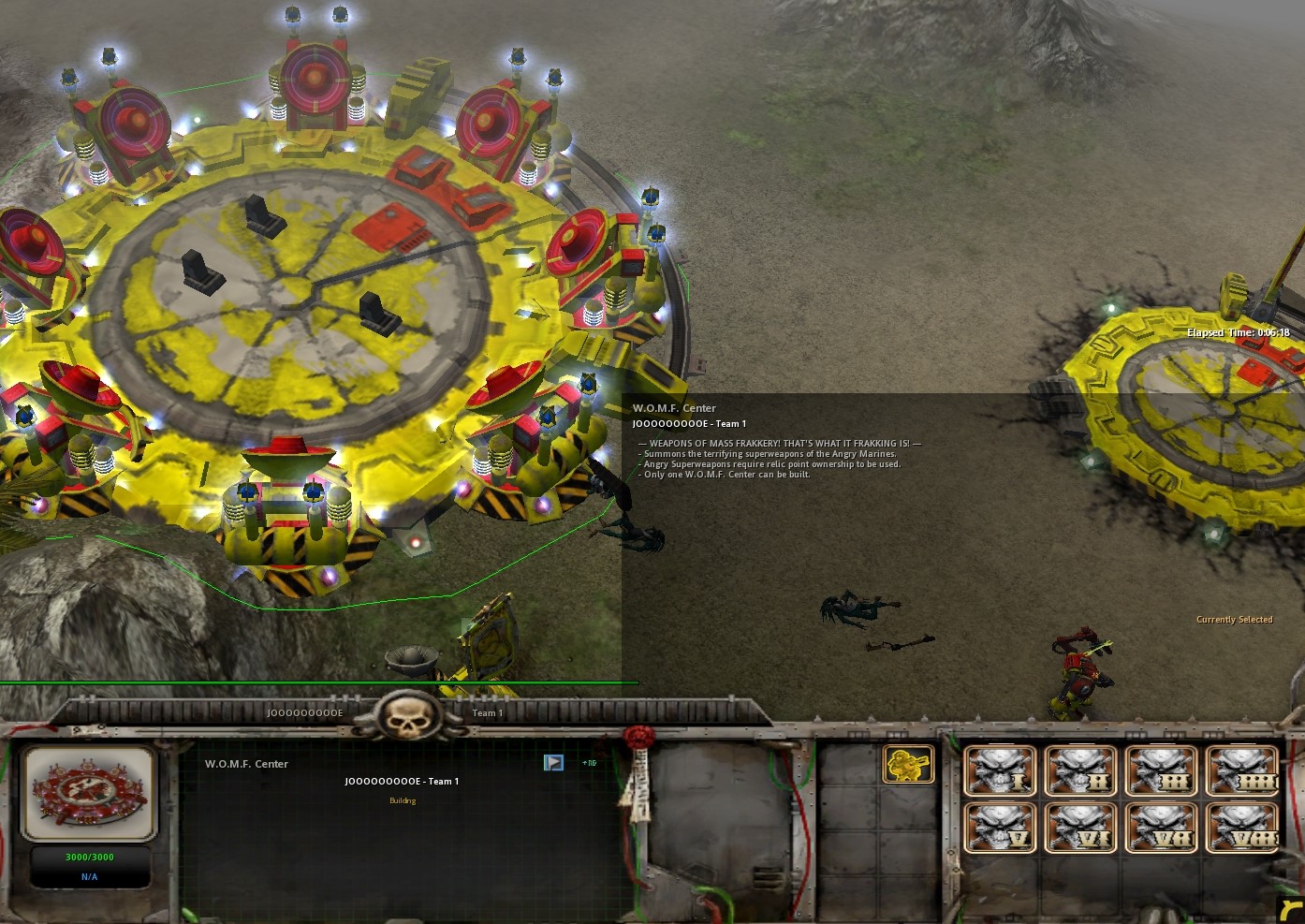 Finally
- Angry Marines are meant to be fun and interesting
- Yet despite their memery, they are designed to be playable and as balanced as possible.

(Balance requires people playing and reporting so that the mod can be improved for everyone to play with and against)
Production structures in general suffer from Random Production Delays in general, due to Angry Marine inefficiency and plain laziness.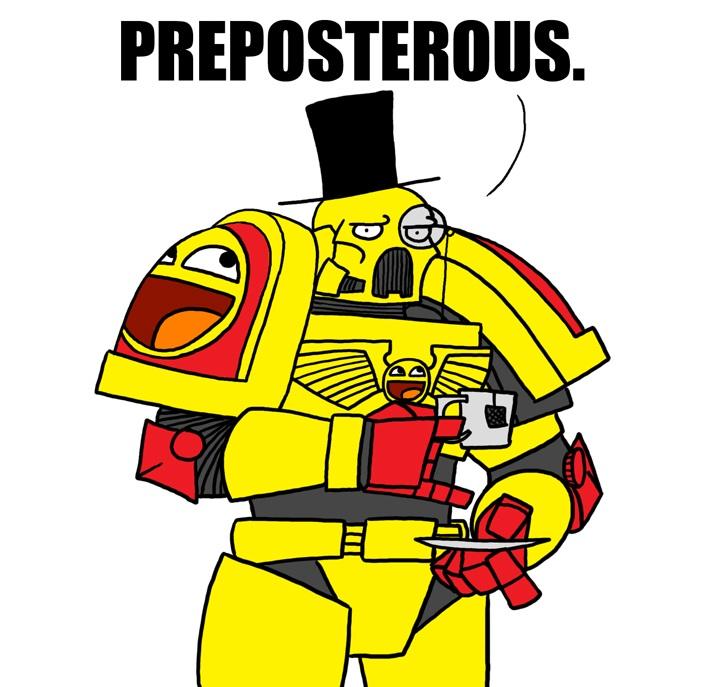 Last but not least,
- The morale system is tweaked to work differently for the Angry Marines with 4 main types.
NOT ANGRY ENOUGH: Same morale system as original
ALWAYS ANGRY: Demoralised units become empowered but uncontrollable
COLD-STONE ANGER: Unaffected by morale

Release of latest version coming soon, hope everyone will have fun with it!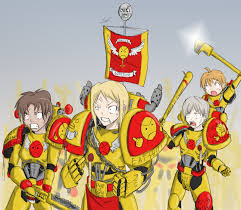 (Hopefully, everyone will enjoy the ridiculous angriness!)
PS - I repeat, aided by Black-Shield78, Gambit_1, Kekoulis, Thudmeizer mod team and many others