Hello Interregnum players!
First of all, thank you for your support in the first round of the Mod of the Year contest! We have made the top 100, and are now eligible for awards in the best upcoming mod category. Please vote for us here to help us advance in the second and final round!
And just as a reminder, you have a very good reason to vote. You've already earned your detailed faction guide for the new Rebel Alliance faction thanks to Interregnum making it in the top 100, and if Interregnum does well in the second round a hero unit of your choice and the Super Star Destroyer Eclipse could be added in the next update. However, as I forgot about the upcoming mod category when I made that initial promise, the criteria for those rewards is a little different than what I first described.
For the community's choice hero unit (to be decided by a poll in the forums), Interregnum must be one of the mods in the player's choice best upcoming mods or the editor's choice.
For the Eclipse to be added, Interregnum must win the best upcoming mod of the year.
Now with that out of the way, on to your first reward, the Rebel Alliance faction guide!
Faction Overview
The Alliance to Restore the Republic is a coalition of resistance movements opposed to the Galactic Empire brought into a single organization. While the group's stated goal was technically achieved when the New Republic was formed after the Imperial withdrawal from the Outer Rim, the Alliance continued to operate as it did before while the New Republic constructed a new conventional military to see to its own defense. In essence, the Alliance became the special operations force of the New Republic with the sole goal of defeating the Empire and liberating the rest of the galaxy.
Militarily, the Rebel Alliance uses two, somewhat contradictory categories of units that none the less manage to work well together late game. On one side are smaller, fast and hard hitting units like the CR90 Corellian Corvette, DP20 Corellian Gunship, X-4 Gunship and the MC30 Frigate which prefer to raid and ambush enemy forces and retreat before facing serious opposition. They can receive substantial support from the Corellian Scout, which can spy on potential targets from a distance and lay Navigation Buoys to create temporary hyperspace lanes, and the Nebulon-B Frigate, whose medical facilities can help these units recover quickly from strikes and can interfere with enemy targeting systems to prevent these ships from being attacked.
On the other side are the Alliance's larger, heavy warships that prefer to outlast their enemies and support each other in combat. These include the Assault Frigate line of warships, MC40 Light Cruisers, Bulk Cruisers, and the many varieties of the Mon Calamari's signature MC80 Star Cruisers. Backing up either tactic is perhaps the Rebel's greatest strength, their elite Starfighter squadrons, capable of striking at enemy forces while their carriers stay ready to leave at the first sign of trouble or to persistently pound away at enemy warships that attempt to attack the Rebel fleet.
Outside of combat, the Rebels have a variety of somewhat sneaky techniques at their disposal. While the Interregnum has given the Alliance its first secure bases, it has kept its decentralized and mobile command structure, giving them perks such as the ability to change their homeworld for free and the ability to survive without planets so long as they control a capitalship, titan or starbase (however, unlike the Vasari loyalists the Rebels have no means of production without planets; they must keep a colony ship alive and rebuild elsewhere rather than fight completely mobile). They also have the unique ability to construct basic buildings, like research labs and hangar defenses, in most uncolonizeable gravity wells, allowing them to have bases of operation in deep space unusable by other factions. Their history of contact with smugglers and tax evasion under the Empire also gives them a competitive trade focused economy late game.
However, for all its progress in recent years, the Alliance is still run as a guerrilla movement, and this makes it much less competent than most factions in the mundane business of governing worlds. This means it collects substantially less income from tax revenues from the planets it controls, which is particularly damaging early game where most of the player's income is from taxes on their home world. The Rebels somewhat compensate for this with the fact that several of their early game units are cheaper than other factions, but they are also more fragile, which means they will tend to take heavier loses in major battles until they develop a diverse fleet capable of increasing these units' defenses.
Key Unit List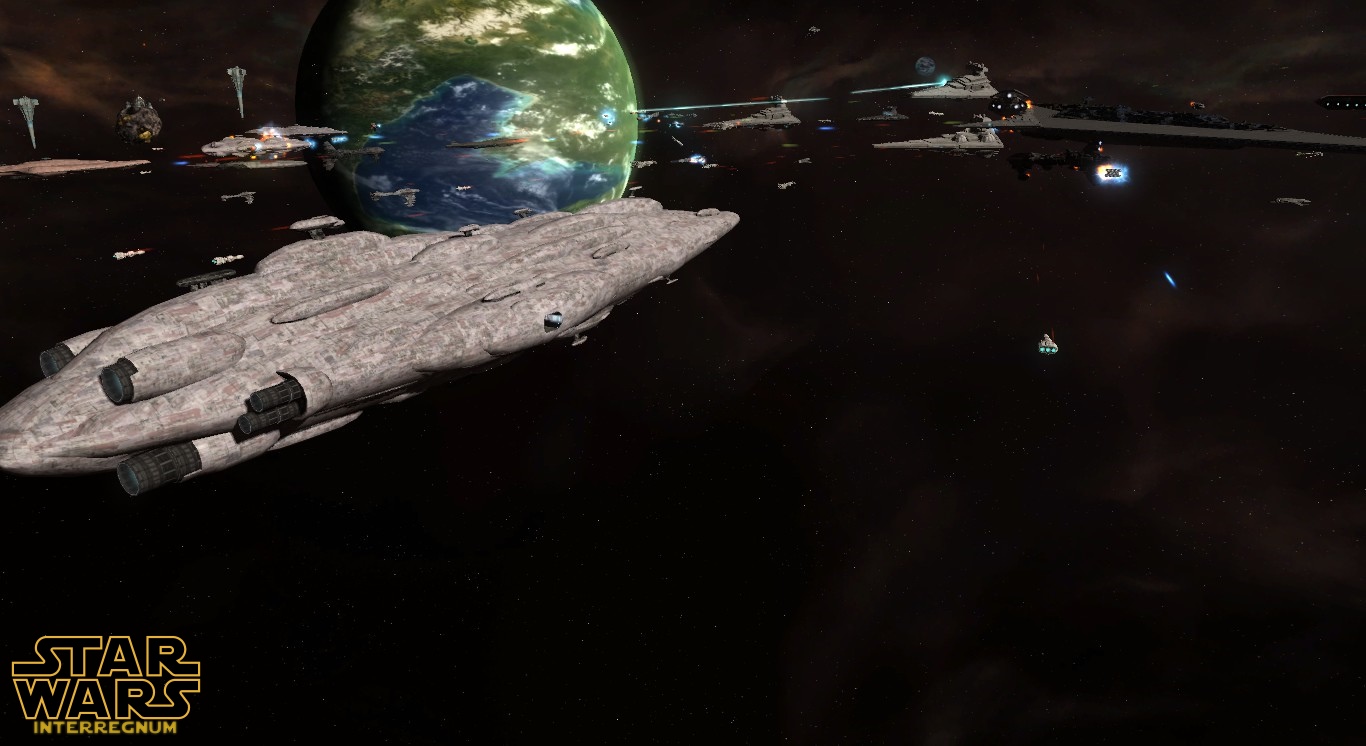 Titan - Admiral Ackbar (Home One)


The greatest naval officer in the Alliance Fleet, Admiral Gail Ackbar received an all to personal lesson in leadership, tactics and Imperial cruelty as the slave of Grand Moff Tarkin. After escaping from his master and helping his homeworld in the surprising overthrow of Imperial rule early in the Galactic Civil War, Ackbar helped oversee the conversion of Mon Calamari star cruisers into warships capable of fighting with Imperial Star Destroyers on even terms. Commanding the largest of these warships, Home One, Ackbar is a potent force in battle, thanks to his effective strategies and his ships' massive Starfighter compliment. Often assisting Ackbar is none other than Lando Calrissian, who has been known to lead Rebel fighter attacks in the Millennium Falcon on occasion when Han Solo is too busy directing campaigns on the Mon Remonda.
Hero Unit - Commodore Han Solo (MC80B Mon Remonda)
Once a simple smuggler hailing from Corellia, Han Solo became an unlikely hero in the war against the Empire when he played a vital role in destroying the first Death Star. After being rescued from Jabba the Hutt on Tatooine, Solo has continued to serve the Alliance and has even become a decent commander in his own right; eventually earning the special rank of Commodore and given his own flagship, the powerful MC80B Cruiser Mon Remonda. With his odd combination of recklessness and street smart based cunning, Solo is an effective leader of any Alliance fleet. Also attached to the Mon Remonda is fellow Corellian Wedge Antilles and his famed Rogue Squadron, whose presence on the battlefield is a huge boost to Rebel Starfighters.
Hero Unit - Captain Kraest Kre'fay (Bothan Assault Cruiser Ralroost)
Heir to the politically important Bothan Kre'fay family, Traest Kre'fay career path was forever altered when he was forced to evacuate his Grandfather's dying flagship during an ill fated New Republic offensive against Rodia. Rather than joining the military for glories that could be used for political advantage, as was common among upper class Bothans, Traest vowed to become a career soldier to avenge his Grandfather's death and restore the honor his family lost with his incompetence. With is family out of favor at home, Traest is one of the few Bothan commanders to regularly volunteer for service with Rebel Alliance, and after praise from his superiors was finally granted command of a Bothan Ship, the Assault Cruiser Ralroost.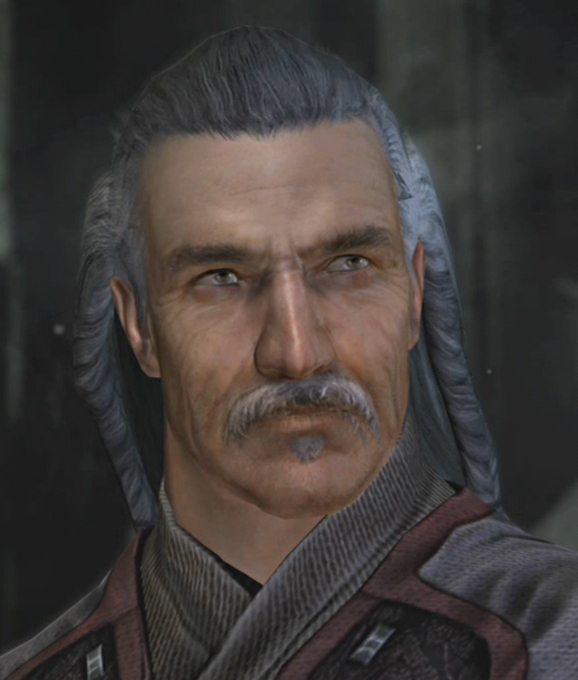 Hero Unit - General Garm Bel Iblis (Dreadnaught Heavy Cruiser Peregrine)
One of Corellia's last and greatest Senators during the final days of the Republic, Garm Bel Iblis led his own faction against the Empire after a feud with Mon Mothma early in the Galactic Civil War. After Mothma was elected to office in the New Republic, Iblis was eventually talked back into joining the Alliance after substantial pushing from Han Solo. While offered command of larger ships, Iblis insisted on keeping his original flagship, the Dreadnaught Cruiser Peregrine, while his unique expertise in both politics and guerrilla warfare can be a powerful asset to any Alliance force.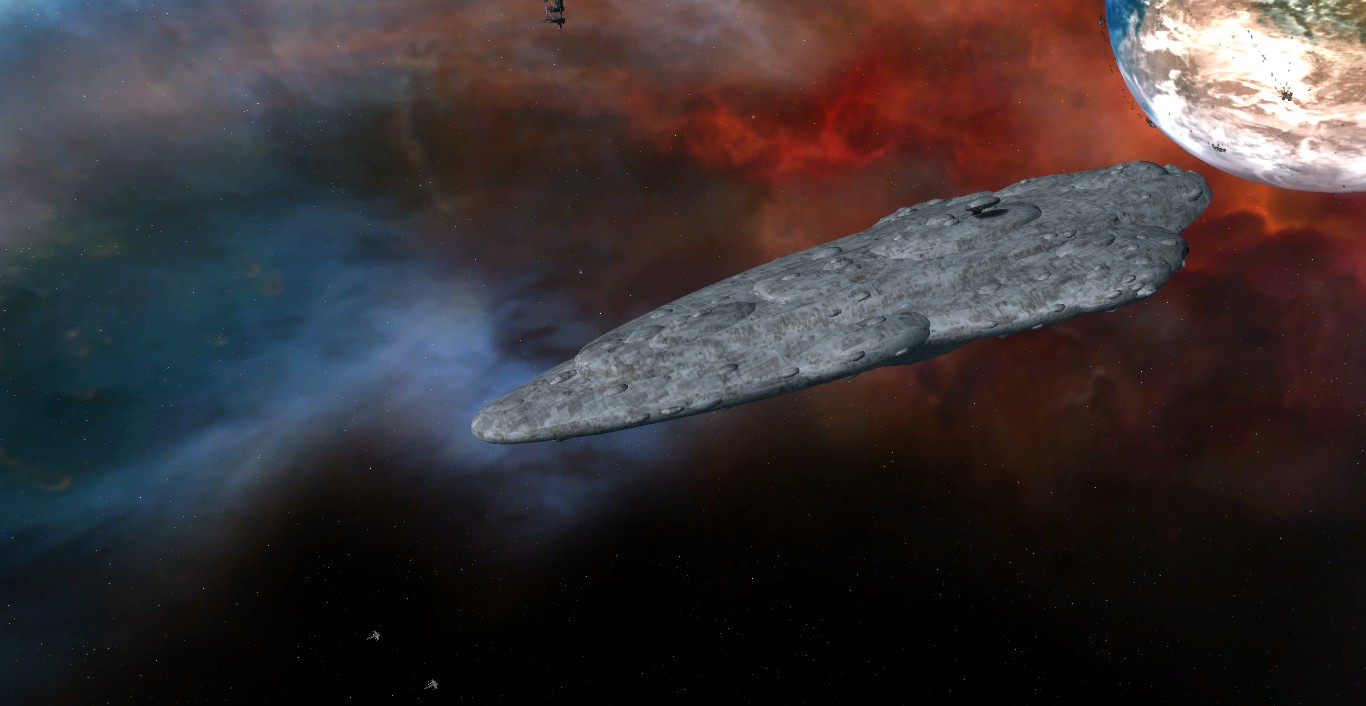 Capitalship (Colony) - MC80 Command Cruiser
See article.
*Colonize - Builds a Rebel Base on the planet, bring it under your control and boosting max population and population growth for a time.
*Heart of the Fleet - Raises Defense of allies (Passive).
*Cluster Shot - Damages groups of enemy fighters near target.
*Fortification - Increase health of friendly planet and raise defender's armor.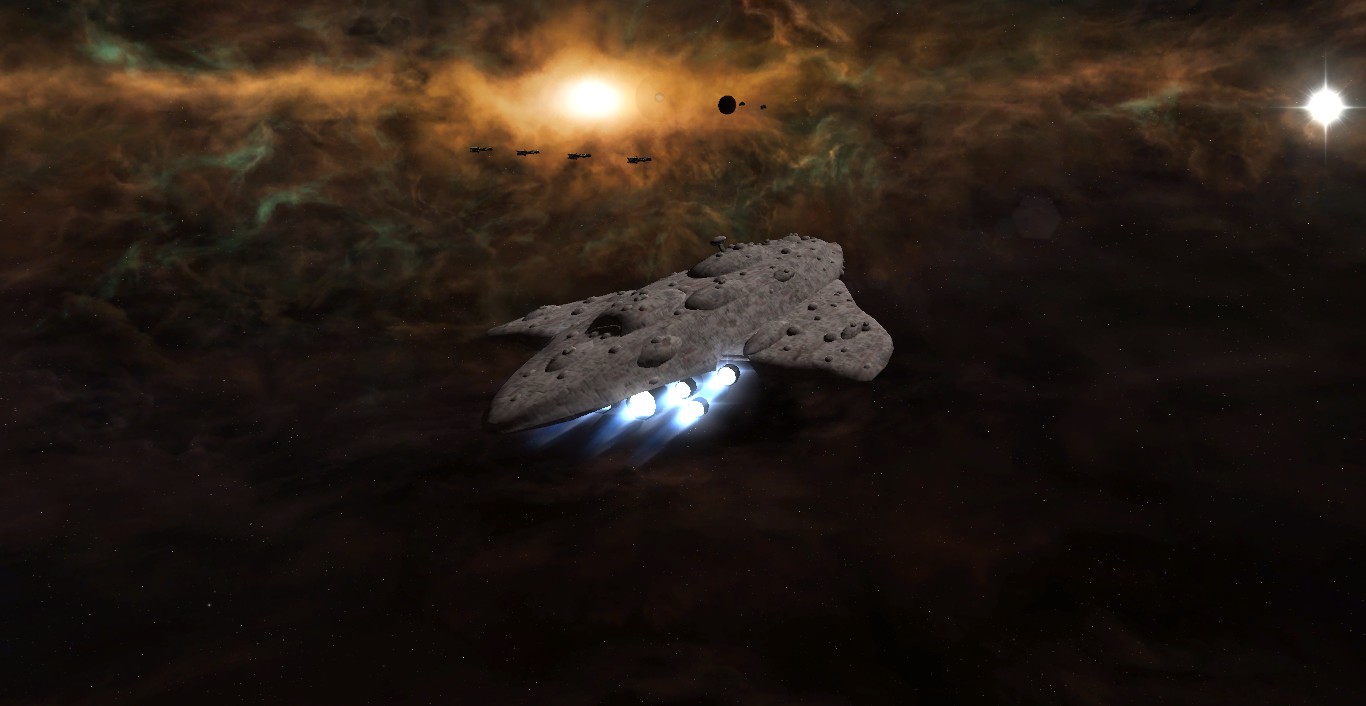 Capitalship (Battleship) - MC80 Liberty type Star Cruiser
See article
*Overlapping Shields - Increases allies' shield regeneration (Passive).
*Ion Barrage - Deals heavy shield damage and removes antimatter.
*Diversion - Forces enemy ships to attack the Liberty Star Cruiser while giving itself a small shield restore.
*Endurance - Large shield restore increase to target ally's maximum shields
Capitalship (Carrier) - MC80 Star Cruiser
One of the first Mon Calamari warship conversions, the MC80 Star Cruiser does not have the same endurance or firepower as later models, but its substantial Star Fighter still makes her an asset on the battlefield.
*Retaliation - When nearby allied carriers are attacked, they have a chance to instantly respawn their fighters and give them a damage buff.
*Credibility - Slightly increases the maximum health of nearby allies (Passive).
*Spawn Gunships - Spawns increase numbers of X4 Gunships.
*Home Base - Heals a large number of damage fighters in the gravity well.
Capitalship (Support) - MC80A Star Cruiser
An unusually specialized Mon Calamari cruiser with an unorthodox thruster arrangement, it is faster than other capitalships and excels at leading quick Strikes into Imperial space.
*Hit and Run: Slightly increases rate of fire, speed and hyperdrive charge rates of allies.
*Motivate: Slight overtime shield and antimatter restoration to a group of allies.
*Deploy A-wings: Launches additional A-wing interceptor fighters.
*Dangerous Territory: Boosts the damage and hyperspace gravity tolerance (ships can jump closer to the planet) of all allies while orbiting an enemy planet. (Passive)
Capitalship (Support) - MC80B Star Cruiser
The pinnacle of Mon Calamari warship conversions, the MC80B is equally good at frontal assaults on the enemy and supporting its fleet.
*Coordinate Strikes - Increases damage of all strikecraft whose carriers are near the MC80B.
*Frontal Assault - Large Frontal Damage reduction for the MC80B and gives its weapons a chance to hit enemy's rate of fire.
*Final Stand - Boosts allies offense and defense when they are below 25% of health.
*Tractor Arrays - Locks several enemy frigates in place with Tractor Beams, keeping them from moving and decreasing their defense. If ships in the Tractor Array are damaged enough, they may surrender and allow themselves to be captured.
Capitalship (Siege) - Dauntless class Heavy Cruiser
One of the largest warships produced in Rebel controlled Sullust by the SoroSuub Corporation, the Dauntless Heavy Cruisers boasts a large variety of weapons and some of the best sensor and counter measure systems in the Rebel Fleet.
*Scan - Debuffs an enemy ship with a slight chance for weapons to bypass its shields or an enemy planet, making it more vulnerable to bombing damage. Scanned targets suffer more from the Dauntless' other abilities.
*Crippling Strike - Power shot that deals damage to an enemy and debuffs shield regeneration and weapons if the target was scanned.
*Ion Burst - Fires ion cannons at enemy ground installations, disabling planetary weapons and making the planet more susceptible to damage. Debuff lasts longer if the planet is scanned.
*Countermeasures - If the target enemy uses an ability while countermeasures is in effect, all nearby ships get a substantial damage reduction. More effective if the target is scanned.
Capitalship (Battle/Support) - ???
Alright I lied, the Rebels have one perhaps unexpected ship that I'm going to leave as a surprise for you guys. :p Hint: It's not a Mon Calamari Cruiser.
Frigate/Cruiser List
Expect more detailed highlights on the Rebels' unique game play mechanics in the coming weeks!