Hello and welcome back to another Forgotten Hope 2 update.
Today we have a couple of renders showcasing some equipment that you will be able to find on our upcoming map Pegasus. You might perhaps have seen them in the stream, which is available on Youtube. They are of course the Sten Mk.V and the SOMUA S35.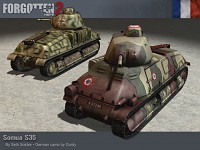 Although French military thinking called for a defensive war, they recognised the need to be able to fight on the offensive as well. This job fell to the Cavalry, who in 1931 placed a request for a fast tank. By 1934, the request had been updated to be immune from contemporary anti tank guns. The Société d'Outillage Mécanique et d'Usinage d'Artillerie, or SOMUA for short, produced a series of prototypes in 1935, with an order for 50 following the next year.
The tank was one of the first to make use of large cast sections for the hull, and was also fitted with the cast APX-1 turret from the Infantry's Char B1. The 47mm SA35 gun was more than able to defeat the PzIII and BT-7, and these contemporaries couldn't hope to harm the S35 in return. There were however several problems with the S35 that stopped it from being a war winner. It was expensive and time consuming to make, it had poor mechanical reliability, and the turret was both single manned and had no openable cupola, forcing the overworked commander to fight buttoned up.
After the fall of France, about 100 S35 tanks were in Vichy hands while nearly 300 were captured by the Germans. Many of these captured tanks were put into service as Pz 35-S 739(f), where they served in Finland, Yugoslavia and a few were to be found in Normandy. Although hopelessly outclassed by 1945, 12 were still in use at the start of the year. The S35 was made by Seth Soldier, and was repainted for German use by Gurdy.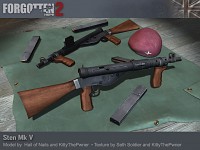 The Mk.V version of the Sten was little more than a better quality Mk.II with some cosmetic additions. A wooden stock and pistol grip replaced the steel skeleton stock, new front sights taken from the No.4 rifle were added and a rather flimsy wooden front handhold was clipped to the barrel shroud. Our Sten Mk.V was made by KittyThePwner, who modified the original Mk.II model made by Hail of Nails and Seth Soldier.
---
Our winners for this week's screenshot competition is Matthew_Baker. You can view the winning submission here.
We are now accepting entries for the week of December 29th. If you think you have the best FH2 screenshot, post them href="http://fhpubforum.warumdarum.de/index.php?topic=16835.0">here.
---
That's all for this week, but be sure to come back next time for another update. Until then, feel free to visit our IRC channel, our public forums, and/or our Twitter and Facebook pages to discuss this update and other news.