Hello guys! Its time for a update, thanks to our hard working team i am glad to introduce some new features of alpha project! As you might already saw in the latest screenshots, BFRHYS added the 1p soldierhands to vehicle steeringwheels, m2hb machinegun and m134 gatling, more to follow soon, be sure to check out the new video to see the m134 footage!
And another feature that was already planed when i started the mod finaly became possible thanks to our new python coder Hjid! That feature are dropkits, as shown in the bf2 pre-release footage, when you were shot, your weapon drop off your hands and replaces the kit, also the kit is dynamic and can slide down obstacles or hills!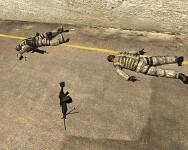 Following you can see a video showcase of some of the new alpha project features enjoy!