1187 will not make the release date of December. Even Januari right now is questionable. And it's all Dec's fault. No I'm kidding, we're actually adding/changing/refining more and more stuff, which takes time. But it all add's up in the end, and I rather take our time, and these thigs then rather rush, and I've said that before dozens of times. So that's the sad part, onto the next bit I wanted to talk about.
I am blessed to be able to work with Dave aka Dirt on this projec. really he's pushing me and himself to go further then we already went. Dec's always willing to help out if he can. So thanks to Dave we've got all them new weapon models vehicles(mustang) and props. But I must not forget Martin, aka Oregano, who's responsible for models like the apache and apc.
I've said many times before how awesome they are and we know they are. But there are more people behind the mod. Some, I think, might not even know it yet. A bunch of those people come from an awesome website called gaming-models.de. The website is a German one, but has a language option to switch to english.
The most awesomest feature is that aslong as the project you use a prop model for (downloaded from their website, ofcourse) is free and not in anyway a comercial project, then you're free to use it. as long as you give credits to the ones who made them. So here are the names of some of the "other ones" who helped in the props department. Thanks guys !!!
penE - nebukadnezar - StupidBird - kain - knoppas - Janosch - ProgSys - Rick_D
Checkout the website here:
www.gaming-models.de/
Then there's freredarme. He runs a french website which he always udates when I update. I very much like the look of the site, I just cannot read French, sadly.
French speaking individuals can checkout the mod here:
Ofcourse here are others, and I'm sure they know who they are. I also have to say thanks to ModDB, it is a very cool and big community and thanks to it I got to meet some interesting and awesome developers because of it. Thanks ModDB !!!
Eventhough I'm doing a lot of things, I'm never doing them alone, which is a good feeling. It means everyone is concerned about the project as I am. SO, yeah Let's move on to some updates that envolve the mod in a more direct maner.
And then there's My girlfriend BariZt. She's responsible for most of the custom paintings you'll see. She's such an amazing allround artist. She doodles and paints stuff. different styles etc, wow. I just wanted to show you one particulair image that she painted. It's omne of my favorite works of her. You can see in the image what steps I took before it got into the game. It's no tut just to show you the process from raw to skin.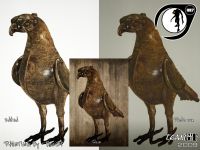 Next up is a letter you'll encounter in the first few maps of the game. It's adressed to almost all local citizens of a whole range of areas in the suburbs. I made it after I found my old HL1 instruction manual. I remembered the letter so I wanted to have something like that. So here you go. And yes, the whole text contradicts itself the whole time, which is intentional.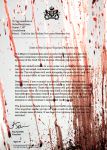 As I do am sorry we didn't make the deadline I hoped to, I never went from TBD and never will. To make up a little bit is me showing off some screenshots of the later areas. Don't worry there's still way too much to discover. And from here on I will stop showing you map screenshots.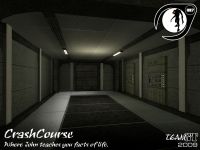 Thanks for the support everyone!!!.
Have a merry christmas and a happy new year
Joure