Ultimate Apocalypse Home Page | U.A. Main Group on Steam! | Frequently Asked Questions (FAQ) | MODDB Forums | Terms of Use | Ultimate Apocalypse "Library" | Strategy Guide | Changelogs
---
Ultimate Apocalypse Mod
News - April
---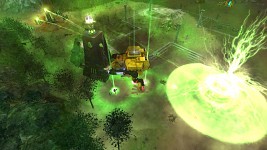 So it looks like you guys need an update! After the version 1.73 release, on top of being an extreme hit, we have unfortunately encountered a lot of missed bugs that was missed. 1 years worth of work and a team of 9 let these bugs slip by? Heresy!
The Ultimate Apocalypse mod team proposes to release a patch...
What patch version number 1.73.4 will include is via the following...
All scar errors from the two winconditions: Hardcore and Assassination will be fixed.
All AI fatal execution pause errors will be fixed.
Test map that came with the Tyranids mod, due to its functionality will be removed.
Icons that are pink will be fixed.
Some ucs descriptions that are left over will be fixed.
Balance changes from global powers used by the Orks and Tyranids.
Tyranids will no longer be under powered and so this enemy can now finally be dangerous...
A lot of other things minor fixings to make the mod functionally work well.
You can find all bugs reported on this list here... Moddb.com
YOU WILL GUARANTEE MOST BUGS REPORTED FIXED!
Not all changes will go into effect however. Chaos Space Marines fitting into the lore seems to be at most people's dislike, etc etc. With big changes to an entire 1.73 full race concept, and from people's reports, chaos mark system will take a lot to rework the faction, and they will not be in a small patch like this.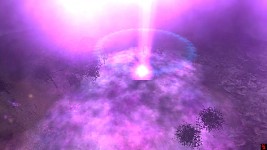 Other changes like Over Powered Orks with Fighta Bombas blasting up bases like nothing, Ork Warboss leftover IMBA melee damage, global abilities infuriatingly annoying at points, EMP superweapon duration disabling everything for a long time, Wracks black texture... a lot of that will be fixed. It is a very long list.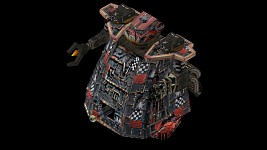 Otherwise as for new units and more content... it's a maybe. No guarantees, but if new content is found, and is ready to implement into game, then we might include it within 1.73's patch. Behold for example, Cosmocrat's brand new unit, the Great Gargant!
So if you like playing this mod, especially version 1.73, but is TIRED of all of the errors, then you NEED this patch. You NEED this patch. You NEED this patch. Did I mention you will NEED this patch? If you still do not play the UA mod and you are a type of person interested in grabbing our models, you NEED this patch. You NEED this patch. You NEED this patch. Did I mention you will be NEEDING this patch?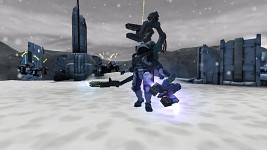 Texture errors... new textures on some units, bug fixes, FUNCTIONALITY, yeah you will NEED this patch. Otherwise I hope everybody has enjoyed the UA mod thus far regardless of the bugs we missed for the past year testing this. We had beta testers of 1.73 in the past come into the team, got the mod, and left us without response, and so this entire time, we had... null feedback. The entire team of 9 tried their best, but we apologize we let these bugs slip. Though, 1.73 is MUCH better than it usually was, that's for sure (Dark Eldar AI corrupting all other AIs hence mod not playable at all).
So thank you folks for reporting these bugs! Without you, without so many feedback... this patch would not be possible and 1.73 would remain not touched until 1.74. Thank you also to the donators who donated in the past. I know version 1.73 took a freaking YEAR to get released, but you inspired us proudly to make this version updated and updated even on school days and without you, believe it or not, 1.73 would not have been released yet. Anyways, thanks for the donations, we will strive on to make this mod better and better + not rely on <= 10 people to play test the mod before final release (like release a beta and have audience test it for us...)
So that is the news for version 1.73! If you are still interested in playing, BE AWARE OF:
Hardcore wincondition
Assassination wincondition
Eldar AI
Tyranids AI
Test map within the scenarios
Edit: Space Marine Scouts (do not turn on infiltration)
Edit: Sisters of Battle: Textures by LeonardGOOG causes the mod to crash due to DOW Engine RAM limits.
Stay away from those options! If you by any chance find more bugs (critical bugs that stops game), please report immediately within the 1.73 bugs section!
Please download 1.73 below and try it out!
Finally...
As for version 1.74, it will be under production perhaps... next two weeks because of real life issues (donate to speed up progress). However, we will not release percentages including how much completed the mod is (you all know why) and we will not provide release dates (you all also know why). We will however post updates to... well, not signal the mod dead of course. xD
I'll stop typing then, I promise. xD Have a great month, folks!
---
Ultimate Apocalypse Trailer:
---
Ultimate Apocalypse Downloads:
Download the latest version, 1.73!

Mirrors:
If downloading from Mega, make sure you either use a Chromium-based browser (Chromium, Opera, Google Chrome) or install the Mega browser extension for Firefox, otherwise the file won't be saved correctly as it is a bit over 100MB. Official explanation here.
Get the latest patch! (Very Recommended!)

Download the recommended map pack!

---
PLEASE DONATE TO THE APOCALYPSE MOD TEAM TODAY!!!!
Why provide donations? You get lots of stuff from us, including a continued campaign that is yet unfinished and loads of support and mod fixes. This is not a requirement, and by donating, the Apocalypse mod team will be active doing up the mod, releasing updates, and providing more epic entertainment than fooling around with other stuff.
Why provide donations? Over 50 members have, and they were rewarded with what they wanted to see in the UA mod, and because of them, this mod is continued in development. We have explored it all in this mod, and we are not inspired by passion anymore, so by these wonderful donations, well, just look at the progress!
This is no requirement, you are not forced to make any transaction, it is all optional, very appreciated, you can be put in the list of donators or possibly be a character in the UA mod when the campaign is done, and further, you get to boss us around and have at what you want!
So what are you waiting for? Donate!
---
The list of donators are provided in the link above!
More donations were added as of 4/17/14