ULTIMATE APOCALYPSE UNPLAYABLE FOR STEAM!
Thank you everyone for your support, especially relic company who takes very good care of Dawn of War. My heart goes out to you guys for this FAST fix, and the Ultimate Apocalypse mod team are forever grateful of your quick fix and many more patches to come!
Latest steam patch broke the Ultimate Apocalypse mod for some reason and we are working out some sort of solution. Sadly with such a feature released, the Ultimate Apocalypse mod team is unsure of what to do to solve this issue:
UA_Player wrote: I have download the mod and there is a glitch where the top and button buttons on my units and buildings are gone but the middle buttons are there. So for a example i can click on my builder but he can't build anything because the building button is gone unless i use a shortcut but then some the buildings are missing and vise verse with a barracks some of the units are missing. Help please

-------------
so basically its impossible to play the mod until the problem is fixed? :C
-------------
ok i have a new bug ... builder units cant build anything???? the only option the have is the green move arrow and the red stop icon.
Links:
So basically, the User Interface for the Ultimate Apocalypse mod (and perhaps others) are indeed broken with a presumably original screen layout of the gameplay. What this does is removes builder icons so that the players are unable to build anything and make move orders properly. On top of this, without the interface handy, players are forced to memorize each and every single unit and hotkey in order to build anything within the mod.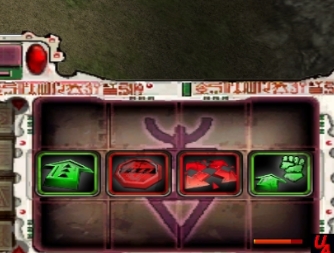 All abilities are no longer available. All structures are irregularly placed, and most factions are unable to build turrets, Listening Posts, and generators. The ONLY faction playable with hotkey memorizing would be Tyranids.
So with the latest steam patch, everything has gone terribly wrong and the Ultimate Apocalypse mod team are unable to fix this issue. We do not know how to, simply put. Patch notes are unclear as to what was changed to make our UI broken, and we are ignorant of how the developers of the game - Dawn of War works around these things and fix bugs. If it is an internal thing to fix, then this will never be fixed by UA mod. The mod team went back and forth figuring out the problem by guessing, troubleshooting, looking at log files and error logs, hours and hours straight... We have been at it for days.
We are very sorry for the inconvenience, but we don't know what to do to fix this problem, and we hope that the developers in charge of the steam patch will aid us in our time of need. In the meantime, we STRONGLY recommend all players buy the disk to play this mod. It actually fixes a lot of current bugs...
As far as we are aware, this mod is not the only mod at stake. Two other mods are rendered unplayable by the steam updates through time, and we may fear that other mods might be affected. To be honest, this won't be the only issue we will face within the future patches of steam workshop. We fear that this is the start of how bad this mod can be broken, and we may fear that this could be the end of the Ultimate Apocalypse mod for steam if somebody does not do anything.
This article is mostly a request to the developers of Dawn of War; Ultimate Apocalypse mod near death to steam and seeking their help. This mod is a popular mod that keeps the game alive at its greatest point. We are high supporters of steam, and if the issue is not fixed, the fanbase of this mod and the game in general will drop SUBSTANTIALLY throughout the months/years (if lucky) and we could potentially lose a lot of players of Dawn of War.
In the meantime, like we said, we tried everything, and if somebody has any info. or possibility to fixing this issue, we would be forever grateful. :) Our priority is version 1.74 now as we have tried to accomplish the steam fix and nothing works to our professional knowledge.
We need to get the next version released, everybody misses Daemonhunters, and we want A LOT of players (at the highest potential possible) to play them non broken via steam patches when they are released. We like steam, and we want this problem fixed very badly. If the issue is not fixed in the meantime, the mod might as well not continue anymore. As stated before, we are not inspired by passion anymore to mod this. We do it for the fans, enjoyment of feedback, and we also do it for our donators who brought us this far all within our free time. But we can't fix these critical issues, and the headaches we get from it won't be worth the modding hobby anymore. In the meantime, we STRONGLY recommend all players buy the disk to play this mod. If anyone has any information that could help the developers of either Dawn of War Soulstorm or Ultimate Apocalypse mod, please inform IMMEDIATELY by PMing a member of the mod team or contacting me by email at jabic6(at)yahoo.com
Team members to contact:
Lord_Cylarne
Rocket Banana
Jazz Sandwich
Tyrantarmy6
While the rest of the team does not handle with issues like this or is currently busy. Thanks! :)