This is a complete list of Nod Aircraft assigned to your command during Twisted Insurrection. Each unit has it's own introduction during the campaign progression so you can figure out what unit is best for what roles. Please note that changes will more than likely occur over time and some unit/cameos are still using placeholder images as we are still in our beta stages.



'Hornet' Attack Craft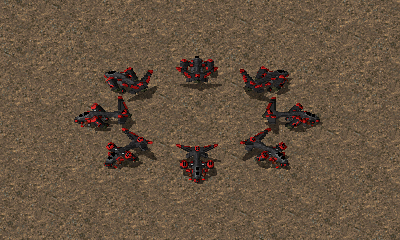 The new VTOL Hornet is designed to quickly move through the skies and to easily eliminate any lightly armoured units and Infantry in sight using its high altitude LASER cannon.
Cost:

600

Requires:

Helipad

Primary Weapon:

LASER Cannon

Purpose:

Support

Firepower:

Low

Armour:

Light

Speed:

Fast

Tech Level:

5



'Banshee' Interceptor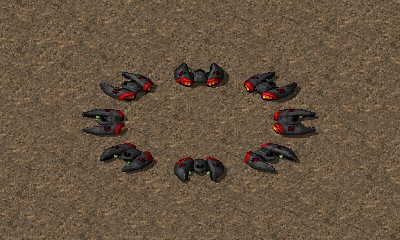 The Banshee Interceptor is a high speed aircraft unit used by the Brotherhood to eliminate most forms of armour with ease, the primary focus of the Banshee is to assist any friendly armour battalions. The Banshee Interceptor uses a special plasma weapon similar to that used by the heavy tank, however much more effective against Infantry, Vehicles and Structures.
Cost:

1250

Requires:

Helipad, Technology Centre

Primary Weapon:

Dual Plasma Cannons

Purpose:

Support

Firepower:

Average

Armour:

Average

Speed:

Very Fast

Tech Level:

8



'Wraith' Bomber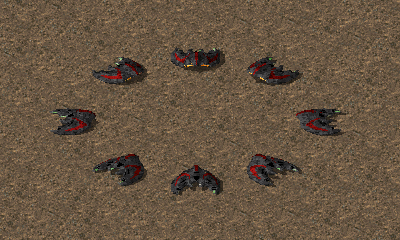 The Wraith bomber is a large VTOL Aircraft designed to cause devastation to just about everything on the battle-field. The Bomber is designed to withstand a large amount of hits and to dish out plenty of damage to all forms of armour. Due-to the weight of the Bomber it moves slower than its brother the Banshee Interceptor and carries limited ammunition but the strength of the Plasma bombs it carries makes up for all other flaws.
Cost:

2500

Requires:

Wraith Supply Facility

Primary Weapon:

Plasma Bombs

Purpose:

Support

Firepower:

Very High

Armour:

Very Heavy

Speed:

Slow

Build Limit:

3

Tech Level:

9