This requires a fully patched installation of Star Wars: Empire at War: Forces of Corruption.

Uninstall all previous versions of Imperial Civil War before installing.

...For Those New to Imperial Civil War...
New Era-Based Tech System
Play as the New Republic, Imperial Remnant, Pentastar Alignment or Empire of the Hand with dozens of new units and heroes
Conquer Hostile Non-Playable Factions, Including the Hapans and Yevethans
14 New Galactic Conquests Scenarios
18 New Skirmish Maps
Over 70 New Planetary Maps for GC
Over 100 New Space Maps for GC
Redone Particle Effects and GUI
Several All-New Gameplay Mechanics

...Major Changes in 2.1...
Features a new Survival gameplay mode where you fight off waves of enemy ships.
Imperial Civil War GC: Play as the Remnant or Pentastar Alignment in this era-progressive GC to control the known Galaxy
New Units and Structures: Bu'direch, Visvia, V-19 Torrent, Lucrehulk
Redone Units: Vigilance, MTC, Clawcraft, Massias
Various Bug Fixes

For full information on the content in Imperial Civil War, please read the manual, which is included in all downloads as well s being available separately in our downloads section.

The mod is also available as both a ZIP file and an installer. The first button is the installer, second is the ZIP.

Installer:


ZIP:


The new version is also available from Desura.

If you are having trouble running or installing the mod, please post in our tech support board. Make sure to check the manual as well as existing threads for the answer to your question before posting.

...The Future of Imperial Civil War...
As we've said in the past, 2.1 will be the final full version of Thrawn's Revenge: Imperial Civil War. That being said, we still intend to support and release some updates for the mod. This will include a few new units, as well as some visual reworks which will hopefully also help to improve performance. At the moment, this is scheduled to include units like the Consen Dropship for the Empire of the Hand, and redone versions of the Bothan Assault Cruiser, new Shipyard skins, and a few other things. Once we have more feedback on Survival mode, we'd also like to update the map for it and release a version of it for the Pentastar Alignment, as well as include a version of the Imperial Civil War GC scenario for the New Republic (we originally intended to with the initial 2.1 release, but the New Republic refuses to play nice with the story scripts).

Our main focus going forward is going to be for our Sins of a Solar Empire: Rebellion mod, Star Wars: Ascendancy, which will be the source of our updated models. I know this will come as a disappointment to some people considering several of those people have sent me messages to insult me for it, but the addition of mountains of new units or factions at this point would hinder basic game functionality, and the mod is already pretty massive. With these updates, while we will be trying to flesh out some areas which may be lacking or add what makes sense, our main goals will be to polish what is there. We feel we've essentially accomplished the core of what we set out to do with ICW and are ready for some change.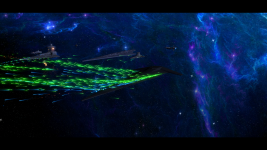 I would personally like to thank the amazing team I've been lucky enough to be a part of for the last 8 years for their hard work, as well as the outspoken and dedicated fanbase who has supported us throughout development. I'm looking forward to working with all of you to polish ICW and to launch Ascendancy!

If you have a question about the mod, suggestions for future versions or would like more information on the mod, please follow us on our forums, Facebook page or Mod Database profile.