Glorious people of Cardassia, today I wish to discuss with you the momentous advancements of the Cardassian union, and of course the shallow facsimiles of the other, lesser races.
Siege Vessels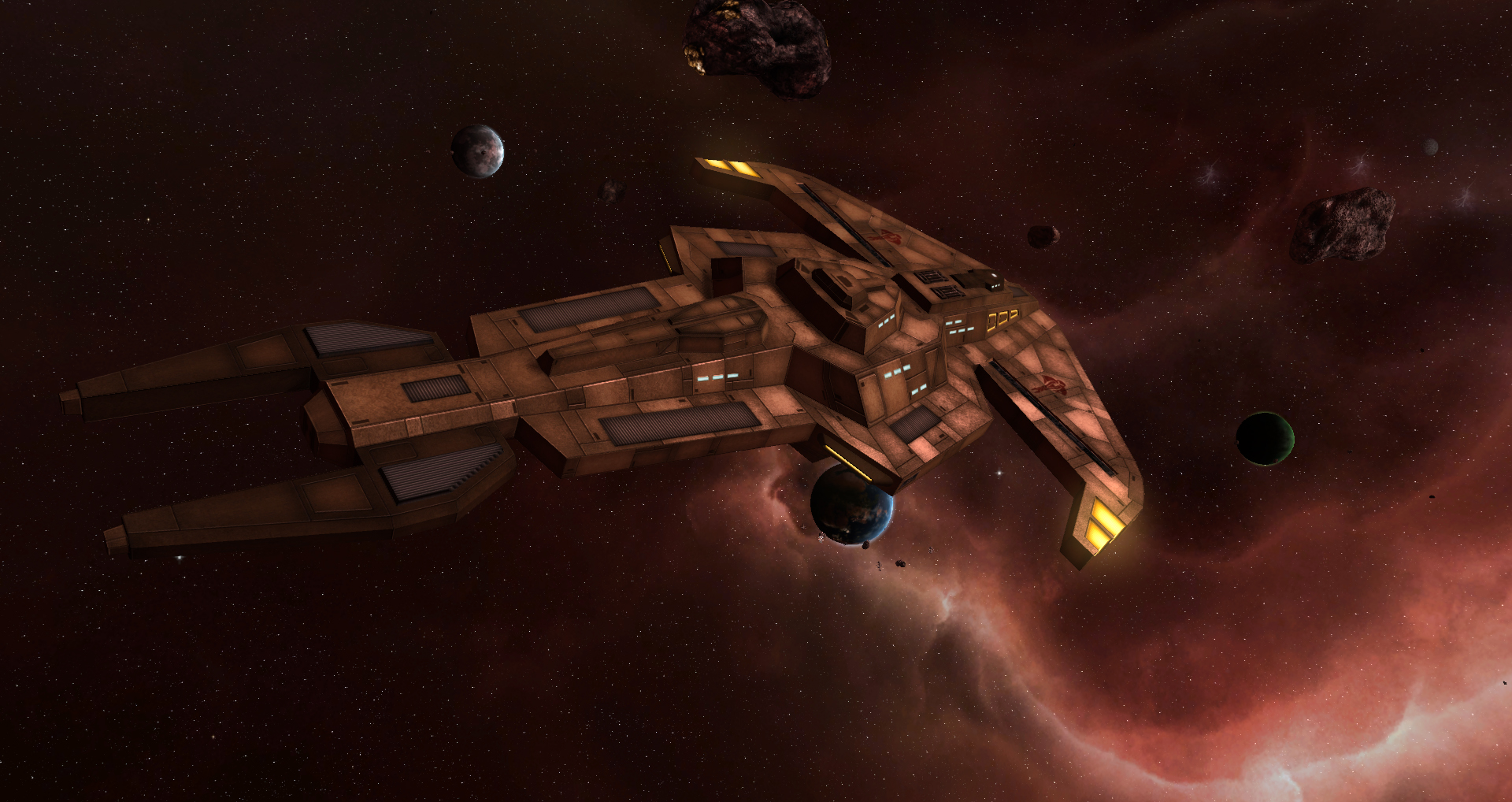 Why are they so important I hear you ask? Since 1.0 we've been looking at making the attack and defense of static emplacements a more interesting and challenging task. In order to do this we looked at siege mechanics, specifically the damage the "anti-module" weapon type does to facilities with station armor. With a change to these values we've made vessels with these weapons that much more dangerous against stations but significantly less so against other vessels. This means they're all but useless in a fight, but are magnificent bunker busters. We've also looked carefully at the ranges of all vessels (detailed in one of our Dev diaries previously). Station Siege vessels like the one pictured above now out-range all static emplacements and can thus be deployed safely to take them out.
This might seem too powerful I hear you say. Not so! most stations have an attendant squadron of fighters and bombers attached to them, that well deployed can foil their actions if they're deployed alone. With the addition of mines and of course small, well placed squadrons of ships behind your lines you can squash any attempt to capitalize on these new vessels.
Below is a video that details what they can do, and also shows you a snippet of the Cardassian Unionist fleet in addition to cloaking, and anti-cloaking technology. It is a little long, so grab a beverage and suffer through it :D
---
Where stands the development of CTA?
We're asked this question a lot, and no, sadly we can't give you a date. The vast majority of the development team work full time and as such have to do this in their spare time. We do however want to give you an idea of where we've got to in the great scheme of things.

Core Game-play: With all the recent work we've been doing we're getting extremely happy with the core game-play of STA3, and it's playing how we want it to now. There are many new abilities, highly remodeled research trees and a host of new features that we're incredibly pleased with. We feel like we're very close to getting everything where we want it in terms of scripting work and that the fans will be as happy as we are upon final release.
Iconography: With so many new pieces of research and so many new abilities in game we naturally have a need for more iconography for these pieces. These are being worked on, but are on the back burner until our team of artists have finished some other extremely important assets. This brings us onto our next section.
Asset Management: CTA has been a different kettle of fish to .95 and 1.0 as we've effectively been designing a new race from the ground up with very few canon articles. Using pieces like the Galor and the Dominion Battleship, as well as inspiration from stations like DS9 and the Monac shipyards, we've been designing each station and vessel from scratch (often with a starting point from games like Armada 2) that reflect our vision of what the Dominion/Cardassian faction should be. This is naturally a longer process and the Art team have been working diligently on all the assets required for the quality finish that you've all come to expect. At this point there are several stations to complete, but the ship lineup is very close to complete.
Particle effects and sounds: Fortunately, when implementing new vessels and abilities the team for the best part are highly efficient and implement what we need fairly quickly. We'll naturally be looking at them for further refinement before release but on the whole are quite happy with most effects in game.
In Conclusion: We're close but not there yet! every day there are changes and updates to our beta build, and we will keep you updated as time goes by. Overall we're probably about 70% complete on our roadmap, but there's still a way to go.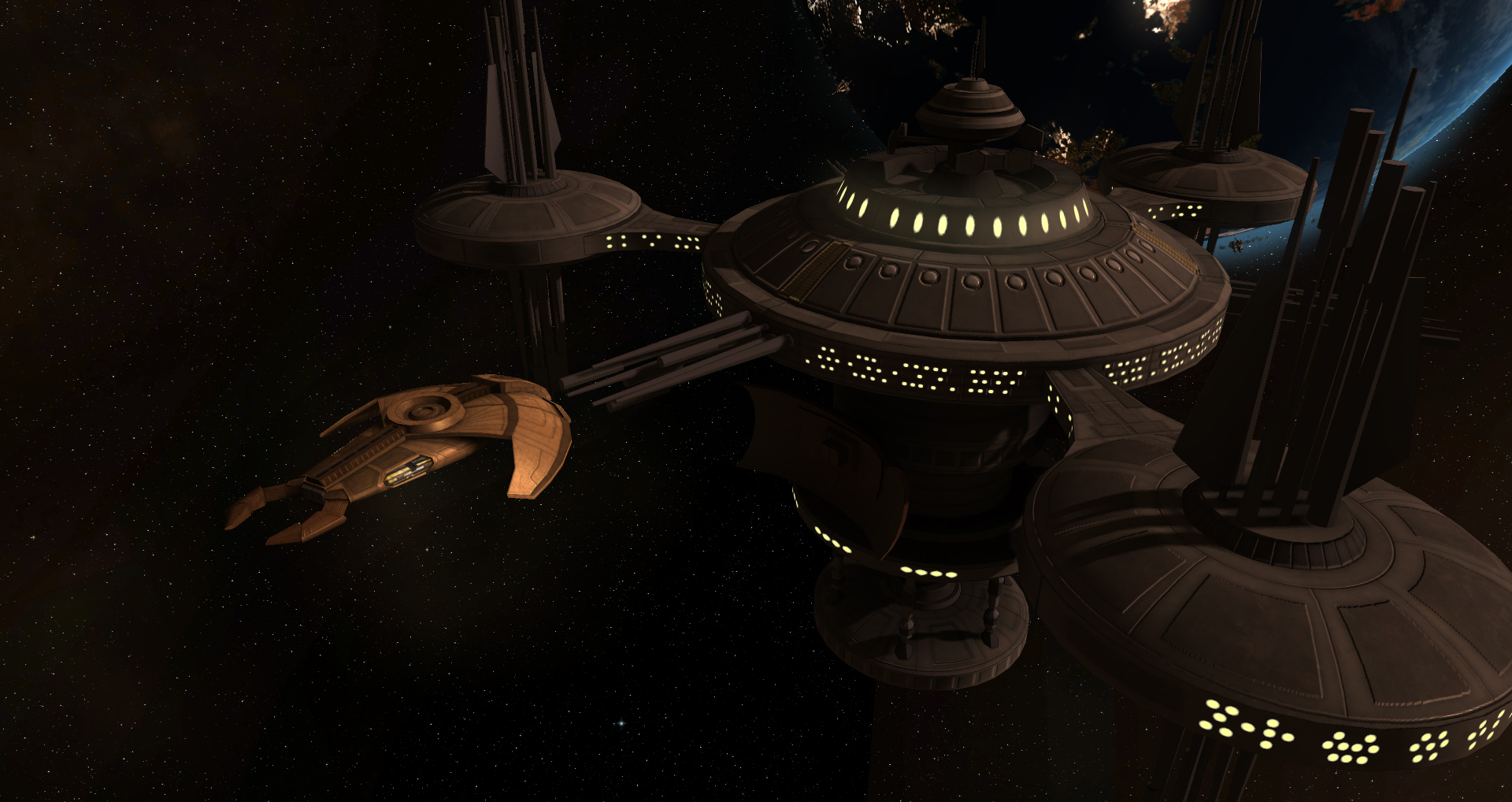 ---
In other news!
Sins Of A Galactic Empire, produced by a good friend and contributor to STA3 Lavo, has recently released a new version. We're really enjoying the updates and upgrades to it and would highly recommend you take a look at it and download it. Take a look at this recent video I uploaded to check out the game-play. Like and subscribe if you like what you see and I might even make more!
Moddb.com
That's all from me for now. I hope this piece was informative. Tell us what you think in the comments!