I want to try and organize when people are playing Off Limits so I've gone ahead and did a few things to hopefully bring our little community closer together and make it grow. I've cleaned up our Steam group and I wanted to share it with all of you as I plan to set dates and times for Off Limits sessions. So please click the image below and join our Steam group to keep you informed for upcoming games. You can also create your own events if you like and get people playing around the timezone you are located in. You are of course free to play anytime you like, but I hope this way more people will find each other and get to play decent matches. It should also be easier to see when group members are playing Off Limits as well so you can join in quicker.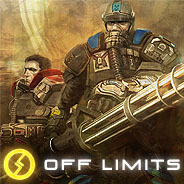 I've also added the Metamod and Sourcemod plugins to all our servers, so now people can vote and change levels when they want to. RockTheVote is also in as I saw people typing "rtv" in previous matches (now I know what it means :p ).
Another quick fix you can do manually if you want to view the server activities through Steam servers is go to Steam/steamapps/SourceMods/OffLimits/ and open up gameinfo.txt. There change the "type" "singleplayer_only" to "type" "multiplayer_only". Then restart Steam and Off Limits will show up in the Steam servers list now. This will be fixed in our next beta update of course. Thanks Sander!
So please download the latest version of Off Limits here and join us on our servers!

69.147.229.218:27050 (US)
69.147.229.218:27060 (US)
69.147.229.218:27070 (US)
69.147.229.218:27080 (US)

81.19.210.49:27015 (UK)
81.19.210.49:27025 (UK)

173.199.64.41:27015 (NL)
108.61.254.109:27015 (NL)