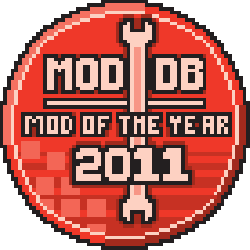 Another year has come and gone and we'd like to take a moment to thank all of you who voted for us in the Top 100 Mods of 2011. All of our team's hard work and
your
appreciation of ET:44's unique style of game play and the historical experience it creates came together and secured us a position in the Top 100 Released Mods
for the third consecutive year running!
We assure you your stead-fast loyalty to our project will be rewarded with the release of v2.0 in 2012!
The ET:44 team would like to extend our sincerest congratulations to fellow CoH modders the Blitzkrieg and CoH:Eastern Front development teams for both reaching the Top 10 MOTY Player's Choice countdown. They've certainly earned it! Also a special congratulations to all of the CoH projects that have been recognized in the Top 100 Upcoming Mods! We certainly look forward your release as does the rest of the community! A special shout out to our friends over at Forgotten Hope 2, a most excellent WWII FPS project, for making the Top 100 as well as receiving an honorable mention for their continued high voter ranking in the community due to their unwavering commitment to historical accuracy and custom model development.
Our helmets are off to all of you gents!
We look forward 2012 and the epic releases we have for you in the coming year!