Progress!
Since it has been quite some time since our last release, we decided to start showing some progress. The idea is to show short developer diaries every few weeks to show you that MB2 development is not dead. As usual, the work you will get to see is most likely still a work in progress.
Dxun
You may remember Dxun from KotOR or simply from Star Wars lore. Dxun is a moon orbiting the planet Onderon. It's known for it's jungle environment. Snodog has been working on this map, which originally was intended for the Conquest gametype. Unfortunately the Conquest gamemode has been delayed for the time being.
The teams Ebon Hawk (rebels) attack the Mercenaries (imperials) to destroy the weapon caches. There are several different routes leading to the objective. Areas differ from both wide open areas and close quarter and narrow areas (such as the caves). Hopefully this will keep gameplay interesting.
The objective is destroying the two weapon crates. Imperials spawn in this area. The weapon crates are protected by a shield which has to be shut down before the rebel team can destroy them. You can do this by hacking the console that is right next to the two weapon crates, or by hacking the console from another corridor.
Loading screens
Starushka has been working on some new high quality loading screens to replace the old and dull ones that we have right now. Click on the image to view them in full size and higher quality.
As you can see the layout is changed compared to the current design. The images have a way higher resolution compared to the older images. Space has been freed up to show a larger map image as well.
In a future diary we'll announce another neat little feature for the loading screens. Most of the loading screens are done, but these are all we're showing you for now!
Teamkill Menu
Our coder DCM has also made a neat little addition which the lazy players will certainly like. Currently to punish or forgive a teamkiller, you need to write !punish or !forgive in chat to (for)give TK points. He implemented a menu that shows up after you get teamkilled.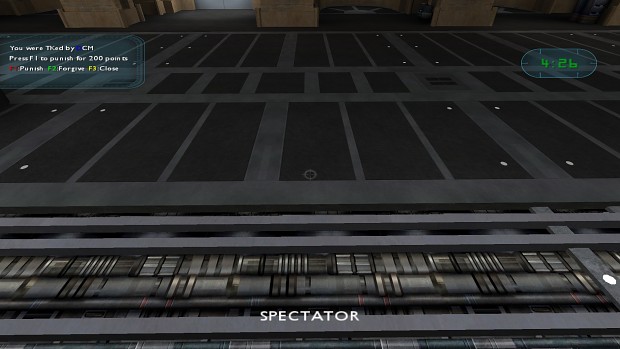 As you can see it's pretty straightforward. Press F1 to punish and F2 to forgive. After doing so the menu closes again. Alternatively you can close the menu by pressing F3, which will result in the same thing as doing nothing with the current system (which will automatically deal 50% of the points from punishing). The current methods of simply writing !p or !f in chat will also stay functional.
That's it for now! We'll try and show you some more progress within a few weeks. Hopefully sooner, but no promises. If you have any feedback please let us know!