This new client will make Mental Omega work with CnCNet5 and make use of other various advantages that this client provides. If you're not familiar with DTA, you should check this video to see what it's all about. We're also testing new and old missions, skirmish for bugs and crashes and of course doing some balancing since an entirely new side is now involved.
Speaking of the 4th side, the Foehn Revolt, I've prepared this short video which reveals the recent additions to the unit roster of Mental Omega in more detail. Take a look.
As I have tweeted quite recently, we've finished creating and voicing the units for the Foehn Revolt and there will be about 50 of them in its first release. After that, if we get some good ideas for new ones we will expand their tech tree accordingly. The only thing that will not expand is the stolen tech roster once it hits 16 units. And speaking of stolen tech, we've got another two new ones.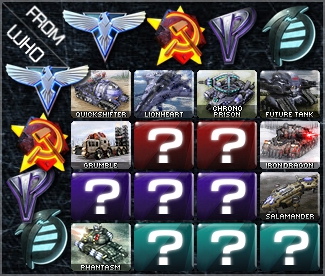 The new stolen technology roster: 8 units to go.
For more information about all of these recent additions and a revised selection of Tech Buildings visit our modification's official website at MentalOmega.com. Subscribe to our YouTube channel to get notified about the newest Unit Showcase videos, coming soon(tm).
Stay tuned for more updates!