This is the first update since Mapbase released on September 30th. It doesn't release much of the content I've promised yet, but it fixes a bunch of issues people have been having with Mapbase itself. It also still adds a few new features and fixes some existing code.
Changelist:
- Applied the nexttoken security fix (suggested by ficool2, important for MP port)
- Fixed a crash with the follower wait point start/stop using handlers
- Fixed game_ui activator crash
- Changed vphysics triggers to accept more entities
- Fixed player squadmates not obeying hint node facing (e.g. wait points)
- Fixed npc_snipers
- prop_vehicle_jeep_old no longer changes classname
- Restored and added the other CTakeDamageInfo fields for point_damageinfo
- Fixed game_metadata not saving correctly
- Fixed logic_measure_movement not functioning while possessing spawnflags
- Added scripts/mapbase_rpc.txt script with choosable app ID and game image
- Fixed some casing that broke Linux support
- Added proper WorldVertexTransition blending to translucency and selfillum (translucency may need the translucent texture to be $basetexture, not $basetexture2)
- Added modified parallax corrected cubemaps to shader code (although currently unusable)
- Fixed Variant_ParseInput
- Added/restored custom scanner speed (experimental, needs more work)
- Added a frustum to point_camera
- Added spheres to env_fog_controller
- Several miscellaneous code changes/fixes and comment adjustments
The demo map VMFs and BSPs were also uploaded.
I would've released this update earlier, but it took almost a month because of some IRL issues, school, and burnout. However, I started working on other projects with Mapbase, and as I've worked on those projects, I've occasionally found Mapbase-related bugs that hindered my progress (including a few that hadn't been reported by others yet), leading me to go back to Mapbase to fix them. This helped motivate me to put out this update and I hope it continues to be a motivating factor in the future.
---
I had an idea about a week ago to add a "frustum" to point_camera that displays the camera's FOV in the 3D viewport, similar to projected textures and what I did for info_hint. This allows you to easily see exactly what would be visible through the camera.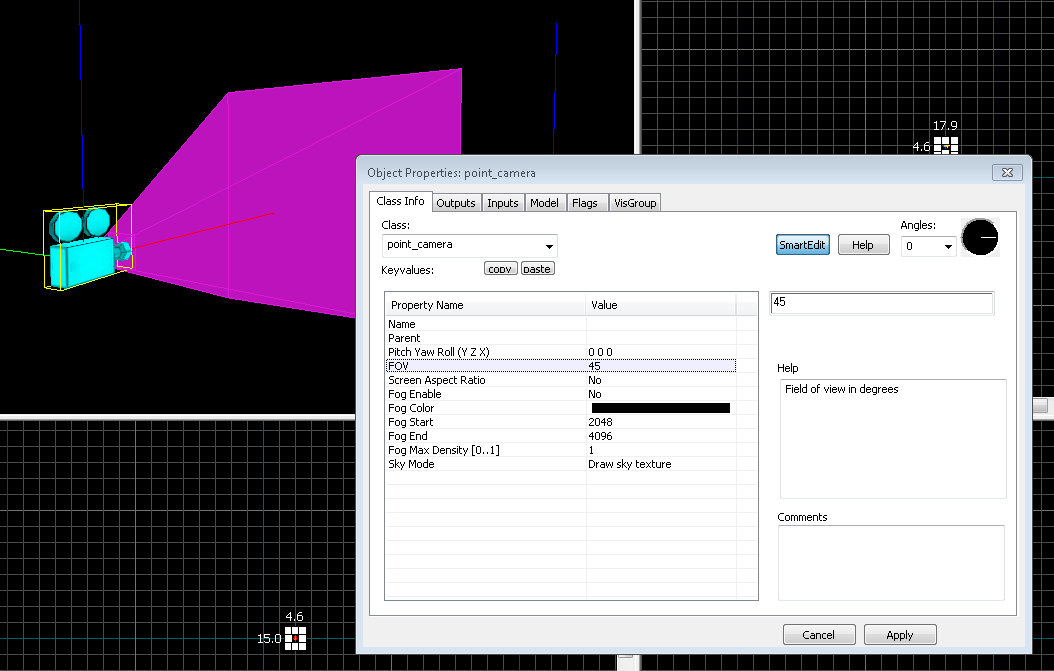 As I was adding that, however, I suddenly realized env_fog_controller doesn't have wireframe spheres to display its fog start/end. I thought this was especially necessary now that Mapbase uses radial fog. This means you could adjust env_fog_controller's fog levels like you could adjust a prop's fade distance.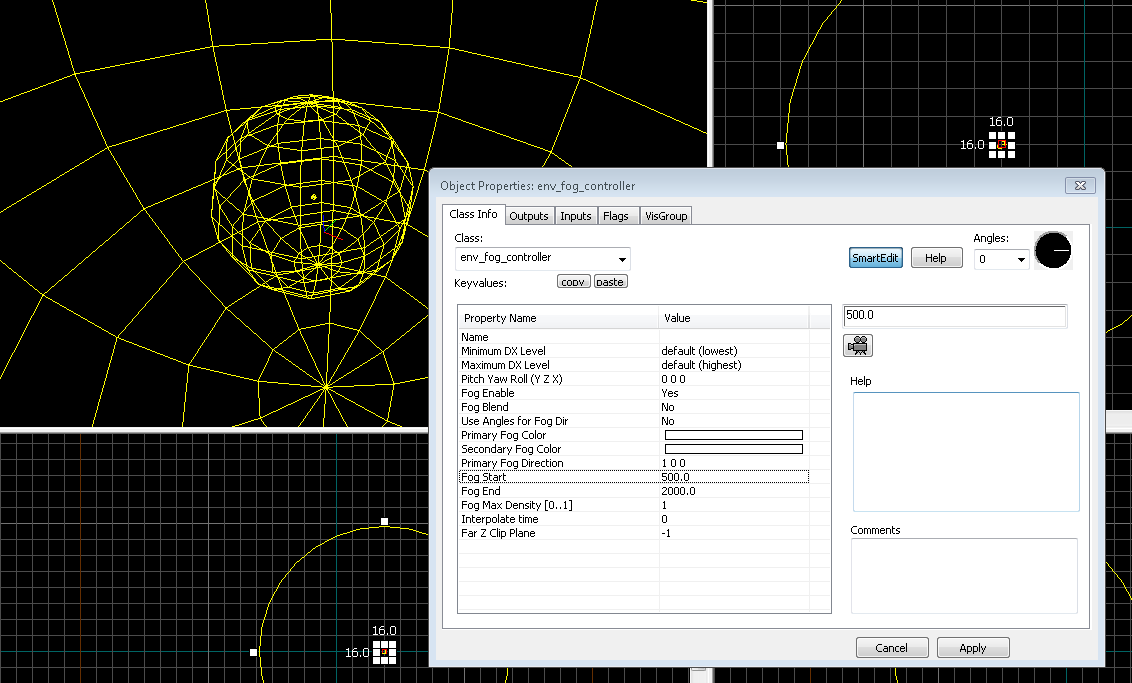 I didn't add these spheres to point_camera since it would get too crowded with the frustum and I didn't add them to sky_camera because the skybox scale prevents the spheres from accurately reflecting the fog values.
---
While browsing the shader code, I realized $translucent/$alphatest and $selfillum don't blend in between two albedos in displacement blend textures, but with a few simple line changes, they could. Getting $selfillum working was easy, but I had some trouble with transparency since it turns out the shader might not actually be able to use the second texture's alpha, meaning you could only blend the $basetexture's transparency with $basetexture2's opaqueness. They cannot both be transparent.
Before I made this change, $selfillum and translucency on WorldVertexTransition always used the $basetexture's values. This will now look different with Mapbase's shaders, but I consider intentional usage of the old behavior to be rare and easy to fix.
---
I added a file called mapbase_rpc in the "scripts" folder that lets Mapbase-derived mods change the app ID and large image for Discord RPC without having to modify the code. I also updated the mod templates to have them by default.
---
As always, post comments here, open issues on GitHub, or reach out to me on Discord if you need to report any bugs or issues.