Hello once more Arena Warriors! Today is the great announcement of Version 3.5 release PLUS more news about the new Map Pack being worked on.
---

Developed from August 23 to October 23, this map is an entirely new one being added to the map pack, it wont be replacing Baerhon's Lair Part 2 like Glimpse of Dimensions replacing Part 1, because as for Part 2 replacement, i still have to make another map to serve as replacement for that one.
In the case of Path to Oblivion, the purpose of this map is being a short remake of the first map of the campaign i have made in DOOM (2016) SnapMap, but also being a new addition to the map list. It features a final boss fight a little different from what can be found in Baerhon's Lair, i'm sure the Black Totem will be putting up a decent "Icon of Sin styled" fight:
Here's a sneak peek of the map's gameplay in coop:
After the rework and addition of more elements to the gameplay in the map pack with Glimpse of Dimensions, this map is also introducing the Curse Hearts. They are basically like the Bloodstones, but instead of hiding in a shadow state, they will be floating in the front of a demonic seal and the players needs to break it in order to proceed, however while doing such thing, the Curse Heart will be spawning enemies constantly to defend itself.
---

Those guys will be wandering around the maps while chanting weirdly, they are the only ghost-type enemy to appear for now, which means that ballistic weapons won't affect them, in order to kill an Astral Rage, the player requires an energy weapon to do so, or at least a weapon that causes splash damage.
They are blind, which means the player can pass by them just fine, however they will react violently if they hear any gunshot, if such case happens, pray to not get caught by them before they return to their "calm" state, because if any of them touches the player, they will explode and apply an huge knockback.
---

Grunt Ability: Firebomb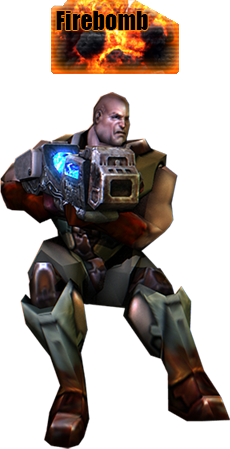 Grunt now have the ability to fire Firebombs! Well this ability doesn't have to do anything with Quake 2, but rather with Rise of The Triad, so yeah Firebomb is exactly what you expect! Explosions in a cross-shape.

Like Keel, Grunt can have up to 4 charges in his Firebomb and can earn one charge every 4 kills, the Firebomb rockets are also homing, so they should hit an enemy even if they are out of the player's sight.
With Grunt and Hossman having their abilities, this shrinks the count of characters without abilities to 2, Xaero and Klesk, which will probably recieve their own in the next updates as well.
---
This is all news i have to tell for now, but i'm quite happy to say that the Map Pack is finally being worked alot more than ever before! This means that by the first months of 2020 there should be a release with more maps than before and being much more fun to play on them!
-Zanieon