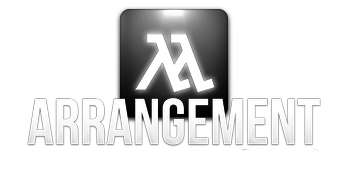 ---
In December 2014, the ARRANGEMENT's source code was starting to get very messy and very buggy. We decided to make the transition from the old Half-Life 2.3 SDK to the recent one from GitHub. Since we are multiple developers, sharing code was a huge pain and the popular control version software known as Git came to our rescue. See this article for full details about this transition : Moddb.com
(Video done by Joël "Shepard" Troch)
This video is a visual representation of all the changes we made to the Half-Life GitHub source code between December 2014 and January 2016. Each dot is a unique file with one color per file type, the links between files are folders. When the "people icon" flies by and "zaps" a file, it means that he did stuff with it in real life. You can see as we work on new features or bugs, as we fly past certain files and zap them as they go.
In case you have missed it, you can find below our latest story teaser. Remember everything is WIP and will be gradually improved.
Big thanks again to the whole community for supporting us. Stay tuned for more news and features, kind regards!