I n 2011 I introduced the idea of a LITE version of FUEL: REFUELED. The idea is basically to release a version of FUEL: REFUELED that is primarily an improvement mod once again, rather than my recent total conversion workings. It will support all localizations and will be 100% backwards compatible online.
Patch #3 (Unofficial)
Recently I released the second in a series of unofficial patches for FUEL; these were solely aimed at bringing core fixes to all users without forcing any of the game-changers that come with FUEL: REFUELED. The 3rd patch; "Patch #3" will now serve as the base for FUEL: REFUELED - LITE. Included in Patch #3 is some of the fixes I made to vehicles, such as the "Damocles" that would get stuck in the ground upon spawning or the "Superfly" that had its rear wheel floating in the air.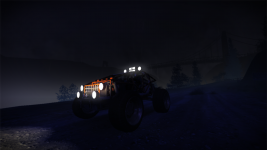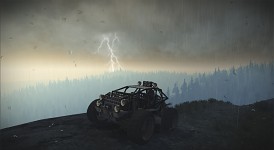 The "Warrior" can now be purchased for 1155 FUEL instead of requiring entering a code to unlock it.
Two of its liveries can be collected during free roam in the Offshore Shack zone.
There is only one notable change I decided to make with the patch and that is to integrate the bonus code content (vehicle, liveries and driver gear) into the gameplay. This change was done purely because I saw no down-sides to this move and it actually fixes an issue of the items not showing up in the totals on the in-game collection statistic menu's. The "Warrior" can be purchased for 1155 FUEL, the liveries can be found in either Offshore Shack or Tsunami Reef and the driver gear is unlocked by default. All these items are intended to be easily obtainable.
I like the idea of optional mods that allow people to tailor the game to how they want to play. I have a long list included, but a few notable are: change day cycle length, disable motion blur and/or bloom, disable traffic, disable the "shader compiling" at the start of the game (drasticly reducing loading times), switch between various UI and HUD themes, change or disable the background menu tint, and choose to unlock all driver gear and/or zones. This is all about letting you choose how you want to play FUEL - I feel this is way better than me making 1 single mod based around what I think is the perfect setup as there will always be people unhappy with it.
FUEL: REFUELED - LITE
FUEL: REFUELED - LITE is where the changes are really found, however it should be said that this is still very much the default FUEL game; the changes made are designed to improve on what's already there rather than remove or replace like the standard FUEL: REFUELED does. As I said before; it is compatible will all* localizations and 100% backwards compatible online.
The biggest change is that all 72 Career races have been improved, for instance there will be more variety when it comes to the AI vehicles. There is also a rework of all environmental parameters to make races look better in places. Also I've made more vehicles selectable in multiplayer, which is actually entirely balanced with stock game users because all of the vehicles added here are pretty much the slower ones or just a wider selection of vehicles with similar performance. The way stock multiplayer works is to provide a choice between up to 5 vehicles (due to a limitation in the UI), I instead changed the UI so it would display the classes rather than a list of 5 vehicles (e.g. "Bikes", "Quads" etc.) - thus one race which before only had a choice between 5 vehicles pickable, now has 18.
Two other notable changes included in FUEL: REFUELED - LITE are the reworked vehicle color palette (you can now choose colors such as Black and Purple) and the "Damocles" Dragster made drivable in free roam - which is a lot of fun!
Coming 'Soon'?
Its very nearly finished, all I have left is a few more races to rework and then make sure everything is packaged correctly. I hate to give out release dates as I can rarely meet them, but if all goes well it will be this month as there is little left to do really. I'll be publishing another news article when its released, but in the mean time feel free to track changes in the forums where i've written up the current change-log. Link: Moddb.com.
* English, Français, Español, Deutsch and Italiano.