ETL Frostbite v5
----- Overhaul of the original Frostbite by Moonkey-----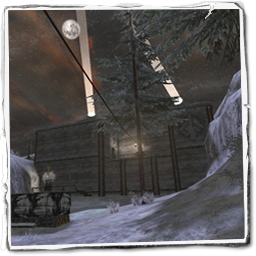 This game has seen many years go by and is yet loved by many. To properly honor this, the first map that has been overhauled as part of the ET: Legacy asset creation effort is Frostbite, by Moonkey, who of course still deserves all the credit for the original level-design. This version is merely a visual overhaul of one of the most popular maps this game has ever seen. This is the fifth version of this map for ET: Legacy.
A big thank you to Titeuf for filming the trailer.
-----Story-----
A convoy is about to make a shipment of supplies that could bolster Axis resistance in the region. The Allies must steal the Supply Documents and radio them back to Allied Command so the convoy can be intercepted in time.
-----Changelog-----
to last version:
Fixed bug where the Allied CP didn't get destroyed properly
Fixed models that had their origin positioned in a structural brush
Fixed bug where team voice announcements for main entrance and side wall didn't get removed after objective completion.
---- Beginning: "Destroy the entrances" - "Defend the entrances"
---- First, main entrance is destroyed: "Destroy the side wall" - "Defend the side wall"
---- First, side wall is destroyed: "Destroy the main entrance" - "Defend the main entrance"
Removed banners with swastikas in throughout the facility and replaced them with the Luff decal to stay consistent within one setting
Removed clips some light models to allow smooth player movement
Removed two misplaced speakers
Added coronas to all electric light sources
Transformed world_clips into a func_static allowing for better spectator movement to simplify shoutcasting
Increased overall lighting from 15 to 20
to original:
The player is now able to stop and revert Storage Wall movement by activating the button again.
Alarm now also sounds when the Service Door has been dynamited before the Storage Wall and Main Door.
Entity count has been reduced from 479 to 360
Structural mesh and VIS blocking has been improved
Visual changes have been made
-----Comparison Screenshots-----



-----Download-----
modDB (Sourcefiles included)
Omni-Bot Waypoints (Big thank you to Native12)
-----Specs-----
Author: Moonkey
Overhaul: kemon
Brush count: 8.095
Entity count (total): 997
Entity count (ingame): 360
Compile parameters:
[q3map2] -meta -v -mv 1024 -mi 6144 "[MapFile]"
[q3map2] -vis -saveprt -v "[MapFile]"
[q3map2] -light -samples 8 -samplesize 16 -v -thresh 0.05 -patchshadows -dirty -dirtdepth 256 -external -lightmapsize 1024 -shade -bounce 2 -bouncegrid "[MapFile]"
-----Notes-----
The mapfile is included.