Type: Tank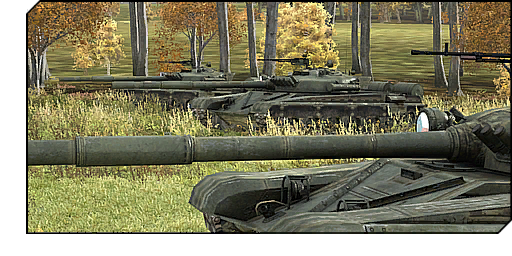 Difficulty: Moderate
Released in: v2.00
Description:
Provide a combat recon with maximum possible use of firepower and speed together with your tank platoon (callsign BADGER) all the way to the village of Stary Sobor.
Be ready for possible enemy ambushes, hidden AT specialists or highly mobile patrols on armed Land Rovers.
In cooperation with a mechanized group (call sign ODRA), capture, secure and hold positions in the village of Stary Sobor.
Be aware of possible enemy counterattacks. They may come from either side.
If all four tanks are destroyed, the mission ends with failure.
Use the Teamswitch function to switch between the crew members (default key "T").
To call a service team (callsign LABE) on DTP-90, use the radio (0-0-1). This team comes to the last known location of your tank, so you have to stand in place and secure the surroundings.