Aloha!
After a long time without an update and an even longer time without a real update, we finally are back! And we bring a bag full of news with us that makes Santa Claus look like a scrooge!
Reinforcements have arrived!
First of all, we want to inform you that we have two new team members who should speed up the progress a bit. On the one hand there's -AG-, our new modeler with an included texturing function! He already made this church for us.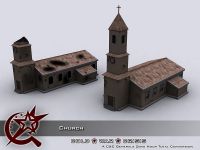 On the other hand there's Icy, who most of you may already know from the forums as a long time CWC member. He'll assist with creating maps and scripts.
Okay, now here are a few guys who'd like to meet you...especially the Soviets!
Already finished? No way! We've got another new unit for you, the M48 Chaparral Forward Area Air-Defense System, aka the main US anti-air ground unit.
Well, the "Chappi" arrived just in time, because the Soviets also got reinforcements: The brand-new SU-25T equipped with these really cool AT-16 "Vikhr" missiles that will cause headaches to many US commanders.
By the way all these pictures were taken on new maps, one is a 4 player skirmish map, the other one an early US mission.
As if that wasn't already enough, we still got something for you:
We will start a
and the best map will be included in the next release, the multiplayer beta. Maybe even 2 or 3, if we can't decide which is the best one. Head over to this thread for more detailed information!
And last but not least, here's another "top secret topic" revealed! If you want to know about our resource system, check it out!
As you can see, something's happening again, and we hope that this news will be a little compensation for the lack of updates in the last weeks.
So long,
the CWC Team