Today we'v got a very special media update of a unit which has been planned to be added for more than a year by now. We present to you the Exo Suit which will be exclusively used by the Regular USA faction of the game.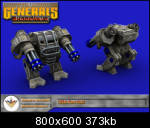 The Exosuit it's self is a highly modern walker which can be configured with several weapon systems which the user would prefer. It's armour is roughly the same as that of a scorpion tank but it is more resistant to aircraft based missile weapons and those of infantry.
Now let's move on to the individual configurations: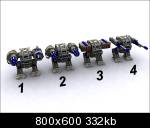 1. Ranger/Burton Configuration (note: that the grenade launcher will have different ammo depending on if Burton or a Ranger is using it)
2. Marine Configuration
3. Missile Defender Configuration
4. Pathfinder Configuration.
Hope you guys like it.