Welcome to the Crazy Mod,
Today we have the ModDb profile now up and running with renders. You can download the first release of the Crazy Mod now as well. If the link on this site isn't working yet, download the mod here.
The Crazy Mod features insane, outlandish, and funny weaponry to dominate the battlefield in a new crazy way. Unleash the destructive forces of each faction's special super unit to crush your enemies. Eventually the mod will have three new generals for you to use, one for each faction.
Here's a couple of special units to let you know just what this mod is all about:
First up is the Gattling Nuke Cannon: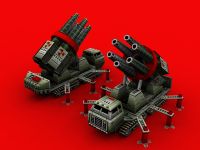 The Gattling Nuke Cannon is the new super unit for the Nuke General. Every faction and general gets one of these new toys to play with. The Gattling Nuke Cannon is basically a Gattling Cannon that fires nuclear shells over long ranges. Despite its looks, it is actually quite balanced for being a super unit, and fires in clips of six. However, it is still very devastating, and can destroy any unit in one clip of six nuclear shells. However, it lost the ability to fire neutron shells, mainly due to massive lag issues.
Next up is the Buzzsaw Paladin:

The Buzzsaw Paladin tank still carries the Point-Defense Laser for anti-missile and anti-infantry defense, but has traded in its main gun for a massive saw that can tear through anything. Infantry, buildings, and tanks all fall before the massive cutting power of the buzzsaw, provided it can get close enough to hit them. It still requires the Paladin tank General's Power to unlock. You can build it via the seperate Melee Vehicles commandset in the USA War Factory. Only available for Vanilla USA.
These two units and more are availiable in the Crazy Mod release Version 0.5. If the download link on this site isn't up yet, you can download the mod by going here.
Enjoy the mod!
-Jordan