Download CHdemoSetup win 2019 04 20 - Mod DB
This demo version consists of two maps available to play in any order.
Hemotest

: Testing ground for the environmental features and new game mechanics demonstration. It has no plot but smoothly leads to the second map.

Cemetery

: The beginning of Blood: The Curse Hunter storyline.
The following original BLOOD game content is available in the demo version:
Monsters:
Cultist with shotgun

Cultist with Tommy Gun

Bat

Rat

Bone Eel

Spider (small baby spider)

Gargoyle

Zombie
Weapons:
Pitchfork

Sawed-off shotgun (and its double version)

Tommy Gun

Flare Gun

Dynamite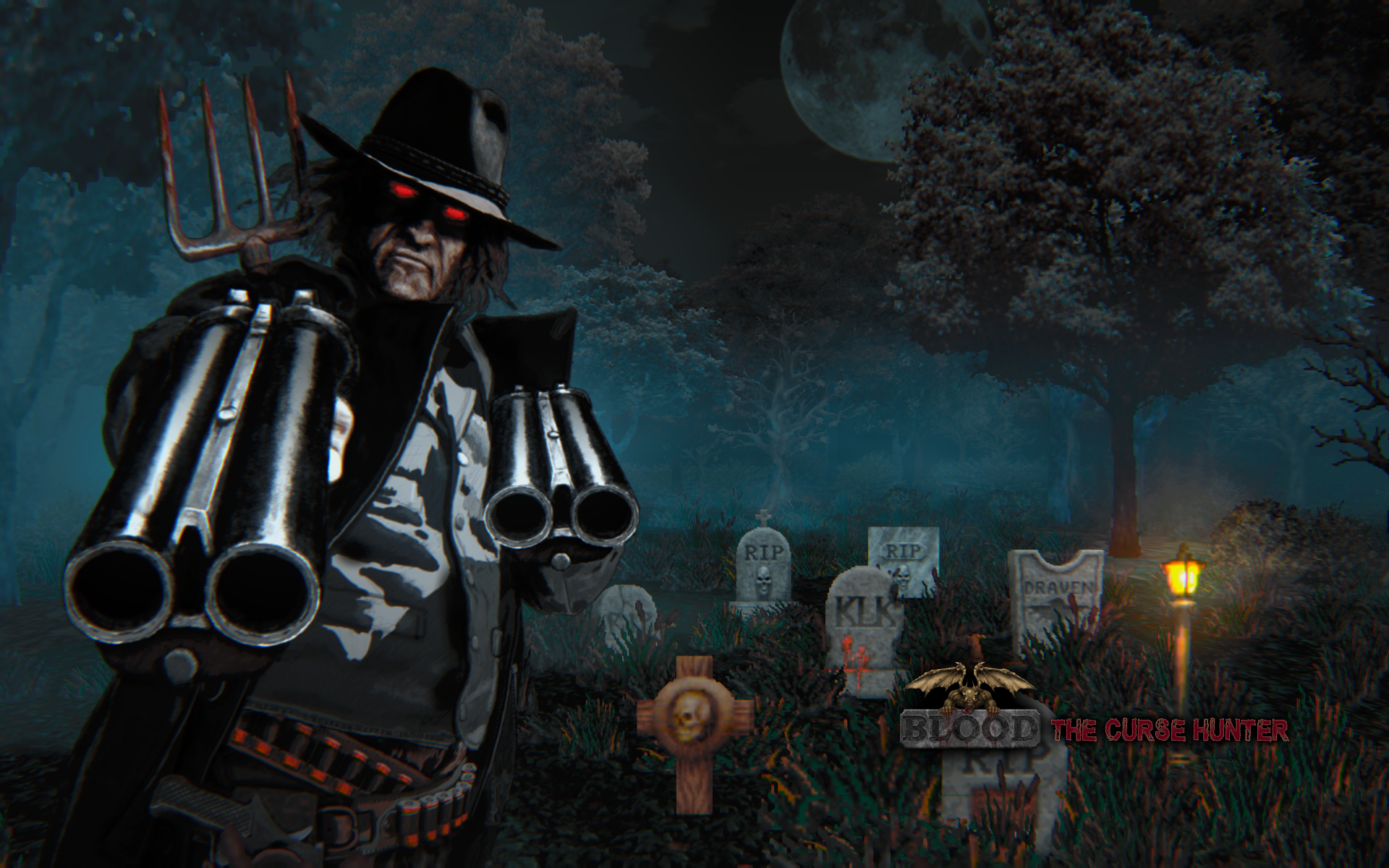 What's new in Blood: The Curse Hunter?
1. World general mechanics
Dynamic daytime

Dynamic weather conditions

Dynamic vegetation

Distance culling

Object manipulation

Fire spreading

Light sources control

Advanced object destruction
2. Monster mechanics
Dismemberment. You can headshot zombies and cultists. You can shoot a zombie body lower part out but he will continue to the pursuit.

Zombie killed with fire has a chance to turn into a fire zombie. Fire zombie is tougher and immune to fire.

Cultists now have weapon reload animation. Cultists with a sawed-off shotgun can fire one barrel or both. Cultist with Tommy gun reloads his drum magazine after the shooting 50 bullets.

Rats and bats are afraid of open fire. They can be driven away by a torch.

New bat type that sleeps under the ceiling until disturbed by the sounds of shots.
3. Weapons
Caleb can fire double sawed-off shotguns as a standard action. For balance purposes, both hand shooting (especially a pair of doublet) greatly increases buckshot spreading. This is also requires reloading both shotguns one by one. Which was not implemented in the original game.

The Tommy Gun now has reloading. There are 50 rounds in the drum magazine. New alternate firing mode is more accurate single shots. It's an effective way to shoot the head from a distance and save your ammunition.
4. Caleb's mechanics
Caleb can obtain new abilities in exchange for Curses, collected from the fallen damned.

Advanced vertical ladders. Caleb can jump from one ladder to another.

Caleb uses a Fire Bug as a flashlight. It can also be sent out to reveal distant objects.

Primary and secondary objective tracking with visual markers.

Tips and tutorials for new game mechanics.

Caleb collects plot notes as you progress through the game. You can read them on the Info screen by pressing 'i'.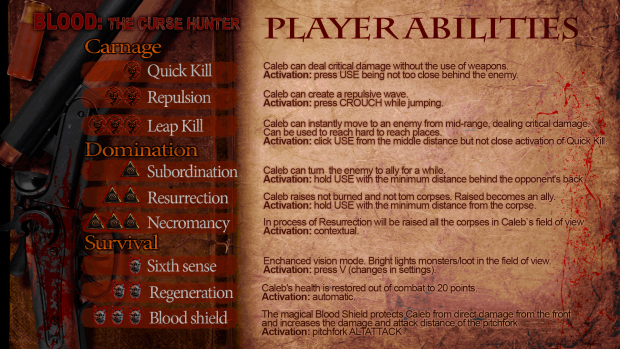 5. Ability obtaining features
Defiler
Cursed object created by the Highest Сultists using the knowledge acquired in the Lower World after the first Ganzer gates opening.

The Defiler's main purpose is Сurses' spawning and its protection.
Curse
The Curse is a living dark entity created by the Highest Cultists. It grants protection but absorbs the host's soul in return.

The Curse can also be on a static object, then one becomes a Defiler.

To get the Сurse you need to kill its host or destroy a Defiler with physical damage.

Fire destroys the Curse.

The Curse can be exchanged for the Amulet of Power on special altars. Ereshkigal takes these Curses into her world to keep the balance. She provides amulets as a reward.

Cultists use this effect for their own purposes.

The Curse raises monsters' corpses in the radius (except those killed by the fire or dismembered).

The Curse has a 10% chance to infect a creature within a radius.
Amulets of Power
Amulet of Power is a reward that Ereshkigal grants to save our world from Curses.

After figuring this out, Highest Cultists started to use this effect to get new powers.

Collecting several amulets of the same type grants you new abilities in that skill tree.

Active ability spends stamina.

The amount of stamina depends on the total number of abilities.

1 ability increases stamina cap by 11.15 points.

You can have up to 9 amulets doubling your default stamina cap.

Stamina recovery rate depends on the number of collected Curses.

Each Curse in your inventory recovers 1 stamina per second.

Basic stamina recovery rate is 5 stamina per second.

There are 3 amulet types: Carnage, Domination, Survival.
I welcome all BLOOD fans, good old gamers and all who misses author's unique content, to support my work on this project.
I believe that with all of us together everything will turn out!
Stay tuned!
Get unique content and early access to all project updates on
Or donate:
Money.yandex.ru
Paypal.me