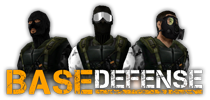 Here come a bunch of changes!
Hello there! It is a great time to make an update!
What's new?
You will find in the latest version: a lot of bug fixes, improved stability and a bit of new possibilities for mappers. There are two new flags for spawn spots to prevent them from triggering when it's boss wave and to prevent spawning of flying monsters in this specific spot. It was a problem to create sewers or a cave which is supposed to be a spawn point for walking monster only, because flying monsters could appear there too and flying monsters need a bit more space actually, so they could function right. There are also two new entities to create weather: fog entity and rain/snow entity, it's very easy to use them and the result is beautiful. To prove my words I wanna show you a new map - Winter Town.
...but I suggest you to figure it out yourself, in-game it's even better!
For other changes I suggest you to take a look at change log, which is placed as always in change log article.
Map SDK was updated too, it has updated FGD file and a map source (pve_tomb). It's available here.
Discord
Our community has an official Discord server. It's the easiest way to contact me or to find a mate to play with. There you can find some interesting content also. I'm posting different snippets, screenshots and other content from development process. Join us!
Information Pages
I don't really know how many Base Defense players remember all the versions of Information Pages site, which began as wiki-like site. It was a kind of little database containing information about in-game items, monsters, skills and other. Well, I have good news: Information Pages are up again! Now the site contains Base Defense Manual - a guide for newbies. I think old players will be able to find out something new too, despite it's about basic things mostly. The site is clean and simple. Base Defense Information Pages. It's also set as a home page for this mod profile.
Steam
Don't forget about Steam version of the game! It features cosmetic items, achievements, in-game events on holidays (like when you need to collect stuff to get an epic reward), a lot of servers and much more!
Thanks for your attention ;)
Have a nice day and keep on defending!