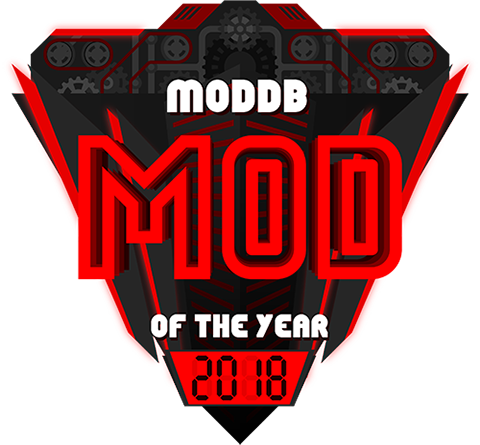 The 2018 Mod of the Year awards have officially begun! This event is a celebration of the tireless dedication of the mod community, and aims to highlight the incredible work that has been produced by them throughout the year.
Modders Are Keeping The Dream Alive
The importance mods play in shaping the gaming landscape is more significant today than it has ever been. We've known this for a long time, after all the most popular games on ModDB have legacies that date back over 10 years, in some cases 20 years - and those legacies are stronger than ever because of incredible mods that keep coming out. It's great to see more studio's than ever before opening up their development tools and allowing the community to create new content for fellow players to enjoy. We'd like to see more total conversions and more open mod platforms (like mod.io that we are creating *shameless plug*), to help games thrive that choose to implement mod support.
But right now the most important thing is that it's December, and it's time for all visitors to ModDB to make it known how much we appreciate modders and their efforts, by voting for our favourites to determine the best released, and best upcoming, mods of 2018.
Phase 1: Nominations Begin
From now, over the next 10 days, voting will be open for every mod on the site. Simply visit that mod's mod profile to find the voting booth, and click "vote now" to vote for that particular mod if you think it's worthy of making into the final Top 100.

Phase 2: The Top 100
The day after voting closes, on December 11, the Top 100 mods will be unveiled, calculated from those user votes over the previous 10 days. A new round of voting will then begin, with users voting over the next 10 days to determine which of those Top 100 mods is worthy of being crowned Mod of the Year.
Phase 3: Mod of the Year 2018 Awarded
With those final votes calculated, as we move closer to Christmas, the winners will gradually be revealed over the following stages:
Promote Your Mod To Help Get Votes!
Modders, you should make as much noise about your game as possible to get it in front of potential voters! Luckily, we've created some tools to help you do just this.
Win Games for Voting
Every member from the community who votes has a chance to win a game from our #modlove collection. The more you participate, promote the awards and encourage your friends to vote the better your chance. In addition to this the winning mod teams will be heavily promoted across our network, get the prestigious honor of being able to include the award badge where-ever they damn well please, and be introduced to publishers interested in taking their idea to the next level.
Supported by mod.io
The 2018 awards are proudly supported by our sister-site mod.io. We are building the future of modding, by creating a powerful mod API for game developers to tap into the creativity of their playerbase. Take control of your mod community on all platforms and stores, to ignite a world of possibilities. Interested in mods and finding out more? We'd like to show you what we've built, help you get started, and discuss the marketing and investment support we can provide our early adopters. Reach out to chat.