Now this tutorial is mostly for people who edit S.T.A.L.K.E.R. Call of Pripyat, because this the only way of editing the all.spawn for that game. However, this also works on other S.T.A.L.K.E.R. games.
So first things first. We need tools. Here's a list (I will provide the rest of the links at the end of the tutorial):
ActivePerl (MUST be installed!)
acdc.pl (IMPORTANT!!! There are different versions of it depending on what game you're modding!)
all.spawn file itself
Patience and time
After we got the tools out of the way (last one is pretty important), we can get started. When you download the acdc.pl file, you might also get the Decompile.bat and Compile.bat files (however it is not guaranteed you will get them). In order to unpack all.spawn, we need those .bat files, so here's how to make them:
Open up Notepad
Type in: perl acdc.pl -d all.spawn
Save it as Decompile.bat
Make a new .txt file, and type in: perl acdc.pl -c all.ltx -o new.spawn
Save it as Compile.bat
Now put them in the same folder with acdc.pl
So now we are done setting up. To edit all.spawn, you need to copy the all.spawn and put it in the same folder with the previous files (acdc.pl). In order to open it, you need double-click Decompile.bat. A quick window of command prompt will appear, and just follow it's instructions. Now you will see 11 .ltx files (and sometimes 2 .bin, don't worry about them). They are broken up in 2 groups: alife_*****.ltx, and way_*****.ltx. The files that we are interested in are alife_****.ltx. Now, you can simply open them as you would any .ltx file (any text-editing program, i.e. Notepad).
This is what you'll get (this is the CoP version):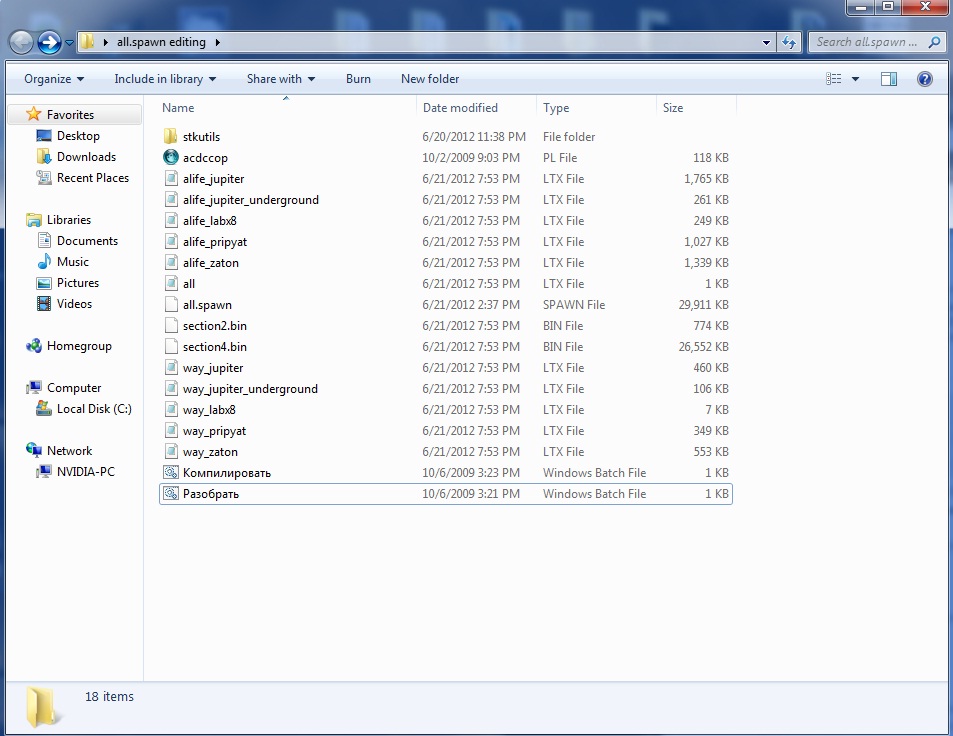 Link at the end of the tutorial on how to edit alife_ and way_ .ltx.
So after you're done editing the files, and are ready to put back your new all.spawn, double-click the Compile.bat we created earlier. A command prompt window will appear again, so just follow it's instructions. After, you will get a new file called new.spawn. You have to copy that file to *Wherever you installed your S.T.A.L.K.E.R. game*/gamedata/spawns. Don't forget to back up the original all.spawn file! You're now done. Good hunting, stalker!
Links:
A thorough tutorial on editing all.spawn files (really recommended to read)
acdc.pl for S.T.A.L.K.E.R. SoC/CS
acdc.pl for S.T.A.L.K.E.R. CoP - (only in Russian. However, use Google Translate or: Компилировать - Compile, Разобрать - Decompile)