VLP: "Hi Ivan, nice to meet you again. The last time we had you featured in our mag was two months before the release of "Painkiller Resurrection". Can you give me a brief overview what happened to you in the meantime?"
Ivan Ertlov: "Thanks a lot for visiting us here in Lower Austria. Basically we were almost crushed by the bankruptcy of JoWooD / Dreamcatcher, which left us on unpaid bills counting for more then 10.000 Euro. Basically we were totally broken. I got into divorce (you know, crunch time is always time of lonelyness for your partner) and was close to company and private bankruptcy. I sold my late parents house and took every freelancer job I could get, so somehow I kept the company alive in order to develop on smaller games together with my Art Director Peter Siedl. One of the projects was "Tales of Heroes and Warriors", a 2D Card / Board game. Unfortunately the contractor that hired us for that couldn`t pay any of the bills - but we got the IP in exchange for our work invested.
In late 2010 , Peter was hired by a French company (and is now going to an even bigger company in Germany, I wish him the very best for that) and Loony took his place at the time I started the developement of "Into the Dark".
VLP: "Wait a sec. When we talked about "Painkiller Resurrection" you were suggesting that this project was your "breakthrough", the big AAA title every Indie dev is dreaming about. Now it sounds more as it was almost a nail in your coffin. Can you explain that?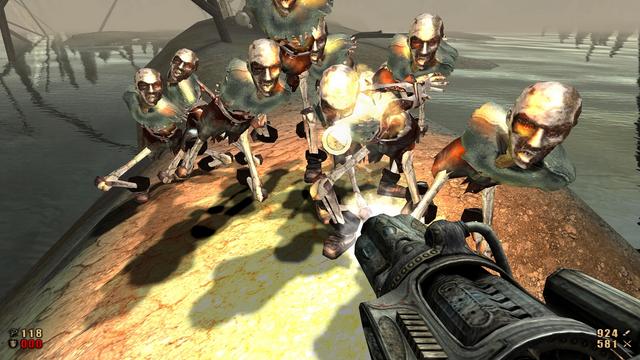 "Painkiller Resurrection" featured the death of ~ 4000 demons and monsters and it almost killed "Homegrown Games", too.
Ivan Ertlov: You`re pretty right on that "nail in the coffin" thing. I won`t play the crybaby here, I cut it short. JoWooD and Dreamcatcher were already in heavy financial troubles when we were developing the game. The milestone bills weren`t paid in time, sometimes they never paid. Freelancers left the team or had to work part-time jobs to keep themselves alive and their children fed. This affected the dev schedule heavily, which was very tight (not to say insane) anyway. The released got schedueld by producing for End of Dec. 2009, which was hard, but possible. Then JoWooD decided they need cash immediately, started to pre-sale the game to business partners and talked us into releasing a very early beta in October 2009. We tried to stop this madness by implementing an hardcoded Message on screen telling the game isn`t finnished but they sent it to production anyway and forced us to deliver a Day1 patch that should bring the game to a real 1.0 version. Anyway, they (JoWooD + Dreamcatcher) earned more than 5 times the money they invested, but blew their money on other projects and went into bankruptcy early this year.
So I can at least say "Yeah, we lost a huge load of money, I may have lost my house, but Homegrown games is still alive - and those who owed us are history."
VLP: But you worked for JoWooD as Community Manager and Producer, right?
Ivan Ertlov: Yes, of course. I don`t deny that. And some of the former colleagues are still very good friends. I even still personally like the CEO, the CFO, the lawyer e.t.c. we had when everything went down in the Blaze of Glory. I alos wish the legal successors from Nordic Games the best of luck.
I would wish them even more if they would pay the old Dreamcatcher bills although they don`t have to *smiles*
However, the experiences as Publisher man AND the experience as contracted developer have taught me that Developers, especially unexperienced or fresh devs, should be VERY VERY carefull when dealing with publishers.
VLP: What are the two greatest traps for independent developers when signing up a Deal with a major publisher?
Ivan Ertlov:
First of all, the legal power at hand. No matter, what the contract states, the publisher has always the power to enforce it, while you have almost none, especially when you are depending on the regualr payments for your milestones. Threatening your publisher to sue him because lack of payment sounds nice, but when he knows you are bankrupt within 4 weeks without getting money from him, the threat is empty.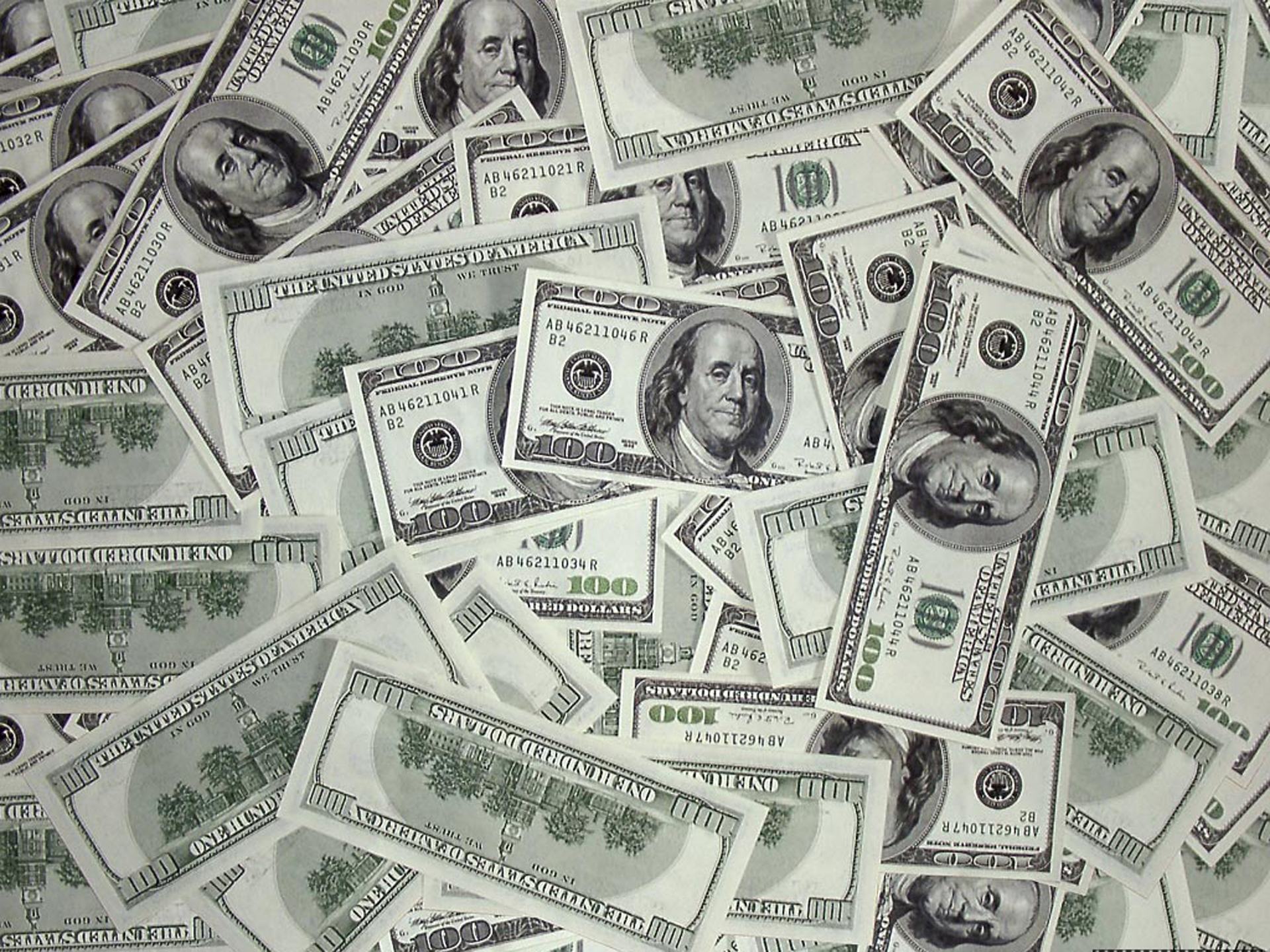 "Advance against Royalities" makes the publisher rich and the dev looking VERY stupid.
Second, the term "advance against royalities" - most of the publishers give you the dev budget (which is usually calculated quite low anyway) under such a clause. But let me tell you: It means at an Royality Rate (your share) of 15% and a "Marketing / Production Developement fund" of 50% (both are quite common terms) that the publisher has to earn a profit of 10 times the budget payed to you prior to release before you see even 1 Cent of Royalities.
Nasty, isn`t it?
VLP: So you stay completely on your own with "Into the Dark"? You could do better deals with your experience and connections?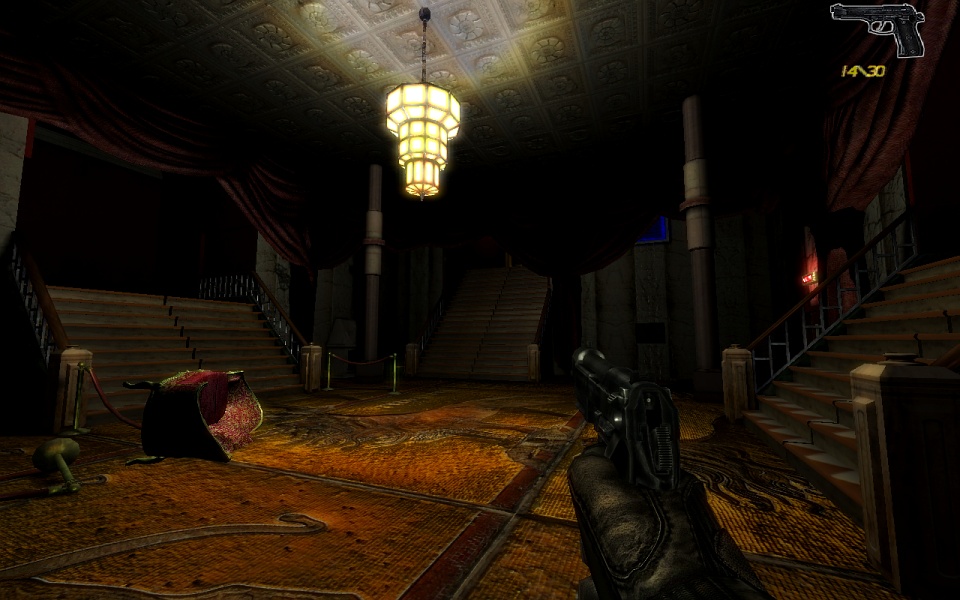 "Into the Dark" - self-funded from scratch to now. Will most likely keep that way.
Ivan Ertlov: I got two different offers in the last few weeks, both were offering 6-digits-advances. I won`t lie to you: If someone I could really trust stood at the front door with a huge sum and would sign a contract that would leave control over all content, artistic, release date issues and the IP in my hand, I would perhaps be tempted.
But on the other hand, I believe in people, I believe in our friends and fans, I believe in gamers that support Indie teams, I believe in self-publishing on Desura, Steam, Gamersgate, I believe in the power of plattforms like ModDB, IndieDB, TGC.
We want to make a game so unique publishers would most likely try to change it to make it more appealing to the masses. We want to make it our way, with all srcasm, dark humor, blend of genres e.t.c.
Together with the Indie Games Community, we can do that. Together with a publisher, it would be hard unless he ticks like us and we could trust him. Trust is nowadays very important to me.
I might be living in a rather shaby flat right now, I might have less luxury, an old rusty car and I`m wearing T-Shirts instead of handmade suits (which I never liked anyway) again.
But I have trust in the players, in the community (which voted us for Top100 finals on IndieDB), in the Indie spirit. And that`s more important to me than flying around the world, drinking champaign (which I also don`t like, I prefer Czech beer) and living like a top manager.
(...)
Personal note:
The rest of the Interview contains Informations that can be read in the Game section anyway. And I didn`t want to publish the whole interview anyway.