[page=Introduction]
I'm going to walk you through creating your first weapon. To do this I'm going to show you how to make a clone of the pistol weapon which you can later customize.
I'm going to be using Microsoft Visual Studio .NET 2003 to compile, but if you are using Microsoft Visual Studio .NET 2005 read this tutorial.
[page=Opening and Copying]
Open up "Game_HL2-2003.sln" (or Game_HL2-2005.sln) in your Mod/src directory. Navigate to "weapon_pistol.cpp" in server_hl2/Source Files.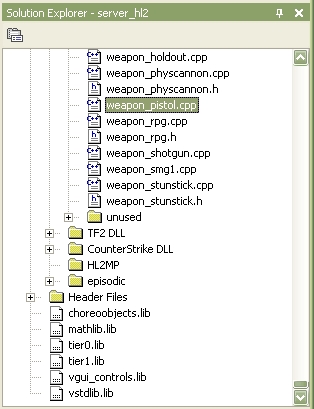 Open up "weapon_pistol.cpp" then Select All (Ctrl-A) and copy (Ctrl-C) the code. Now right click on the "Source Files" folder icon to bring up a drop down list. Select Add > Add New Item...
This window will be brought up: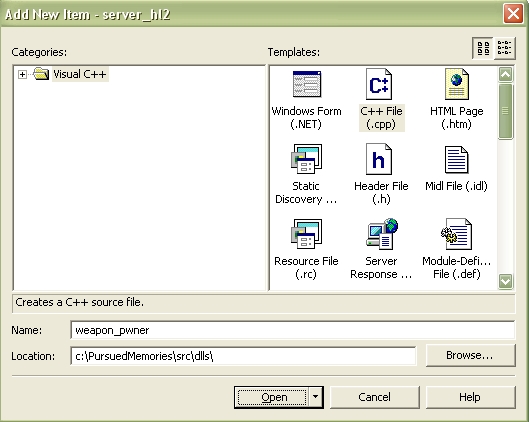 In the name field type "weapon_*desired name*" In this case I used "weapon_pwner." Click Open and a file called weapon_pwner.cpp will be created and opened.
[page=Pasting and Editing]
Paste all the code from "weapon_pistol.cpp" (Ctrl-V) in the new file. Now is the long tedious part ;) Open up the find box (Ctrl-F). Now, type in "pistol." Go through the file and replace all instances of "Pistol" with "Pwner." Be sure to use the same capitilization schemes, Pistol would be Pwner, PISTOL would be PWNER, pistol would be pwner.
Watch out, some of the instances of Pistol in the file are links to sounds and animations. DO NOT REPLACE THESE.
Before we compile there is one more thing to do. Open: Client > Source Files > HL2 DLL > c_weapon_stubs_hl2.cpp. Find the line:
STUB_WEAPON_CLASS( weapon_pistol, WeaponPistol,C_BaseHLCombatWeapon );
Copy this and paste it under itself and change it to:
STUB_WEAPON_CLASS( weapon_pwner, WeaponPwner,C_BaseHLCombatWeapon );
[page=Compile]
We're almost done now.Before we compile we have to configure the compile. Go to Build > Configuration manager... and change the drop down menu selection from "Debug HL2" to "Release HL2."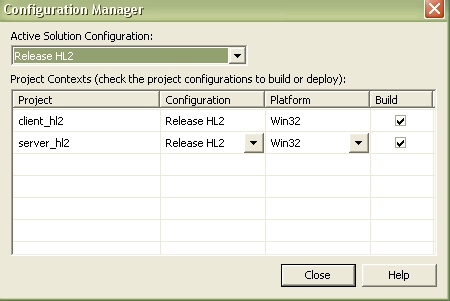 Navigate to Build > Build Solution and click it. You will most likely come up with some errors at fisrt. These are probably mistakes you made in "weapon_pwner.cpp" Double check to see that you didn't replace the animation and sound names, then compile it gain.
NOTE: If this is your first compile it will take a long time. This will not happen in the future now that you've compiled it once.
[page=Last Thing]
One last thing before you can see your new weapon. Navigate too your mod scripots folder. In my case it was located in: C:\Program Files\Steam\SteamApps\SourceMods\*the mod*\scripts). Copy the file "weapon_pistol.txt" and paste it in the same folder, but rename it "weapon_pwner.txt" Go into the file and change the bucket_position to 2 (this is the position on the drop down menu of weapons). Also, change the "printname" from #HL2_Pistol to #HL2_Pwner.
Now, go to C:\Program Files\Steam\SteamApps\SourceMods\*the mod*\resources and open "*your mod*_english.txt" Under:
"HL2_Pistol" "9MM PISTOL"
type
"HL2_Pwner" "Pwner Gun"
(or desired display name in-game).
[page=All Done]
Go to your mod folder and run "run_mod.bat" Now in the console screen open up a map (type map *your map name*). Bring up the console in the level and type "give weapon_pwner" and you will have your first weapon :)