Thanks to you, beloved fans, guests, and fellow modders, ZombieMod has found its place in the Top 100 upcoming mods! That's certainly something that we are proud of, but we feel that ZombieMod has a place in the top 5.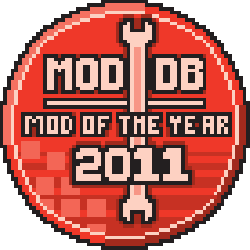 As phase 2 of the Mod of the Year voting begins, we here at ZombieMod encourage you to think back on how our mod has progressed, how we've responded to the your questions, requests, and comments, and the recent wave of progress we've made. We hope that you'll find that ZombieMod is a unique mod worthy of the honor of Mod of the Year.
Of course, you can vote for as many mods as you want in the top 100, so we're hoping that ZombieMod is on your list.
- The ZM Team