Every film reviewer stuck in the 1920's stating that games can never be art, I politely, yet angrily wave my middle finger at you. This year of two thousand and seven has seen some of the single most inventive and artistic games ever. From the galaxy of Mass Effect to the dead metropolis of Rapture, this year's slew of games have single handily managed to change our perception of how games affect us. We have come a long way from the blips of the Atari consoles of old and entered a new era of storytelling and believability. Five Titles stand out amongst the scores of games this year; Mass Effect, Uncharted: Drakes Fortune, Ratchet and Clank Future, Orange Box, and Bioshock. These titles have pushed the boundaries of ingenuity in games and gaming as a total...
Ratchet and Clank Future: Tools of Destruction
Ratchet and Clank are known single handily for their Pixaresc art nuveaux de Flash Gordon style, but this has not truly been understood until the glory of the next generation breathed new life into the series. This game singlehandedly manages to maintain a cohesive universe while providing such a mindboggling variety of levels it hurts the brain. But what really pushes this title is the style. This style feels fresh once again in a market clouded by depressing brown locals with lots of bloom. Even the darkest and most evil of areas feel wonderful and adventurous. To enhance this effect, this story pushes the boundaries of kids adventure games. By incorporating enough deft humour and hidden mature themes to entice older players and a roving adventurous story that drives us to an astounding (if not a little sequel driven) conclusion, the result stands as one of the most compelling cartoon experiences I have encountered since a Pixar film.
Closest Film Approximate: a Pixar Film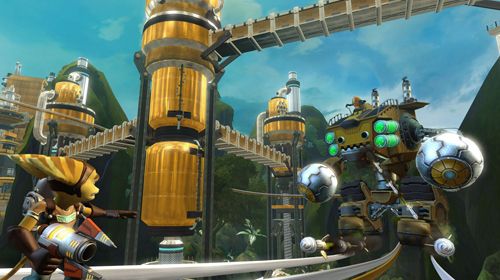 Mass Effect
Mass effect is unique in the game industry, as it stands as a horrendously hyped game that, to me, actually manages to live up to it (one of only 3 and all are on this list). It is also unique in its aesthetic choices. Instead of clinging to the modern conventions of bland and grey are for the win. Instead it quite literally takes from the sci-fi novels/films of the late 60's and 70's. Employing a shiny and truly futuristic approach to sci-fi (gasp! impossible!), Mass Effect's style and look are totally different from the modern conventions of a dark and mechanically focused universe that feels plausible. To accomplish this style is a story of galactic adventure, power and conflict. It is the modern love child of Larry Niven's stable but always deteriorating galactic community of Known Space, David Brinn's Uplift Wars, Heinlein's take on classic space adventure (see Have Space Suit, Will Travel) Clark's acerbic take on ancient alien gods in his odyssey series, and even has a bit of Battlestar Galactica thrown into it for good measure (play game, see Quarians). This marriage of truly perfect sci-fi elements push the operatic tone of the narrative. Furthermore, the amazingly handled cinematic effects push a very Blade Runner or Stanley Kubrick feel to it.
Closest Film Approximates: closer to classic sci-fi novels of the 60's/70's but if I had to choose it would be a throw up between 2001: A Space Odyssey and Blade Runner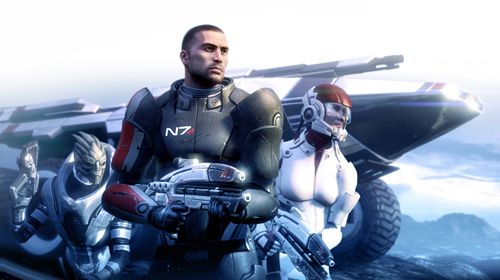 Half Life 2/ Orange Box
First thing, I'm discussing HL2 as a total, not just the original game. Half Life 2 stands as one of the most compelling narratives in a game ever. Why, frankly because it feels so relatable. Everything in this game feels relatable and real, from the fears and frustrations of the key players to the bitterness of such a destroyed world. Instead of employing a dark and grey look, Valve used the oppressive atmosphere and depressingly bleak outlook on the fate of humanity as its clear source of drama. And as thus, the decayed and abandoned world of Half Life 2 are never grey and lifeless. Colour and a deep sense of suppressed life fills this world, and as thus feels as if it has been killed, instead of never alive. To enhance this effect is possibly the most emotive and realistic digital actors this side of a video game. Its addendums, Portal and Team Fortress 2 hold on their own as being art. Portal's dark humour and witty writing feel almost like what if HAL 9000 and Tim Burton had an evil computerized love child and Team Fortress 2 is the first game in my opinion to capture the feel of being in a Saturday Morning cartoon.
Closest Film Approximates: Children of Men, 1984, A Scanner Darkly.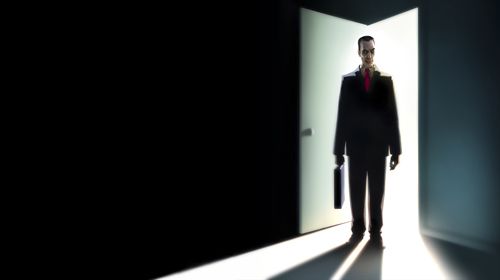 Uncharted: Drakes Fortune
Believable, humorous characters? Check. Amazing, deeply realized game world? Check. Compellingly ham-fisted story? Freaking awesome double check. The first game ever to make really feel like 'just a bad day for a normal guy' Drake's Fortune's Award worthy tale draws from the 40s adventure serials of old and the first and third Indiana Jones films. This tale really pulls you and makes you feel for the characters, even the bad guys. It stands above the others as simply being so captivating in its scope and gawking beautiful at the same time.
Closest Film Approximate: Indiana Jones and Raiders of the Lost Ark.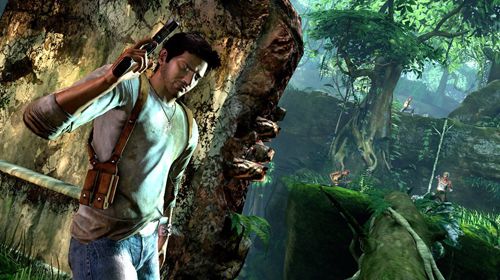 Bioshock
Bioshock. That's all I have to say. No tale pushes the boundaries of dark and intimidating narrative as Bioshock. Simply put, Bioshock's decaying world is beyond a doubt the most compelling, darkly realized narratives ever. Its 40s/50s era acting, Art Deco aesthetics, blindingly compelling tale of consumerism, morality, free will and the implications of destroying innocence bleed into and will never leave. Unlike no other game or movie have you experienced something like this. And at the end, it is pushed in the stratosphere by maddening cries of its insane residents, beating their heads on walls, begging for forgiveness. Nothing can compare to the art pushed by this title, through its story or its look. Nothing will ever hold you in its grip as this game will. Nothing!
Closest Film Approximate: NOTHING, but if I could conceive a very remote source of direct influence (the whole work being chosen and not just various fragmentary parts), I would probably choose Metropolis.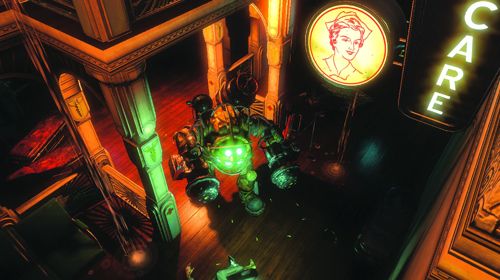 Next time I'm talking about the games that, as amazing as they are, did not make the cut as art.