Since the mod release date seems to be closer and closer, we decided to post a little article about changes of mechanics in one of major mod factions - Aldmeri Dominion. It could be a single article or the start of 3-5 short articles about some factions which had some big redone in 1.4, we will see.
So, historically, in first 20-30 years of mod campaign period where was no Aldmeri Dominion as a political force. As you may know, where were three Aldmeri Dominions in Tamriel history - first from period of TESO, as alliance between altmers, bosmers and khajiits, next from end of Second Era, as an opposite force to newborn Third Empire of Tiber Septim and most well-known - Third Aldmeri Dominion, powerful realm of altmers and their Valenwood and Elsweyr vassal, ruled by Thalmor. This third Dominion was created only after Stormcrown Interregnum and had no participation in life of Tamriel in time of TES3 in TES4. Technically, at start of campaign faction should be called "Kingdom of Alinor" or "Summerset Isles", but we decided to call it Aldmeri Dominion, because of more recognizabilty and, mostly, because through the gameplay it really becomes the Dominion, known by TES5 storyline, and date of it's creation is included in mod's time frame.
So, this was about history, now we will speak about changes in AD gameplay. Let's look at the troop tree.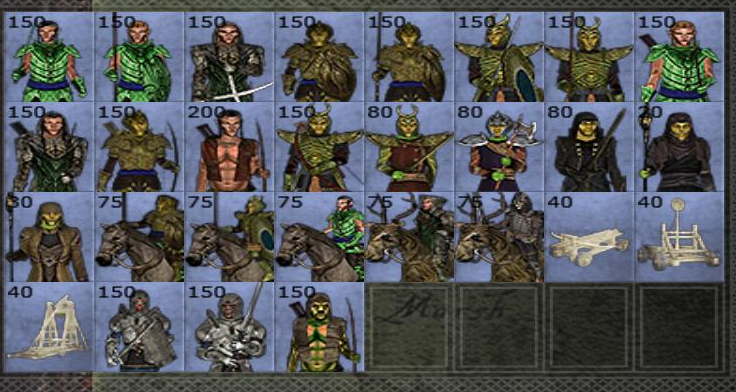 As you can see, in 1.4 we added many new troops to AD roster, making it equal to the Empire main troop tree by the count of units. Dominion also became equal to it's north opponent not only by count: if in earlier versions you can see short description of it's strength as "Relies on numerous and cheap infantry and archers", now it looks like "best army, in all respects" same to the strengths of Empire. So now Aldmeri main infantry units have higher stats than earlier and they can give a competition to legionnaries in battle, but they still a little less powerful in comparsion with Imperial heavy infantry. But, AD now can attack their enemies with tons of well trained archers and cavalry, better than Empire could bring into battle. So, if you have battle in 1.4 between Empire and Dominion, it is now competition of trained and armored defensive army and quick mobile attacking forces, and you can't know the winner from the start.
But the main problem of Aldmeri Dominion's roster in campaign is that from start they could reli only on their own forces and very weak bosmer militia. To gain best bosmeri units aldmers shall conquer all Valenwood province cities, so the clans of wood elves could recognize them as their masters, and only then Dominion gains best archers in Tamriel. It is not only mechanics change what was made by us to Dominion position on the stratmap. For example, from the start Dominion still has colonies on the south of Valenwood, but these settlements are very unrest, and on first turns player and AI should concentrate their efforts to make new settlements more peaceful, before planning expansion. Also, Dominion has some economics downgrades to prevent it becoming unstopable conqueror at the first turns of campaign. Opposite, it's main enemy - Cyrodiil Empire had received some economics upgrades to help it don't die from pressure of it's agressive neighbours and become a good contradictor to the threat from the south.
Thank you for reading, hope you will enjoy new version of the Elder Scrolls: Total War. Keеp watching us.
More in-battle Dominion screenshots: