Hello everyone, this time it's going to be me – Paravin, telling you all a little something how my work is created.
---
So I'm the writer.
PDA's, conversations, stash information. I write information about the behind the scenes lore you don't get thrown at you during story progression missions. Have you ever found a PDA on a dead Loner in Redux that tells you about spam, a missing child or links you to a hundred loving ways to love a cat? Those were mine. I will expand both of these ideas, and I'll try to make do in other, different areas – What's going on in the Zone, Stash info, etc.
Now, about the steps I take to write something. Since I don't have a fancy SDK to show off, I'll be filling the article with random MS Paint pictures, just to brighten the day.
A Dire Request.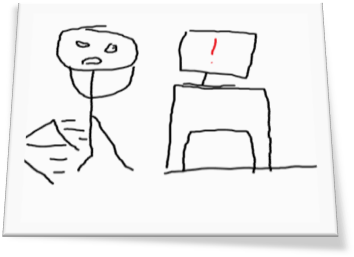 Everything I do is first requested by Beacon. He writes to me through Steam chat, through Facepunch or sends me an e-mail and turns my head into the direction I need to start thinking about, and the guidelines I need to watch. Simple enough.
Catching Fireflies.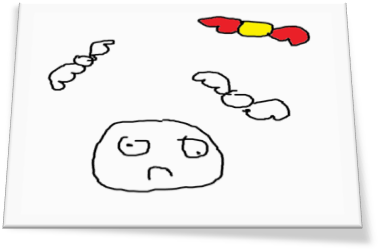 The next segment is without a doubt the hardest one. Wherever I am, on the bus, at home or at school, I spend time looking at my surroundings and trying to think of a story, attempting to catch that stray, golden idea floating around.
In time I do find it. So I turn my thrusters to max and set off to the next part:
The Artist and the ''pen''.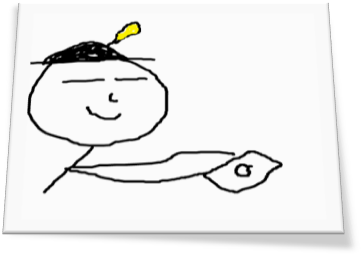 Everyone knows an idea means nothing if it's not written down. So I bundle up all these ideas in my head, and at the next able opportunity I start writing them on my iPhone (if I'm out of my house) or on my computer/laptop.
The writing process depends on the situation. I can write one long story in about 20 minutes (What's new in the Zone), and about 5 PDA's in 10 or so minutes. During this time I still search for random ideas, so sometimes the ending product is much different than the one I thought of previously. And so we arrive at the last chapter in our tale.
On Her Royal Majesty's Mail Service.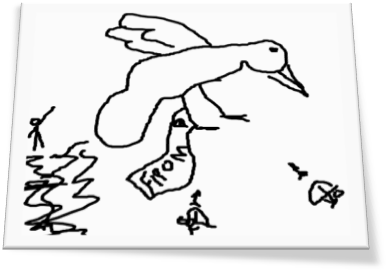 After the work is finished, I send the finished product to Beacon, who evaluates what is useful and what is ignored. He then corrects the last spelling or style mistakes (since I'm not exactly an Englishman, the grammar escapes my watch quite a lot). And the cycle continues as he thinks of another idea or sends me off to have a pint of bitter.
---
And those were the few important steps for creating a piece of literature for Way of the Wolf and Redux. If you've survived my antics, here is a treat - one of the most recent written ''What's new in the Zone'' stories:
What's new in the Zone?
Have you heard what happened to the two guys in the Rostok industrial park?

No. What can you tell me?

Well as I understand it, there were two rookie stalkers that decided to go exploring in the old facility buildings. They were guided by tales of old pre-accident tech that could be sold to traders for a great deal of money. All they needed to do was go in, grab it and spend the rest of their day in a bar drinking vodka and eating damn caviar. Every rookies dream, right?

I guess things didn't go so smooth.

You bet your sweet ass things didn't go well. So these two arrive at the plant area and manage to break into one of the warehouse buildings, which, as everyone knows, are completely empty and taken over by nature. These two don't know that. They enter the darkness and turn on their flashlights, trying to find something to get their greedy fingers on. They look around and notice someone standing in the middle of the warehouse. The rookies draw their guns and start approaching the silhouette. Even with all the light the person doesn't respond, yet still they think it's just a military security guard positioned to protect valuable equipment. Once their weapon barrels are resting at the head of this unknown guy, they ask him to turn around.

And..?

The thing turns invisible. In the blink of an eye it's gone. The pair stand there dumbfounded for a moment before unleashing a torrent of lead across all corners of the warehouse. And then for their trouble they receive a symphony of pant-shitting roars coming from all around them. One of the guys starts running while the other stands there – out of his mind, and his pants dark from the piss. The runner reaches the door and looks back as a dark shape runs up to his friend, grabs him and starts sucking the life out of him until only a shriveled corpse remains. The guys call these fuckers bloodsuckers - thank god I've never faced one.

Woah, that's interesting.

And that's it from me. Thanks for reading.
Watch your backs,
- Paravin :)
WotW Main Writer