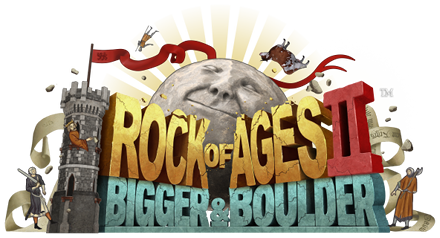 Navigating the battlefield
Rock of Ages is a race to destroy the enemy castle gates (and then squishing the opponent's puny leader with your boulder), so it is important to design levels that are clear to navigate.


One innovation we brought to the level designs is that your territory and the enemy territory sometimes intersect. This gives you the opportunity to collide with the enemy boulders on your way down, but it also means we have to give some additional cues so players always know when they are going towards the enemy castle or their own!

The first and most important hint, is of course, the team colors! We do not have a fixed red vs blue palette anymore, so the tracks and many details including units, people, flags, boulders and castles, will all change to use your selected army color and banner. We are starting with 10 colors to choose from.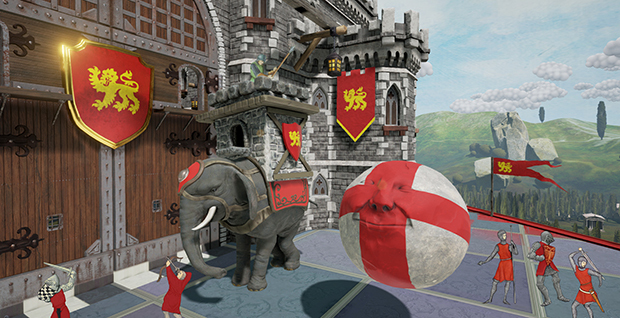 If two players are using the same settings?

We need to do something when two players have the same preferred colors, so if two red armies meet, whoever enters the battle last will have their main and detail colors swapped (in the above example that player would have a yellow banner with red lions).

More cues

A great hint we had in Rock of Ages that helped players find the right direction, specially when they fell off the track or got disoriented, was the wind: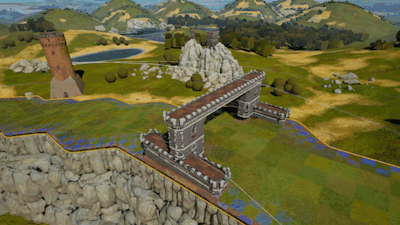 The wind is not only decorative, but it always blows towards the enemy castle. Even without telling the player in a tutorial, we found it was one of those subtle things that people got intuitively.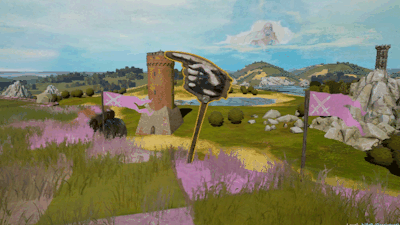 This way please.

Not all hints need to be subtle though... a finger pointing in the right direction just works :)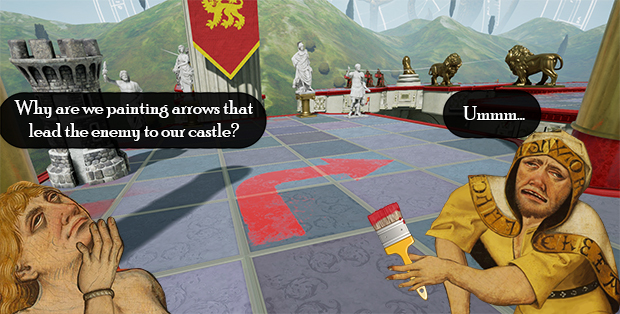 I have an answer for that!

It's because you don't want to win because your enemy didn't know where to go. You want to win because they couldn't get through your cunning defensive strategies!

----------

Now that we are play-testing very often, we have had the chance to fine tune the level design; block or enable shortcuts, set which tiles players can build on, calibrate boulders and units, etc. We'll continue do this, always remembering that the priority is to make a fair and fun game.

Edmundo Bordeu
Art Director
---
Hey guys! We've just opened an official fan page on Facebook where people can share their fan art and hopefully find a more personal place to talk about our games.
For starters we've made a compendium of all the fan made art that we've managed to track back to Zeno Clash, which includes awesome illustrations, drawings and even the coolest cosplay. We'll be posting it in small batches in the days to come*.
We encourage people to share any new pieces at the page. We'll probably run contests and other activities in the future, so don't forget to drop by and comment!
*Note: We're trying to credit all the authors of the stuff we've found, but in some cases we couldn't find any references. If you are the author of one of these pieces (or you know who it is) please add a comment!
---