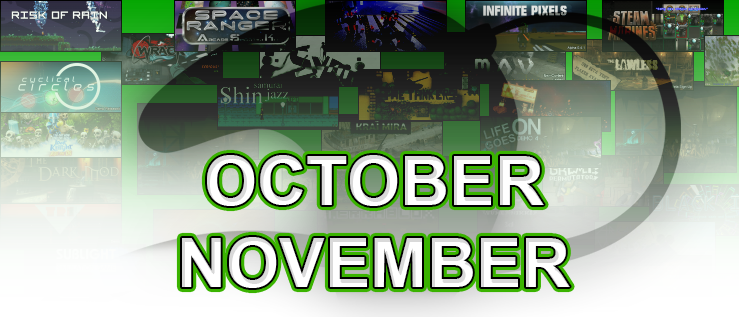 Year in Review 2013 Quarter 04
What a massive line up we have for you in these Quarterly reviews.
Developers have doubled the amount of games listed on indieDB since last years awards.
So please bare with these larger Quarterly reviews as we try to cover all the 2013 headlines.
Join us in celebrating the games of 2013, its a big list that only gets bigger so lets crack on.

Life Goes On is a puzzle platformer where you must navigate a murderous gauntlet of spikes, flames, and other deathtraps to claim the prize at the end. Your only resource? An endless stream of courageous knights who have some difficulty with the concept of "self-preservation". Fling knights into a spike pit to build a bridge, or load them into a cannon as impromptu ammunition... instead of being a setback, in this game dying is how you pave the way for the next guy!
The Stanley Parable is an extremely simple and easy-to-explain game about choice, story, failure, and why none of it probably mattered in the first place. You'll figure it out, I believe in you.
M.A.V. is a 3rd person mech simulation game centered around a highly customizable vehicle.This game is about making it your own. Your M.A.V. will fully reflect your play style, your in game status, and your personal likes. Intense Tactical and Stategic Combat: Battles will be very intense, every shot will count, and strategy will always prevail.
Other Featured Releases in Q4:


Time Ripping!

UemeU VERSION 0.14.1
Dwelvers

Life Goes On - Demo 4

Winged Sakura Kickstarter and Demo

Viscera Cleanup Detail: Alpha v0.20
Yume Nikki 3d v 0.02 released
Pokémon3D version 0.36

Daedalus Alpha demo available !

First Playable Adrift Demo
1sec 0.3.0-ALPHA released

Bionic Dues Launches for PC, Mac and Linux

SubLight

NeonXSZ New Screenshots - Demo Release

Talon Free Demo Now Available
The Dark Mod 2.0 Standalone!

[Major update] Arcane Worlds 0.15

Quick Slick Deadly Price Drop and Demo

Interference Demo

Great Permutator

ZW: Total Destruction

Sym - demo available

Crawle 0.8.0 released!

Ceres Demo Updated

The Unknown v0.02 has been released!

TRI Demo updated

Alter Light released!

173 Beta

Boring Man - Alpha v0.1.0
1.1 of Last Knight is released!

The ?New Stanley Parable Available Now on Steam

Slay Those Pixels has been released!

Demon's Gear v1.0.0 Official Release
Slay the Beast v 0.0.10

Path of Exile

Cars Incorporated version 0.30 released

Dungeoncraft

Steam Marines v0.8.3a

KarBOOM Released

Domino Arena Beta Now Available!

Sym beta 0.6

Hyper Gauntlet v0.8.11 released!

Brutal Nature releases version 0.31!

Vox v0.40 Update!

Doctor Kvorak Demo Released

Legionwood: Mysteries of Dynastland DLC released!

3079 Update

Brutal Nature version 0.33!

TheTankers is Available Now


Quarries of Scred Alpha Build

Shin Samurai Jazz - Demo Version 1.4 Update

Latest update is out!

Sirius Online 1.70

Conniption 1.40 Released

Ancient Arena Alpha 2 Released!
Haymaker 1.0 Release

Ground Breakers's Alpha 0.1.114063

Overgrowth a202

Modulated Free Alpha Release!

Risk of Rain Launches on Steam!

Pitman Update 1.5d

Jack B. Nimble Released!

1.16 of Last Knight is released!

Contagion - Update

Wrack - Launched on Steam!

Meatballphobia Released on Desura!

Solar Flux is now available on Steam, for PC!
Brutal Nature releases version 0.32!
Cube Arena Pre Alpha 1.01
Mega Man 42 v1.1 out

Black Ice Version, 0.1.552

Feud Alpha Demo Released

EFFING DEAD Beta

Insanity's Blade Demo, and Kickstarter

Game about vehicles 0.2.7

Black Mesa Goes Retail

Project Shyknight Update

Interplanetary Alpha Update: Online Play!
PewPew alpha 3 released
Infinite Pixels Alpha 0.4.1

Galaxies and Empires Demo

Dungeon Colony v0.1.9.65

Aces v1.13 is LIVE ! (keyboard controls !)

Cyclical Circles First demo !

Masterspace Update 2.3

Final Rush - Now Available!
The Lawless Beta

Catlateral Damage

Heldric alpha update.

Moirai has been released!

Overgrowth a203

Space Ranger ASK

MiniFlake Alpha Update.

Shin Samurai Jazz - Demo Version 1.5 Update

Space Engineers Update 01.008.004

Volt 0.7.5

New Content Update for M.A.V.

Molecats OPEN BETA

Terrablox, 1.5.0 released

Krai Mira Demo v0.5