I wrote: But yeah, Nod should get their own list.
This is one of those documents which should have been created for ModDB a lot sooner. Unfortunately, most of the staff has been busy with other things (both the mod and real life).
The Brotherhood of Nod's special interest in Tiberium research has led to the development of more insidious technology. Their buildings are fairly fragile on the surface but tend to stretch underground, making them more difficult to destroy than might first be thought. The aesthetics of Nod structures is intended to keep the Brotherhood's troops motivated towards the completion of Kane's plan.
---
Buildings:
The Brotherhood of Nod focusses on internal integrity in their structures. Their structures are generally more aesthetically orientated than most of what can be seen in the world of Tiberian Odyssey, but under the surface the technology is anything but flimsy. The Tiberium-reliance of many of Nod's structures makes them more costly and more volatile than GDI's buildings.
Construction Yard: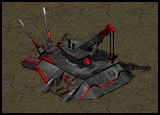 The Construction Yard gives commanders space around which to build, and stores all the required materials for most of the basic construction options. Without the 'Conyard' no structures can be built.
Notes:
Strong Armour
Allows building construction in surrounding area

The Construction Yard drains no power
Tiberium Reactor: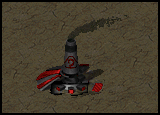 Nod's Tiberium reactors use the by-products from Tiberium refinement to generate energy. This makes them highly efficient, but also makes them more volatile than a conventional Fission/Fusion plant.
Notes:
Medium Armour

Generates 20 units of power

Spreads Tiberium when destroyed
Advanced Tiberium Reactor: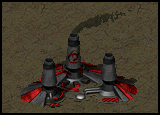 Like the smaller version, this Tiberium reactor uses the by-products from Tiberium refinement to generate energy. The addition of further reactor cores makes the Advanced even more efficient, but also makes them more volatile.
Notes:
Medium Armour
Generates 40 units of power
Spreads Tiberium when destroyed
Tiberium Refinery: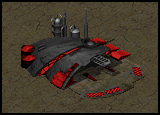 The Tiberium Refinery processes Tiberium. Using upgraded and more advanced machinery, the 2040 Tiberium Processor can successfully process 90% of known Tiberium crystal forms, making it the most effective refinement facility ever developed by mankind. It cannot, however, process the "vein" roots of the veinhole creature.
The Refinery does not store Tiberium, the task of storage is carried out by the Tiberium Silo.
Notes:

Strong Armour
Refines Tiberium, generating credits
Comes with 100% free Tiberium Harvester
The Tiberium Refinery drains 5 power
Spreads Tiberium when destroyed
Tiberium Silo: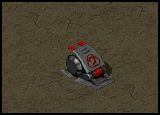 The Tiberium Silo allows excess Tiberium to be stored until in can be processed by the Refinery. Without silos, excess Tiberium is lost, reducing income substantially.
Notes:
Light Armour

Stores harmful Tiberium until it can be processed
The Tiberium Silo drains 1 power
Spreads Tiberium when destroyed
Hand of Nod: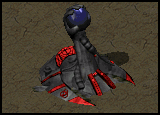 All the facilities used to "re-educate" and train troops for the Brotherhood cause are held here, at the Hand of Nod. The Hand's distinct superstructure also contains a specialised shrine for use by soldiers, intended to keep troops motivated towards the cause.
Notes:
Medium Armour
Trains Infantry units
The Hand of Nod drains 2 power
Communications Center: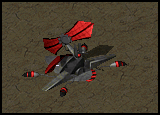 The Brotherhood's communications center provides tactical information to commanders, and houses some of the required technology required to construct more developed units.
In some theatres of war, the Communications Centre can be used to coordinate drops of specialist defensive turrets to the field via Nod's new "Paltrus" dropship.
Notes:
Light Armour
Grants Minimap view
The Communications Center drains 20 power
Stealth Generator:
(No current in-game version)
[See. There's really not]
Allowing commanders to cloak sections of their base, the Stealth Generator is crucial for many hit-and-run tactics. The Stealth Generator bends light in such a way that it can make bases appear to vanish, however this does require a large amount of power.
Notes:
Light Armour

Cloaks all allied units and buildings within radius of effect

The Stealth Generator drains 20 power

Airpad: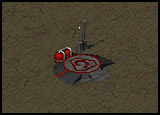 The Nod Airpad allows the construction and service of all of the Brotherhood's aircraft.
Once aircraft have attacked a target, they will return to the pad for refueling and rearming.
Notes:
Light Armour
Constructs aircraft
Rearms and refuels aircraft
The Airpad drains 3 power
War Factory: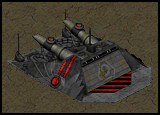 The Nod Weapons Factory holds the facilities used to build vehicles. Almost all of Nod's mechanical units are built here, in the underground bunkers which house the factory's machinery.
Notes:
Strong Armour

Constructs vehicles

The Weapons Factory drains 8 power
Naval Yard:
(No current in-game version)
[See. There's really not]
The Shipyard is the only building which can construct and maintain naval units, giving Nod the ability to construct its fast moving ships and submarines.
Notes:
Medium Armour

Constructs ships and submarines

The Naval Yard drains 8 power
Service Depot: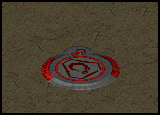 [Developers Note: This may not end up in the final buildable Nod side, to maintain some diversity between GDI and Nod]
This pad allows Nod vehicles to be repaired after taking damage in the field, for a small fee.
This allows any weapons which have taken damage to be redeployed for a fraction of the price of constructing a new vehicle.
Notes:
Medium Armour

Repairs vehicles and aircraft
Reduces credit count accordingly when repairing
The Service Depot drains 5 power
Shrine of Nod: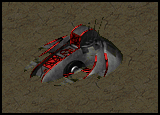 The Shrine of Nod holds all the information decoded from the Tacitus, and allows for the deployment of new Tiberium-based weaponry. The Shrine is where the inner sanctum of the Black Hand receives orders from the Crown, and is the core of most important Nod bases.
Notes:
Heavy Armour
Allows the deployment of the "Scarab" project
Allows the use of most captured tech

The Shrine of Nod drains 30 power
Genesis Facility:
(No current in-game version)
[See. There's really not]
This structure holds the key to Kane's vision of Divination. Here, Nod's best scientists develop the means and methods for controlled mutation and other applications of the Tiberium-human bond.
The Genesis facility sends out specialised harvester vehicles to harvest Tiberium veins to be used in weapons such as the Tiberium "Catalyst" Missile.
Notes:
Heavy Armour

Comes with 100% free Weed Eater

Allows the use of the Tiberium "Catalyst" Missile once enough veins have been processed

The Genesis Facility drains 30 power
Spreads Tiberium when destroyed
Temple of Nod:
(No current in-game version)
[See. There's really not]
The Temple is Nod's most sacred place. Within are the full secrets of Tiberium, Divination, and the future of humanity. More than alien, more than human, the next step in our evolution as a species.
The Temple is home to some of Nod's most secretive personnel and holds all the required secrets of the Brotherhood's arsenal.
Somewhere in the labyrinthine caverns at the depths of the temple are the new era of subterranean bombs which have been used to strike GDI bases from beneath, shattering foundations and destroying structures.
Notes:
Heavy Armour
Allows the use of the Subterranean Bomb superweapon
The Temple of Nod drains 50 power
Spreads Tiberium when destroyed
Catalyst Magnetic Launcher:
(No current in-game version)
[See. There's really not]
The magnetic launcher is the large missile silo used to launch the Catalyst Missile and other life shattering missile weapons.
Notes:
Strong Armour

Launches missile superweapons

The Magnetic Launcher drains 40 power
Laser Pillar: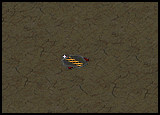 Hidden beneath the ground, the pillar emerges once enemy units are detected by seismometers. Once it has targeted enemy units, it fires its laser in short bursts, burning flesh and cutting armour. However, the electronics of the Pillar are known to explode violently when the structure is destroyed, burning for a long time.
Notes:
Strong Armour

Defensive building. Effective against infantry and light vehicles

While underground, units can travel over the structure as if it were not there

Cannot target aircraft

Burns violently when destroyed




The Laser Pillar drains 4 power
SAM site:
(No current in-game version)
[See. There's really not]
The SAM site keeps pesky GDI aircraft at bay by launching a swarm of small heat-seeking missiles at it's desired target. This is not highly accurate, but does tend to leave aircraft as smouldering scrap after spending extended periods close to these enemy SAMs.
Notes:
Medium Armour
Defensive building. Effective against aircraft

Cannot target land units

The SAM site drains 4 power
Obelisk of Light:
(No current in-game version)
[See. There's really not]
The Obelisk of Light is a legend and a central icon of the Brotherhood. This traditional Nod structure is armed with a high powered laser, making it capable of tearing through the most well armoured GDI units with ease. Known to frequently convert infantry to crispy ash on their first contact with the Obelisk's powerful laser, this structure is Nod's most powerful defensive structure.
Like the Laser Pillar, the Obelisk has a tendency to burn when destroyed.
Notes:
Heavy Armour
Defensive building. Effective against vehicles and infantry
Cannot target aircraft
Burns violently when destroyed
The Obelisk of Light drains 15 power
And, just like for GDI, that's pretty much it right at the moment.
(Although there might be a few things to be added as special campaign structures and capturable tech goodies... Maybe they'll get their own feature)