THE DEVLIN OPERA MAIN QUEST
The Devlin Opera quest was the first additional storyline that was put in the mod. It was originally conceived as a test-quest only, until one of our quest-writers got the idea to actually make a real quest out of it.
Taking place in the Early Explorers period, Beatrice Devlin starts out at the dock of the port at Jamaica island and receives a letter from her long-lost dad with hints about a treasure. You meet up with your younger sister, always a recipe for trouble. Together, you need to find your brother, Blaze, who has the remainder of the hints to locate the treasure.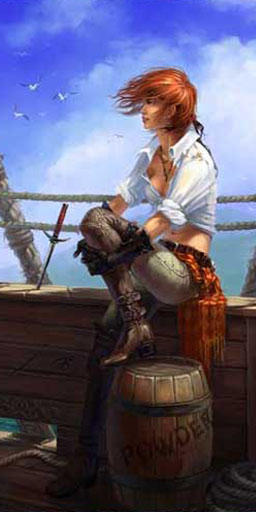 Illustration: Beatrice Devlin
In order to find the treasure, you will meet up with a bunch of pirates, each one crazier than the other. You will have to choose which one you want to help you on your quest. Each pirate has a different tactic, making for many available routes to your final goal.
This quest is basically our modders' playground. As such, we don't care about realism in this quest one bit, so stand by for fun and craziness galore! Although far from being finished, the first part of the quest that introduces you to all the available characters is done. This will be especially amusing for those players who are familiar with the PiratesAhoy! modding team.
A modified version of this quest for those people who can't stand looking at the most charming behind of the main character is available. In this version, you play as Beatrice's brother Blaze instead.
---
THE REAL BEATRICE DEVLIN

Before Sea Dogs 2 was commandeered by Disney as a movie tie-in, it was to feature the choice out of two different main characters: Blaze Devlin and Danielle Devlin. Eventually the main character got changed to Nathaniel Hawk, but traces of the original main characters can still be found. One of the more obvious ones is the fact that the main character's model name was still actually "blaze". Danielle remained in the game, but lost her last name.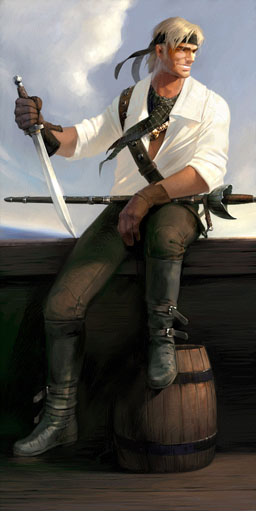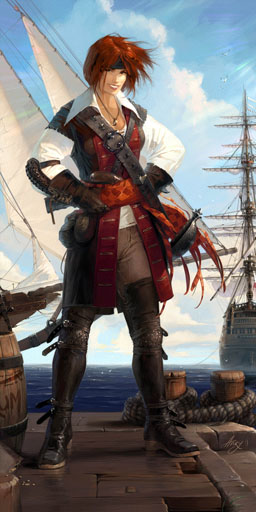 Illustration: Blaze Devlin and his sister, Beatrice
Eventually Blaze ended up as one of the main characters in the next game in the series, Age of Pirates: Caribbean Tales. He also got a long-lost sister: Beatrice Devlin.
---
IN THE GAME
You get your first introduction to the band of pirates in this quest when you arrive at the Turks townhall. On this screenshot, you can see such notorious buccaneers as Nathan Kell, Catalina the Pirate, Merciless Mark, Couchcaptain Charles, Petros, Thomas the Terror and Pieter Boelen. These names are sure to take on new meaning for those who are somewhat familiar with the goings on in the PiratesAhoy! modding community!