Skulltag is Dead! Long-live to Zandronum!
Execution could not continue.
Script error, "brutaldoomv016b.pk3:stgrenadelaunch" line 8:
Replaced type 'GrenadeLauncher' not found in Grenade_Launcher"
Did this message became comnon to you now? Read here why.

The long history of drama between the developers have finally came into an end, and the sourceport Skulltag is oficially dead. Zandronum has risen to replace it.
For now Zandronum offers a much better and more stable online architecture.
Good news: Many Single Player features in Brutal Doom that used to be broken when playing online with Skulltag (such as kicking zombies) are fixed in Zandronum.
Bad news: With all ST actors gone, Brutal Doom v16 will not run in Zandronum. Plus, the fate of the existing skulltag stuff (Railgun, Grenade Launcher, BFG10k, Belphegor, Juggernaut) is unknown. For now, I have decided to unlink them from Skulltag's original actors, and now from 0.17 and beyond, these weapons and monsters will only be accessible via cheats and will require map patches to show up in-game. I can already tell you that other Skulltag monsters (Dark Imp, Blood Demon, etc) will never make it up to their Brutalized forms.
Secondary Good News: As a side-effect of having Skulltag monsters abandoned, I will have more time to polish the already existing but broken stuff in BD. And now you can expect the final 1.0 release (and eventually the possibility to perform fatalities in Cyberdemons and Masterminds) sooner. Now we know that the final version of Brutal Doom is coming out this year, maybe in December. Santa will come up drenched in blood delivering gory gifts for you.
The servers are a complete mess now. The masterserver still shows both Skulltag and Zandronum servers.


Brutal Doom's Official Facebook Page
Facebook.com
here it is another place to get news about BD (and sometimes Brutal Doom-related humor). Like it and share it.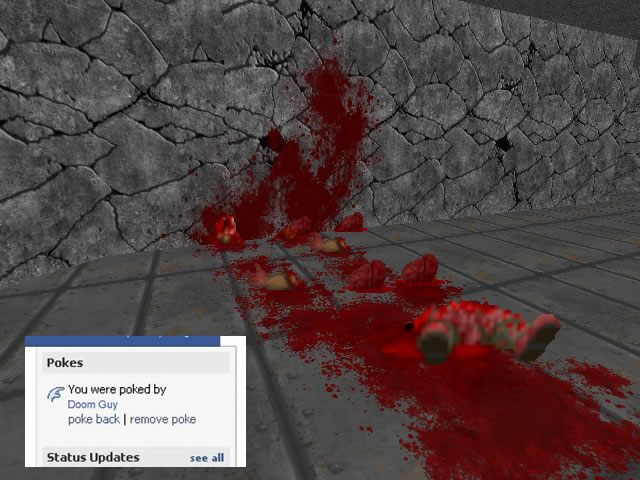 In an unrelated note, I recently released a new version of ArmageDoom. For those who don't know, ArmageDoom was the early Brutal Doom. Actually, Brutal Doom was just meant to be a testing ground for new effects and gore to be later introduced in ArmageDoom. But when Brutal Doom started to grow up and receive notoriety, I just dropped ArmageDoom. In other words, this is how Brutal Doom looked like in 2009.
You can watch a video of it and get a download link here:
Youtube.com