We're back on track after a few days delay due to Carnival celebrations which put several team members in coma. :P Arjun is pumping out new Resistance characters each week, this week we have another one to show. Richar Buitine, the rich businessman seeking adventure not only by funding the Resistance, but also demanding active service! Unable to persuade him off the active duty-list, the resistance manage to keep him out of the most serious trouble, for if he dies some important funding is lost.
We've also been working hard on finishing off the last game features and integrating content. The mapping department has also started detailing the maps, as optimizations are complete. Here a sneak preview of a Rahmos hangout work in progress.
Note, not only is this not the final detailing but also the resistance HUD has not yet been integrated.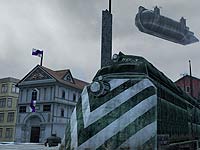 We are also pleased to announce we have been running a developers blog for a week now. Here various members of the team post often what they've been doing and sneak-peaks are often posted.

Be sure to checkup the blog if you want to know all the latest developers news and goodies. We've also upgraded our development team with 3 new members! An official welcome to Rudy Basso (writing character new profiles), Shaun Hutchinson (animation) and Benjamin Bunse (mapping). That's it for this week; stay tuned as more updates are coming! Don't forget to drop by our forums and let us know what you think. Feedback is more than welcome! Visit www.isotx.com for more information and larger images!