That's right you now have the opportunity to become a VIP member of the Plastic Tactics community.
What do VIP's get?
- A behind the scenes view of the mod creation
- Early media realeases and special goodies
- A spot to help the team in it's Alpha and Beta tests
- Closer access to the team
- A warm fuzzy feeling inside
How do you become a VIP?
Well there is really only one way to become a VIP and that is to get over to the forums and become active. VIP members are chosen by the staff as those who are doing their best to make the Plastics Tactics community the best it can be.
However with great power comes great responsibility. If you abuse these privleages you will lose your spot as a VIP and possibly be banned from the site.
We are also happy to welcome a new member to the team. Swuing has joined the team as a Sound Technician and will be making all the great SFX and background music for the mod.
On a side note here are some more Renders.
Drill & Spanner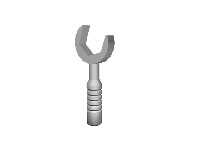 Builders & Worker's Helmet